Updated: Apr 12, 2021
Published: Sep 07, 2016
Introducing IOT Starter Kit 2.0
Guest post by Richard Finn, IoT Evangelist and Strategist at AT&T.
You built dazzling IoT projects, but because you've only used WiFi or Bluetooth, they're restricted to the walls of your building – or they need to be brought back to download the data they've logged.  You thought about adding cellular, but didn't want to fool around with learning arcane commands or spending a huge amount of money on legacy cellular technology like 3G.
A little over a year ago, AT&T announced a way for developers to bridge this gap with the AT&T IoT Starter Kit.  "Great!" you told us.  "Now, help me find a device and get it up and running."
We listened. And with the Power of & we've got answers for you.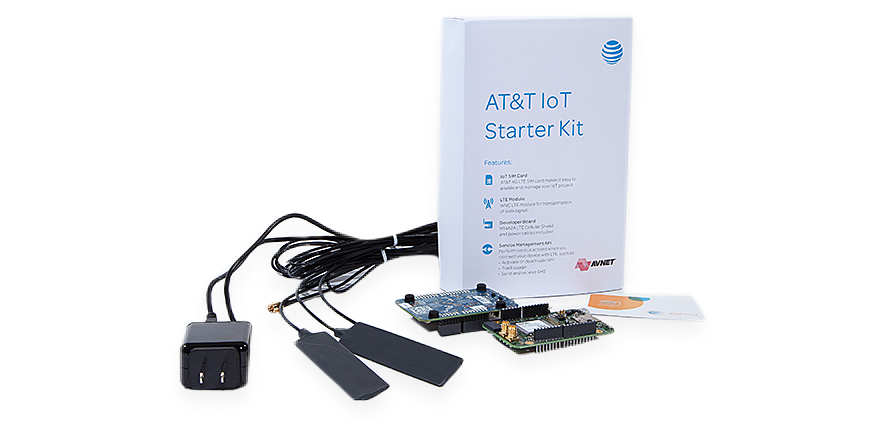 For $99, the new AT&T IoT Starter Kit 2.0 includes:
Get Connected: A new cellular shield developed for AT&T by Avnet hosting a WNC LTE cellular modem, antenna connectors, as well as a temperature and humidity sensor.
Processing Power: An Arduino™ pinout compatible micro controller unit, which includes an onboard accelerometer and magnetometer.
More Data: An AT&T SIM with 300 MB of data or 6 months of usage, whichever comes first. Add more data for an additional charge as needed with auto-renew or manually.
Easier APIs: New and improved AT&T Control Center RESTful APIs for monitoring device usage, session info, and sending SMS texts to the device.
See How It's Done: Sample code for running the kit along with reference projects using AT&T IoT Platforms – M2X and Flow, as well as guides for Microsoft Azure and IBM Bluemix.
Community: Share projects and learn from fellow developers at the

Starter Kit web site

. Find and create tutorials there.& Accessories: USB cables, antennas, and a USB plug to power the kit.
No other starter kit gives you an end-to-end LTE solution like this  – certainly not for $99.  Let the AT&T IoT Starter Kit help you bring  your IoT proof-of-concept project to life.  See how adding LTE connectivity can really expand your horizons – quite literally.
The Starter Kit guides explain how to get the simple use case up and running – logging device temperature and ambient humidity to M2X through AT&T Flow.  This includes a built-out reference AT&T Flow project.  You'll also find out how to connect the Starter Kit to Bluemix and Azure directly or through Flow, depending on the needs of your project and your development skill in the various technologies.
Interest in the AT&T IoT Starter Kit continues to grow.  We brought the AT&T IoT Starter Kit to the hackathon at the AT&T Shape tech expo in San Francisco.
200 people attended, competing in challenges from AT&T and many of our partners.
53 teams used the AT&T IoT Starter Kit in their projects.
37 teams submitted their projects for judging.
The Smart City AirMonitor team won 2nd place overall and 1st place in using the IoT Starter Kit, earning the team members thousands of dollars in prize money.
Watch this space for upcoming events, contests, and challenges for building exciting projects using the AT&T IoT Starter Kits.  We'll post those here in the coming weeks.  We can't wait to see what you build.
Buy your kit here: Starterkit.att.com/kits
---
Share this post