Updated: Feb 04, 2016
Published: Feb 04, 2016
Innovation, apps, and Geeks Life at the 2016 Developer Summit Hackathon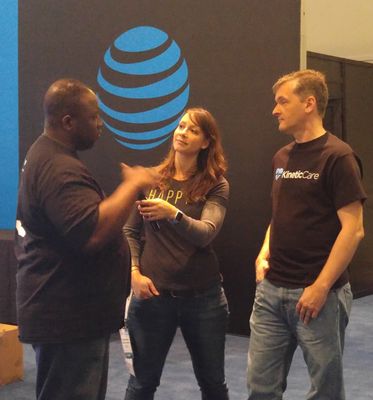 Guest post by Luria Petrucci from Geeks Life
WOW! What a successful 2016 Hackathon at the AT&T Developer Summit! I had even more fun this year than last year! It just keeps getting better… and I love it!
This year's livestream offered an even more dynamic experience as Patrick Norton and Shannon Morse joined me and the Geeks Life team! In addition to the stream on YouTube that you could watch, Shannon brought you the Second Screen experience… a behind the scenes view exclusive to Facebook Live! She loved getting to hang out, chat, and hear YOUR thoughts on the event! So thank you for participating!
In addition to offering you TWO experiences to watch online, we were also attending the simultaneous Hackathon happening in Mexico. I LOVED going international with this livestream. Congratulations to all the Mexico winners!
Check out all the fun we had!
If you missed the livestream, you can watch the entire broadcast here.
The three finalists from Vegas were KinecticCare, LevelUp, and QuizTV. Each of them got to go on-stage during the Summit Keynote and present their ideas. Congratulations to KinecticCare for taking home the grand prize of $25,000! Check out interviews with the teams below!


Team KinecticCare
Team LevelUp
Team QuizTV
And there were so many more AWESOME ideas at this year's Hackathon! Here are some additional conversations we had with developers:
Team Bully Beacon
Team Guardian Accessories
Team Gigs for Gigs
Team Ebox
If you missed Summit this year, keep an eye on upcoming events including the new SHAPE event at AT&T Park in San Francisco on July 15-16!
---
Share this post