Updated: Dec 11, 2015
Published: Dec 11, 2015
Indispensable tips to survive and thrive before, during, and after the 2016 AT&T Developer Summit Hackathon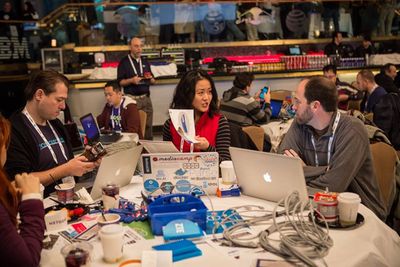 The 2016 AT&T Developer Summit Hackathon is almost upon us! We're excited to see what you will be building this year at the hackathon. We've compiled a survival guide with some advice for making it through to the finish line. The very first step to surviving the hackathon is to register to attend. Register right now! Great, now on to the rest guide…
How to Prepare Before Arriving in Vegas
There's plenty you can do before you even get to Las Vegas. While you can't code before you go, you can create a strategy and think about what you want to build.


Make a Plan
The AT&T Developer Summit Hackathon is a huge event with over $250,000 in cash prizes! The best way to maximize your success and be among the winning teams is to start the weekend with a plan. Taking the time to prepare for this hackathon will help you and your team focus on building the best app possible. Be sure to pick a prize strategy. Are you going for the overall prize, just the accelerators, or sponsor prizes? Or are you competing for as many prizes as possible? Whatever your strategy, remember that your app has to function for judging. Some prizes make sense to group together, so make sure to consider that. To help with a prize strategy and as you think about your app, take a look at the list of Accelerator Challenges and Kicker Contests.


Check out the Lightning Talks
Watch the lightning talks at the beginning of the hackathon starting at 10am. To help you prepare for your projects, the lightning talks provide a summary of each challenge. Make sure to pay attention so you can pick up any tips and tricks from the experts!


Check Out Online Training
In addition to lighting talks, you can also prepare for the hackathon by watching training videos from our Bootstrap Week in October and December. The AT&T Developer YouTube channel features learning sessions related to accelerator prizes, kicker prizes, and sponsor prizes.


Don't Miss the Breakout Sessions
Attend the breakout sessions on Saturday afternoon, which provide a short but comprehensive view of select technologies related to the prizes.


Talk About Your Idea
Discuss your development stack and wireframe your idea. You are forbidden from coding prior to the hackathon, however you are free to create wireframes and mock-ups of the app. This will save you valuable time and help you show up at the event with a huge jumpstart.
Take Care of Yourself
Hackathons are super fun and a great opportunity for learning new things. However, they become less fun when you forget to take care of yourself. Sometimes taking a step back from a problem is the best way to solve it. Make sure you're covering your bases at the hackathon:


Stay Hydrated
Dehydration can cause fatigue and headaches, which are not helpful for building awesome stuff. We'll have water stations around the venue to keep you topped up.


Make Sure You Eat
You need to fuel up for all of the hacking you'll be doing. We'll be providing meals and snacks, so make sure to get some!


Take Breaks
There will be a number of things going on that should give you a good opportunity for taking a walk around the Palms or to get some fresh air and sun outside. You can coincide a break with your swag room slot or with some of the breakout sessions at the hackathon.


Sleep
The hackathon will be open overnight. Before you come, think about if you want to get a room for the night so you can take a quick nap or if you're OK crashing at the venue. The best hackers sleep at some point, even if it's just for a couple of hours.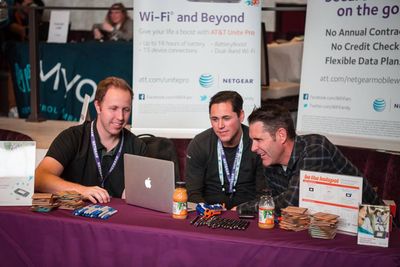 Network & Learn
Hackathons are a great place to learn new skills and meet people who share your love of technology. The best hackers don't do it all themselves. Keep these tips in mind as you are creating your project.


Be Helpful
While you are all competing for the same prize pool, it's always nice to help a fellow hacker out if you can. It's always appreciated if you're able to quickly troubleshoot some code or provide a link to a good tutorial.


Use the Technical Experts Onsite
They are the experts in their technology and they want to help you be successful. It's better to ask a quick question than to spend a couple hours stuck on a problem.


Attend a Breakout Session
An easy way to learn at the Summit Hackathon is to plan to attend one of these sessions during the hackathon. These sessions are designed to get you up and running quickly on a particular technology.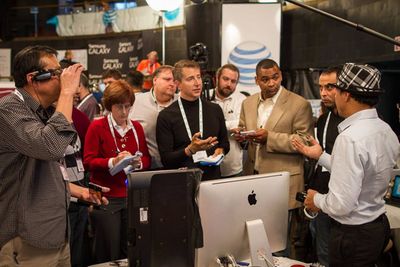 Must Do
After working hard on your app, you don't want to miss your opportunity to show it off. These are crucial times you should add to your calendar now.


Before 9:00pm on Saturday
Register your team BEFORE 9:00pm on Saturday night. Without this registration, you will miss all scheduling for Sunday.


Be Available 11:00 am to 2:00pm on Sunday
Be on-site in your team location and available between 11:00am and 2:00pm on Sunday for round one judging.


Be Available 3:00pm to 5:00pm on Sunday
Be on-site in your team location and available between 3:00pm and 5:00pm on Sunday for round two fast pitches, as well as additional judging by sponsors.
After the Hackathon!
The opportunity to learn new skills doesn't stop after the hackathon. We have loads of experts onsite to teach you the tech you want to know.


Attend a Technical Session
If you want to take your learning to the next level, be sure to add Monday to your plans! We have in-depth technical sessions on Swift, ReactJS

,

IoT with M2X, and WebRTC development to keep your skills sharp.


Meet a Mentor
We've lined up three great mentors to speak with you individually. The session lasts 15 minutes, so you can easily step out of technical training to meet with your mentor.


Attend Futurecast
We're bringing the popular program we host throughout the year to the Summit. This Futurecast is a talk with tech evangelist and author Robert Scoble led by author and commentator Andrew Keen.
---
Share this post