Updated: Jun 13, 2014
Published: Jun 13, 2014
IBM Innovate Recap: ARO + Rational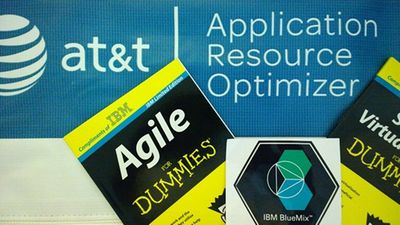 By Pete Rembiszewski, Principal Prod Dev Engineer
Last week, the AT&T ARO team finished its engagement at the IBM Innovate Conference down in sunny Orlando. This year the featured topics were Mobile, Internet of Things (IoT), DevOps, and Continuous Engineering. This also marked AT&T's second year of investment in integration of the Application Resource Optimizer (ARO) into the Rational Tool Suite. As 'Ready for Rational' tool, ARO has integrated into both Rational Team Concert and Rational Quality Manager.
One of the taglines added to the show was '@Speed.' This directed the spotlight on the changes that have been happening in the industry concerning rapid product delivery. The concept of waterfall has been challenged in the industry for the last few years with a focus on delivery of products using the concepts of LEAN and AGILE to speed up delivery. Customers' have always challenged us to give them exactly what they want, when they want it, as cheaply as possible, NOW! IBM has been working with its partners to make such a world possible for enterprises.
The show had a few memorable keynotes, including one by Scott Adams, the creator of Dilbert. He applied the same unique perspective as he did to his cartoon. Although he prefaced his presentation with the phrase, "Don't take advice from an artist," he gave some very good advice. His recommendation was instead of focusing on goals, focus on system changes. For example, do not set a goal of losing 20lbs; make a systematic change to eat differently. Those kinds of ideas could be directly applied to the industry, if one does not mind taking advice from an artist.
IBM highlighted its Bluemix product, which is its cloud-based sandbox that has software and a platform as service offerings for mobile, big data, and the Internet of Things. I was able to sit down and run through some of the demos. This included connecting a Raspberry Pi with a temperature sensor to Bluemix, and use their open source flow based tool, Node-Red, to interact with the data as it came in. This definitely makes it easy for everyone targeting the Internet of Things.
In addition to demoing the ARO tool and concepts during the conference, John Hsia and Lucinda Raap from the ARO team also gave a presentation 'Use AT&T ARO and IBM Rational (RQM/RTC) to Apply Mobile Best Practices for Increased Mobile App Quality.' This presentation focused on how ARO best practices and the ARO tool should be used as part of the mobile development process. ARO has had great success with optimizing many commercial applications, and these same concepts should be applied to enterprise mobile applications, as well. Regardless of underlying usage, commercial and enterprise mobile applications send and receive data on a mobile network. ARO is good at identifying the problem that an application has, but then what happens. Those issues can then be exported as defects into RTC as work items that a developer can track and work with.
The conference was not all work, there were opportunities to play with some interesting gadgets such as Oculus Rift, a 3D VR headset with multiple nausea-inducing visual scenarios and the remote controlled Liberty Car, which was a standard RC car modded with Raspberry Pi that allowed it to be operated via Wi-Fi through your mobile phone. The week ended with a trip to Universal Studios with lots of food and some photo ops with the Blues Brothers, Marilyn Monroe, and a couple of Transformers.
For more information on how to use ARO as part of your Rational tool suite, go to the AT&T ARO site.
---
Share this post