Updated: Dec 03, 2015
Published: Dec 03, 2015
How refining a pitch over 30 times turned a hackathon mobile app into a funded startup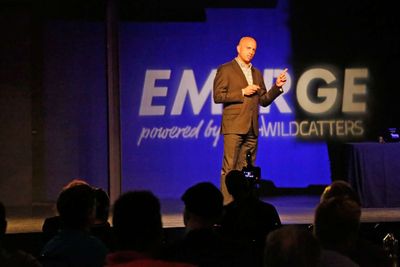 Guest post by Lance Manning, CEO and Co-Founder of LanguageMAPS, Inc.
When it comes to getting mobile apps off the ground there's a lot of pitching involved. It's a communications necessity to be able to tell the story of the problem, solution, and how the app can help the target market. Our company has pitched to various audiences and we've evolved our message so that it best represents our understanding of a unique opportunity to solve a global challenge.
The 1st Minute Mobile App removes language barriers during medical emergencies. Our easy-to-use interface allows first responders to receive critical triage information from foreign language speaking patients within 60 seconds.


Pitch 1: The first presentation of our app idea occurred at the outset of the AT&T Hackathon we attended in June of 2014. Participants were invited to share problems they faced or were aware of in the public safety field. Our eventual teammate, Alan Chong, told his story of trying to help a Chinese woman requiring medical attention. He expressed his feeling of helplessness, as he was a bystander trying to communicate her situation to paramedics. Although he was somewhat fluent in Mandarin, he could not understand nor convey the medical terms she was speaking. A few of us approached him to offer ideas. Without this story and his courage to share it, our app as we know it today would not exist.


Pitch 2: In the 48 hours allotted to build our prototype during the hackathon, we not only had to piece together a working app, but we had to sell the idea to the judges consisting of a panel of Department of Homeland Security technology advisors, AT&T Foundry mentors, and industry experts. Two of our teammates took on the challenge: Alan and Ravi devised and carried out a theatrical rendition of the original language barrier incident. In less than three minutes, they explained the problem and showed our prototype on a projection screen for all to see (front screen, language tiles, body map, triage questions, and summary interpretation). After 12 teams pitched, the winners were announced. We were totally surprised! We won the prize for best use of AT&T technology, bragging rights, and $100 Amazon gift certificates for each teammate. Score!


Pitches 3-7: Over the next few weeks, I was in contact with leaders from the hackathon (AT&T and Homeland Security) as I performed market research and analysis to determine if the app might be a viable business opportunity. In an informal way, I was pitching the business model to gain their support and advisement. Also, I had to convince some of the hackathon teammates to join a new venture that would be formed.

In January 2015, after incorporation, we were invited to return to the location of the hackathon – AT&T, Plano, Texas – to get feedback on the direction of our new venture and technology roadmap from the AT&T Foundry staff where we received helpful input. In May 2015, our team was invited to try out for a global startup accelerator, Tech Wildcatters, which was seeking candidates for their next class featuring First Responder technology companies. We were given two minutes to pitch so we used a portion of a video we had created and the backdrop of our new website to tell the company story. I had my speech memorized, but it came out to about three minutes. My team helped me get that down to two minutes. I was nervous. A lot was riding on this – the chance to get funding and accelerate the growth of the business. Twenty-four hours later, we were informed that we made the final cut and were one of six teams invited to participate in the summer program. Yes!
Pitches 8-21: During this twelve-week EMERGE program, powered by Tech Wildcatters, we pitched every Wednesday without fail. Advisors, mentors, and investors attended these weekly events and gave us great feedback. They asked tough questions that led us to a more refined version that was more convincing. Halfway through the summer, we hired a graphic designer to take the visuals of the presentation to the next level. Although we should have done this sooner, the visuals were completed with enough time to make a big impact and help us convey the importance of our solution. The major goal of this program, in addition to building the business, was to give a polished five minute pitch at two Demo Day events. One held in Dallas, Texas (August 20th) and the other in San Francisco (September 23rd). Read more in this story from The Dallas Morning News.


Pitch 22-30+: After two successful Demo Days, we are now developing and refining our pitch for fundraising purposes. This one goes into more detail about the business model, sales strategy, and financial forecasts. We've met with our advisors and mentors to further refine our message in preparation for a seed round that opens in January 2016.
When a mobile app becomes a business, there's really no end to pitching. Interested parties will visit your website to learn about the problem you're solving. They'll read descriptions, watch videos, and learn more about how the app works for individuals and how it is licensed for larger organizations. Advisors, investors, and board members will need to be convinced that the company is moving in the right direction. Prospects and partnership candidates will need to hear how the product meets the unique needs of their target markets.
Read more about the 1st Minute App in our Featured Developer blog post.
—
Lance Manning is the CEO of LanguageMAPS, a company funded by the U.S. Department of Homeland Security through the EMERGE program run by Tech Wildcatters. The company's mobile app, 1st Minute, removes language barriers during medical emergencies. Previously, Lance served as a Life Sciences Advisor with the Larta Institute working with companies funded by the National Science Foundation, the National Institutes of Health, and the U.S. Army. His writings have been published in the American Journal of Surgery and Robotics Business Review. He also has written for the Larta Institute's blog, VOX (Voices on the Global Innovation Economy).
Photo courtesy of the Dallas Morning News.
---
Share this post