Updated: Nov 10, 2014
Published: Nov 10, 2014
How Mobile Performance Affects Your Bottom Line
I believe that a number of people who manage, develop or work on mobile apps or web sites are needlessly losing money, or at least not making as much as they could, every minute of every day.
This is true for the vast majority of the thousands of apps tested by the AT&T mobile performance outreach team. Over the past three years, we have helped companies identify opportunities to increase their profitability by helping them identify simple optimizations.
Better Performance Can Lead to More Revenue and More Savings
Performance is important to most users (1)
34% of users rate performance as very important.
84% say performance is very or somewhat important.
5% say that performance is "not that important" or "not at all important."
How Users Rate Performance: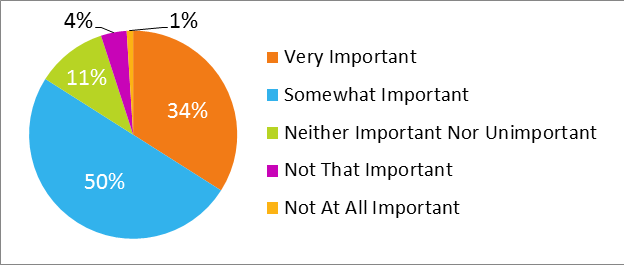 Shoppers are definitely looking for better performance.
Approximately 67% of carts are abandoned on the Web – an average calculated based on 22 different studies containing statistics on e-commerce shopping cart abandonment. (2)
41% said the checkout was too difficult on their device. (2)
23% of users said their purchase would not go through. (2)
As we can see, mobile performance is a big deal!
You Can Improve Mobile Performance
So if performance is such a big deal, what can you do to improve it? There are resources and tools to help you.


Follow Mobile Development Best Practices!
On the AT&T Developer Website we have listed a series of Mobile Development Best Practices that we encourage you to review. The top five performance issues we see can all be solved by following best practices:


17% of all mobile traffic is duplicate download of the same unaltered HTTP content. (3)
Periodics (like ads, analytics, and persistent connections) are sent on regular, timed intervals. They are useful for many things, but can be inefficient if not properly managed.
Group periodic transfers together for better efficiency.
Review the timing and stretch out the periodicity whenever possible.
Of the thousands of apps we have tested, a majority do NOT close connections when they are finished sending data.
The result is that the connection must be closed through a separate connection, which wastes airtime and energy.
You may not always want to close a connection after sending all the data. But if you do, you can do it easily and it is generally a good idea.
Not only can you save battery, but you can speed up your application by managing connections properly:
Thread file downloads rather than downloading them serially.
Remove file redirects to files.
Pre-fetch relevant files whenever it makes sense.
Clean up HTTP error codes and redirects.
HTTP 300, 400 and 500 series Status Codes provide information about possible errors and redirects resulting from an HTTP request.
The goal is to avoid all failure codes and redirects generated by your app.
Beyond solving these common issues, try to follow ALL the mobile development best practices. By learning and implementing mobile best practices, you should be able to make your app load faster, respond quicker, and hopefully improve your bottom line.
Keep Testing Your Apps
Testing should not stop with major releases. It is important to keep testing your apps to make sure they continue to perform well.
Test during every development cycle, test after every release, major and minor, and use random tests during off-cycles. Any code change can unknowingly impact the performance of your app, and catching performance issues in QA is much better than having your customers highlight them through reviews.
How does AT&T test and judge apps on our devices? We use AT&T ARO (Application Resource Optimizer).
ARO is a free mobile app diagnostic tool, designed and developed specifically for mobile development by AT&T.
ARO tests your app and offers a straightforward pass/fail report on each of 24 common issues, including the ones mentioned above. A sample report is shown below.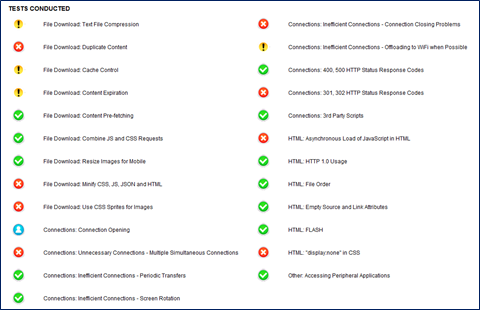 Along with the test report, ARO gives you feedback on how your app is actually performing, with graphs, charts and advice on how to solve issues that were found.
In future blog posts I will be writing more about how performance improvements can help your bottom line.
Compuware 2013; "Mobile Apps: What Consumers Really Need and Want"

http://offers2.compuware.com/rs/compuware/images/Mobile_App_Survey_Report.pdf

Results from the

2013 Mobile Consumer Insights

survey released by Jumio, Inc. and conducted by Harris Interactive:

https://www.jumio.com/2013/05/retailers-listen-up-high-rates-of-mobile-shopping-cart-abandonment-tied-to-poor-user-experience-pr/

"Web Caching on Smartphones: Ideal vs. Reality"

http://www.research.att.com/~sen/pub/Caching_mobisys12.pdf
---
Share this post