Updated: Jul 30, 2012
Published: Jul 30, 2012
How Important Are Tools To You?
The AT&T Developer Program wants to learn more about the use and impact of tools in your daily life as a developer, evangelist, marketer, and manager of mobile apps. And, most importantly, how we can help you along this journey. Most developers use a variety of tools to help them create better apps for their customers, work more efficiently and reduce costs. As a mobile developer partner, one of our goals is to ensure we are exposing the right set of tools and make it easy for you to find and use them.
Recent studies have shown that tools are an important aspect of the application development process. The 2012 Developer Relations survey from Evans Data found that the right set of tools can reduce overall development cost and speed time to market. Additionally, this same survey found that access to tools and SDKs even had a significant impact on which developer programs and environments developers aligned themselves with.*
Tools Across the Developer Journey
There are different tools available for almost every stage of the development lifecycle. With so many options available it can be difficult to choose which ones are best suited for the task at hand; whether you are in the initial planning stages of development, trying to understand the latest market trends for your audience, or already knee deep in app management on the storefront and looking to meet the needs of your current customers.
As an example, Appaware is a simple app geared towards end users to show them the most popular Android apps across categories. As a developer in the early stages of research this can be useful to understand what's popular and how you might want to differentiate your app from others. Once your app is in market, Appaware allows you to see what your users and their friends are saying about it and how often it's being recommended. At the other end of the spectrum, AT&T's own Application Resource Optimizer (ARO) is a free open source tool which provides a comprehensive view around the performance of your app so it's optimized to the fullest extent possible. A more efficient app can save money and keep your users happier. Once your app is in market, analytics information is also critical to understand usage. Using Flurry, a developer can leverage key usage information to scale their app to meet the needs of their customers.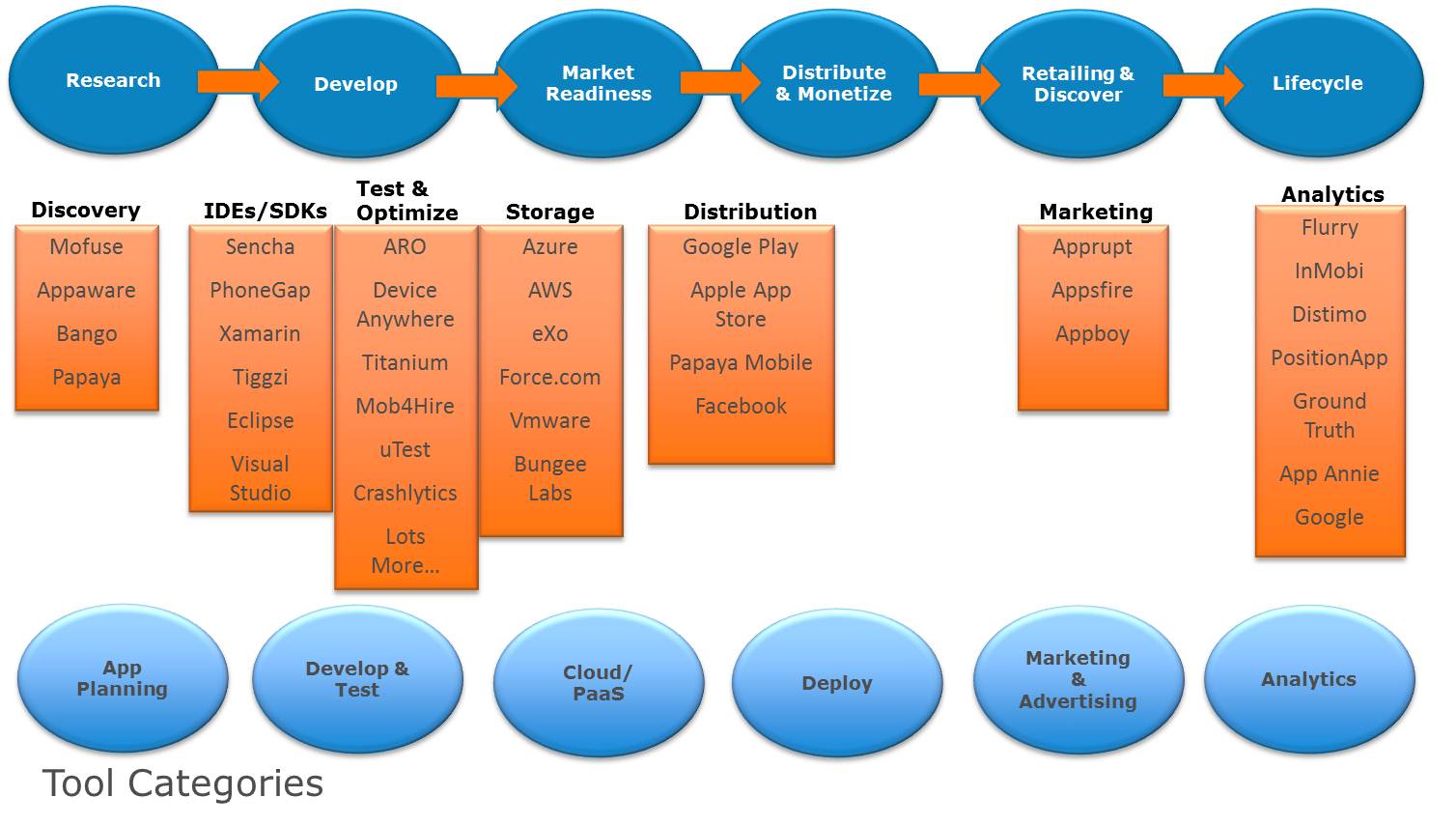 Use of Tools
How do you prefer to use tools in the creation and management of your mobile apps? OS and Platform provider sites like Google and Microsoft attempt to provide a one stop shop type experience with comprehensive SDKs containing multiple tools that allow you to code, test, analyze and optimize all from a single program. This may be ideal if you are solely developing for Android or Windows, however an ever increasing majority of apps are developed across multiple platforms to reach the widest possible audience.
A recent study by Vision Mobile found that cross-platform tools such as PhoneGap, Sencha, and Unity are all rapidly increasing in use as developers look to break out of the mold of developing entirely within a single OS environment like iOS and then later spending money to port to another platform such as Android.** However, cross-platform tools still may not provide all of what you are looking for and it's unlikely a single tool, IDE, or SDK ever will. There are simply too many aspects of the application lifecycle to consider which may have a significant impact on the adoption and use of your app.
Tell us what you think!
We'd love to hear your thoughts on this topic by responding to this post and encourage you to fill out a short survey to let us know what types of tools you use, what tools you like or dislike and how you prefer to access and use them. By filling out the survey in its entirety your name will be entered to win a cool new AT&T phone!
*Developer Relations, 2012, Evans Data corp.
**VisionMobile. Cross-Platform Developer Tools 2012.
---
Share this post