Updated: Jan 06, 2015
Published: Jan 06, 2015
Highlights of the AT&T Developer Summit Keynote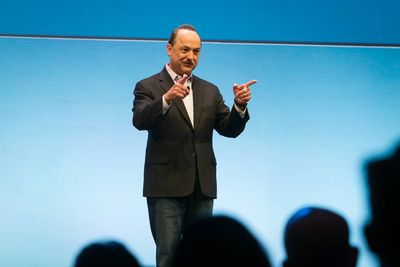 At the AT&T Developer Summit Keynote, executives took to the stage to announce new relationships, new developer tools, growth of services, and of course, the Hackathon winning team. We won't keep you in suspense. Team Anti-Snoozer won the $25,000 grand prize for their app to help stop people from falling asleep at the wheel. There was a lot of discussion about the Internet of Things (IoT), including a panel hosted by the CEO AT&T Mobility, Glenn Lurie. He assembled a panel of key executives, who gave their perspective on the current state and future of IoT. Another big theme at the keynote was security – how to create tools and products that are open, scalable, and secure.
Mobile is Eating the World
Ralph De La Vega, President and CEO AT&T Mobile and Business Solutions, welcomed developers and Summit attendees to the event. His presentation focused on mobility and how it is providing companies the capability to disrupt entire industries and deliver services to their customers they never thought possible before. "This concept of mobile is eating the world is at the center of the way we think about things at AT&T today," said De La Vega.
The key to enabling the future of mobility is in the network, architecture, cloud, security, and connecting devices. When it comes to architecture, the AT&T Mobile Cloud is a secure system that lets customers offer cloud-based services around the world. Customers can use the AT&T Mobile Cloud to create secure connections end-to-end, transmitting data over AT&T's secure VPNs.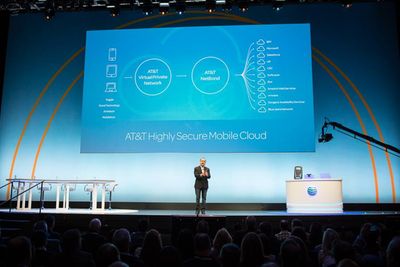 NetBond is the next piece of that puzzle. It can extend the network to the cloud anywhere that customers need it. Companies that use NetBond can connect phones, tablets, and IoT devices through AT&T's secure VPN network to the cloud service of their choice. Any cloud provider who has signed up for NetBond can connect to the AT&T network. The list of cloud providers includes IBM, CSC, HPSalesforce, Amazon Web Services, SoftLayer, VMware, Sungard Availability Service, and Blue Jeans Network. Developers now have access to APIs that they can use to expand and contract network bandwidth in a real-time, dynamic basis. These tools help extend unified communications and collaboration across the globe.
The IoT Opportunity: Barry White Playing on the Radio
We may still be in the early stages of IoT, but it's clear that it's the future of the Internet and there is a huge opportunity for developers. According to ABI Research, the Internet of Things will drive wireless connected devices to 40.9 billion in 2020. While that's an astounding number, there are still plenty of questions surrounding the opportunity and specifically what it means for developers.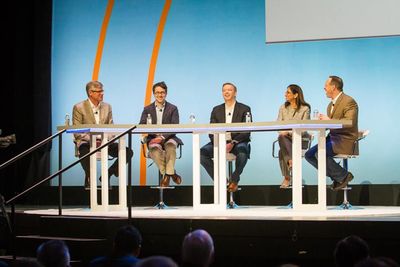 The IoT panel, moderated by AT&T's Lurie, included Steven Mollenkopf, CEO Qualcomm; Alex Hawkinson, Co-Founder and CEO SmartThings; Padmasree Warrior, Chief Technology Officer Cisco; and Benedict Evans, Partner Andreessen Horowitz. The executives offered some interesting insights on the topics, but the key takeaway was to "make it easy for people" and that also means make it easy for developers to create great apps. The tools are available to create connections we may not have though possible. For example, SmartThings' Hawkinson said that he would like an app that plays Barry White when he walks in the house. It's not all about the chips and hardware; the key will be the apps. That's where developers are essential.
IoT is in a unique position in that there's still a lot to be done and we're only seeing devices connect in a limited ecosystem. The executives agreed that ease of use will be key and that comes from the software that's built to make those connections. There also needs to be standards and it needs to be open and scalable. "We think the most interesting things that are going to happen to the Internet are going to happen at the edge of the Internet," commented Qualcomm's Mollenkopf.
Security is also essential, however, it will likely look a little different. "Think about security in the future perhaps being a platform that can dynamically integrate new solutions, which thus far it has not been," said Cisco's Warrior. The closer the Internet gets to the edge, the more personal data will be involved and keeping that data secure is imperative.
The consumer opportunity isn't the only one discussed. There's also a lot of opportunity for IoT apps in manufacturing and industrial environments. Apps could improve efficiency, tracking of inventory, and more. Another industry with potential is health care: not just medical records, but personal health management, as well.
Connected Car, Digital Life, WebRTC: Lot's of Fun New Tools
Next, David Christopher, AT&T's Chief Marketing Officer of Mobility and Consumer Markets, provided some updates and news on Connected Car, Digital Life, and WebRTC. AT&T has been busy signing deals with car companies such as Audi, Tesla, Volvo and Subaru (just announced) to empower 4G LTE cars in the United States. AT&T has also been busy working with developers to create apps for use with LTE in the car.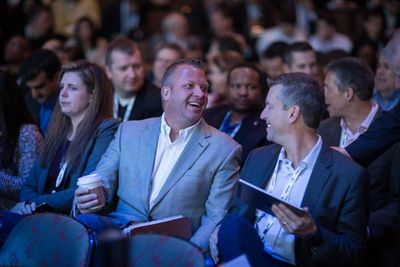 For developers, this is great news. It also means that the company has been hard at work creating a platform and APIs so developers can build great apps. The AT&T Drive APIs use a common framework created with Ericsson that simplifies and speeds development. There's a standardized app framework and UI kit, so the apps in the car provide a unified experience that an automotive OEM can take and brand appropriately for each vehicle make and model. The AT&T Drive API is available in a sandbox on the developer site.
Christopher went onto discuss the all IP, wireless home security and automation platform that provides 24/7 professional monitoring and more via a mobile app. The goal is to open up the platform as much as possible (security is still a key issue) for developers. The idea is to integrate with third parties and protocols. "We've created a services gateway that serves as a broker between our platform and other systems all while maintaining appropriate security levels and data management," said Christopher.
The secure and restful Digital Life APIs were available to hackathon attendees. Here are the highlights:
Alerts and Activities – Send a range of status messages to and from smart devices
Devices APIs – Developers will get a list of devices, create new devices, or update existing devices
Program Controller APIs –Manage the application layer for the Digital Life Devices
Thermostat API – Control temperature and manage energy costs
"Stay tuned for a certification program that's going to help you get your home automation devices certified for Digital Life. And we're also going to give you marketing materials to help you market them with that certification," added Christopher.
There is also a new WebRTC API for developers to use. The WebRTC API is currently in beta. Collaborating with Ericsson, we built a web communications gateway that lets our core network mediate calling sessions. Here are the enhancements:
The ability to extend communication to landlines and mobile numbers, not just peer-to-peer or browser-to-browser based sessions
Developers can programmatically enable caller ID for WebRTC communications. AT&T users can use their mobile number to place voice and video calls online and be recognized in any WebRTC-enabled browser
Developers can easily move or transfer a call (for example, start a call on a computer and seamless transfer it to a phone)
Mobility and the Enterprise
Some exciting news for developers came from Steve McGaw, Chief Marketing Office, AT&T Business Solutions. He unveiled the first commercially available IoT service for developers, M2X Data Service. It's a painless way to store and retrieve M2M time series data from the cloud for a network-connected device.
Developer Summit Hackathon attendees were able to use the new service. According to McGaw, "At our hackathon this weekend, more than 50% of the participants are using M2X API in their projects."
Another tool that developers got to try at the Hackathon, AT&T Flow Designer, was also announced. It's a visual tool to speed the development of new Internet of Things applications. Flow Designer is currently in beta.
The Keynote came to a close after John Donovan, Senior Executive Vice President, AT&T Technology and Operations, discussed software defined network. He summed it up by saying, "Imagine a network on demand concept where you can point and click and dial-up or dial down – hopefully, never down – the network that you need, so you have it on demand."
---
Share this post