Updated: Sep 02, 2015
Published: Sep 02, 2015
Gregorio Rojas Turns Passion for Development Into a Thriving Community for New Developers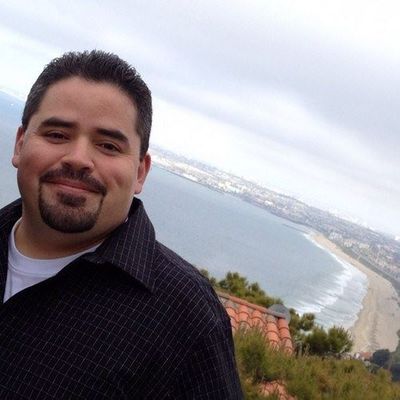 Our latest Featured Developer is Gregorio Rojas, who has created a community to train and encourage new developers. From development to hackathons to educating scores of developers, Gregorio Rojas is an inspiration. Developers are a passionate group and, in this case, his passion for software development led him to create Sabio where new developers, particularly those part of minority communities, could find new opportunities.
The Sabio community focuses on individuals looking to break into the tech industry and supports them in their efforts. Gregorio frequents hackathons with teams of new developers, using the event as a way to increase their skills and diversify their experiences. He recently brought a team of 15 developers to our 125th Mobile App Hackathon in Los Angeles and took home the first place prize for best app overall. Drawing on one team members experiences biking, the winning-app BikeMonkey was created to connect bikers with local mechanics when they need help.
Gregorio echoes our love for hackathons below and why using them to try new things and build new skills helps developers succeed. Interested in joining us for a hack? Check out our upcoming events calendar here.
Following our LA Hack we caught up with Gregorio to discuss his experiences with development, hackathons, and his passion for educating new developers.
You are very involved in developer education – tell us more about why you got involved in developer education and what it means to you.
Software development remains a very vague profession to most. Most people do not know what it truly means to be a software developer, what we do on a day-to-day basis, and what it takes to be good or great at this job. More importantly, not only do they not know what it entails; they think they know, but what they know is wrong.
Sabio is out to correct this and let people know that this is a fun and exciting field. It is a very social and collaborative community and most importantly it is not just for the math geeks and science nerds.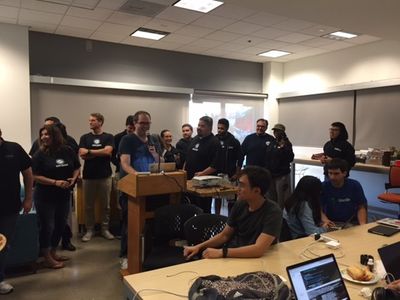 Where did your inspiration come from to create Sabio?
The inspiration for the idea of Sabio came from my own experience getting into the field and then realizing that there were many more people out here that could benefit from these great jobs. In fact, the industry itself has a great deal to gain from the involvement of people who are not currently aware that this is an option for them.
The impetus to actually get Sabio off the ground came from my wife and co-founder, Liliana. She essentially drove us to action and shortly thereafter took over the reins of driving Sabio as the CEO.

Is there a particular developer success story that sticks in your mind?
There are too many to pick any one. The result of putting in all this hard work, in this field truly has life altering consequences. We have had a number of mom's looking to get back into the workforce after taking care of their families. Many men and women who were simply bored and severely underutilizing their potential day after day. Now they are cranking out code building and deploying product.
If I was pressed to call something out, I would call our first cohort. A small group of people who took a chance on us, went on to win a top prize at the first HackForLA hackathon almost two years ago while they were only half way through their training. That was a big moment for us and started a tradition for us at Sabio of winning hackathons as often as we could.
Then we had Luis, a dreamer working dead end jobs who would have to code in the library until he was able to get his own computer. Now, he is a professional software developer at that start of a very bright career (also a hackathon winner, by the way).
What advice do you have for developers, particularly minorities and women in tech, looking to continue their education and increase their skill set?
Go do it now and surround yourself with a support network. The biggest mistake is to try doing this on your own, getting discouraged and then walking away. Don't walk away. This stuff can be too tough when you are by yourself, but a Meetup group can help you stay engaged and see you through the frustrations. Obviously, I recommend going to a bootcamp with a proven track record to accelerate your learning and entry into the industry.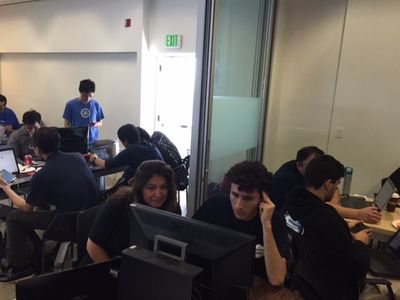 What prompted you to attend the AT&T Developer Program Hackathon?
We love hackathons as it is a perfect place for our fellows to demonstrate their skills. Even our most seasoned developers have only been coding professionally for no more than 18 months so we are a young group of developers. In spite of this, we rack up the wins. We have some fellows that have four hackathons wins.
We brought 14 developers to the last hackathon and all, but one, were members of underrepresented groups. It was a challenge to keep everyone coordinated, but we were able to keep it all together and put together a really cool app.
How many Hackathons have you participated in?
As a group, we have participated in about five hackathons. Ever since our first cohort, we have been taking our fellows to hackathons. It turns out that winning is a pretty addictive thing.
What was your experience at the AT&T Developer Program Hackathon like?
We have a good time at the AT&T Hackathons since they remain true to the spirit of hackathons: Good code and great presentations win. The professionalism of the staff and effort they put forth shows. We actually wish we had more opportunities to do things together.
How important is it for companies like AT&T to hold Hackathons?
It is critical for large organizations to continue to put on these events. It provides our members with a stage from which they can demonstrate their skills.
A driving force of innovation is diversity; so having our developers show the world that they can hack with the best talent in the area is key. It demonstrates that these skills can be nurtured and very much mastered by women and minorities in a way that the industry is still not fully accepting.
How did your team come up with the idea for BikeMonkey?
One of our fellows is a big-time bike enthusiast. BikeMonkey is his brain child.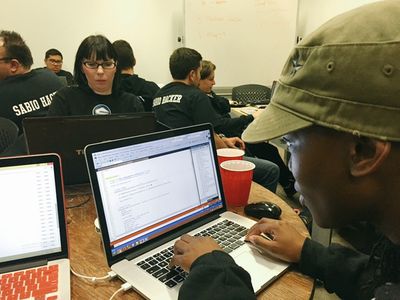 What is the purpose of BikeMonkey?
It is the AAA for bike riders.
What technologies were used in BikeMonkey?
We used SMS to notify on-call mechanics of someone in need of help, and a variety of the Google APIs for maps, GEO code functionality, places (for nearby bike shops). This is in addition to your standard MVC, Bootstrap, database backed application components.
How does your BikeMonkey app work?
It is pretty straight forward. Mechanics would check-in to a particular area so we knew who to ping when someone needed help.
Bike riders would request help from a page where we showed them their location. They have an opportunity to give mechanics more info about their situation and what happened.
This info would be transmitted to the mechanics via an SMS message that contained a link for the mechanics to follow to get the full details, and if desired, they would accept the request and jump into action. The person requesting helps is notified on their screen that a mechanic is on their way.
Any future plans for BikeMonkey?
The fellows did launch a beta during LA's CicLavia the following week and picked some business. I think once everyone gets settled into their fulltime jobs this will become a really nice side project for them.
What is your development background?
I have been programming for over 15 years in a variety of industries and in a variety of capacities including lead developer of the monetization team at MySpace.
What do you love about developing apps?
I have been in the industry a long time so it is just a natural thing.
Preferred coding languages?
Javascript
Favorite development tool, and why you like it?
Query Analyzers. It's just cool to make stuff run faster when there is so much data to parse through.
What technologies are you most passionate about?
Angular/Client Side Frameworks because of the increased developer productivity.
What are your future plans for Sabio and developer education?
We plan to grow and provide different training options other than the fulltime, full stack training programs we run today. In a nutshell, we plan to DEFINE what developer education should be.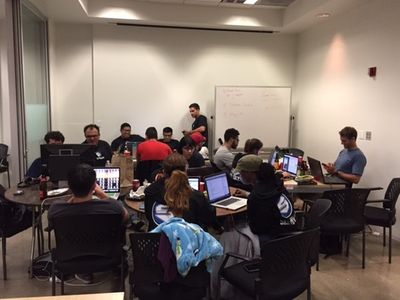 Anything we missed that you would like to share with the developer community?
I would like to highlight again and expand on why hackathons are important. The fact that anyone of any age, gender, or background can show up and compete on a level playing field is something special.
You are judged on your code and presentation, your results. Everything we are normally judged upon that does not really affect the quality of our product is dismissed. Everyone can put that aside for what truly matters: Did the team present a great product?
If this attitude could be carried over past the weekend and into our everyday work life we would all be better off for it.
We are highlighting Gregorio Rojas and the BikeMonkey team as part of our Featured Developer series, which spotlights members of our community to help provide insight into how people come together to ideate and develop applications. You can catch-up on how other developers have built teams and accomplished success through hackathons in our Developer Showcase.
Were you at the hack and want to share your experience? Do you know someone spotlighted in our Featured Developer series or are you interested in being featured? Share your thoughts in the comments below.
---
Share this post