Updated: Feb 19, 2016
Published: Feb 19, 2016
Grand Prize Winning Technology from Team KineticCare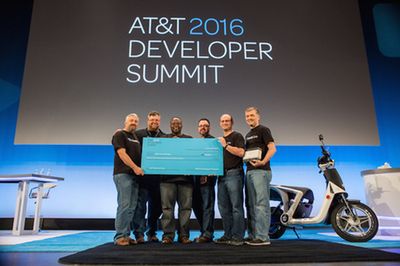 We kick off our 2016 edition of our Featured Developer series with Team KineticCare, the Grand Prize winner of the 2016 AT&T Developer Summit Hackathon. The six members of the team, James Cuomo, Joe Healy, Brian Kassay, Kelvin McDaniel, Jeremy Pursley, and Kevin Wolf are a group of friends from Tampa Bay who gather regularly to discuss coding and technology. The inspiration for the KineticCare app idea grew from the team members personal healthcare experiences and their desire to improve home health monitoring.
The 2016 AT&T Developer Summit Hackathon challenged over 1,000 developers to create an app in a day. Of the apps created, the top 20 teams presented their creations at the Hackathon. The judges narrowed it down to the top three teams that had the opportunity to show off their apps on stage during the AT&T Developer Summit Keynote. At the event, keynote audience members voted KineticCare the overall winner via text message polling. In addition to winning first place overall, KineticCare won prizes for Best Use of AT&T Sponsored Data API, Best Use of Harman APIs, and the Qualcomm Technology Challenge. If you weren't able to attend the 2016 Developer Summit see a short recap here or watch the full broadcast recording here.
Hear more about the experience directly from KineticCare team members Kelvin, James and Kevin:
What prompted you to attend the AT&T Developer Summit Hackathon?
Pre-hackathon, we gathered our group to one of our usual technical deep thinking locations, the Brickhouse in Tampa. After a few libations, the conversation turned to what could we do for the hackathon. The hackathon provided the "right" environment for focused development of our solution (KineticCare) to move from ideas to actions. We thought KineticCare could be impactful in the lives of others. The event allowed us access to multiple partners who had platforms that could help us deliver this vision, and a good amount of exposure to get it in front of people who could help us bring it to those that need it.
How many hackathons have you participated in?
This was the first hackathon for half of us. Kelvin and Joe had participated in other hackathons, and Kevin was in last year's AT&T Hackathon.
What did you do to prepare for the hackathon?
We preliminarily figured out who would tackle specific technology areas and who could be the subject matter expert in that area. Then, we set about learning as much as we could about it.
In the spirit of the hackathon, we didn't write any code prior to the event that would be part of our competition, however we did write plenty of sample code and references to ensure that understood the API's and technologies we used.
Did you bring anything with you that would help build and test your app?
Did we! Along with all of the hardware in our solution, we brought side monitors, USB and network hubs, backup DragonBoard hardware, GeChick 10-inch touchscreen, wires, soldering iron, etc. We were prepared!
Did you have a strategy in place when deciding what type of app to create?
We each walked in with a good idea of what we wanted to do… so, once we started coding on Saturday, all we needed to do was implement those ideas.
Tell us a little bit about how you setup your space at the hackathon?
We were able to score one of the rooms upstairs since we were in line early for check-in. With six of us, by the time we unpacked all of our materials and setup our machines, we had just about enough room to work. We worked in tables of two. Due to the open nature of how we left the room there was a lot of foot traffic through our workspace over the course of the hackathon.
How did you divide up the work on the app?
Divide and conquer – each one of us had one or two focus areas with the goal to learn the API/how the product worked/etc. AT&T and many of the sponsors posted most of the materials needed prior to the hackathon for this reason. Although we didn't start coding until we got to the Hackathon, we thoroughly reviewed the materials posted prior to heading to Las Vegas so we could dig in once the event started.
How have Hackathons helped you personally?
James: It gave me a creative outlet separate from the "9-to-5" to work on something with a bigger meaning. Even if we hadn't won this year, building something from nothing, the experience of the event, and working with my buddies was a blast.
Kelvin: They've given me a deeper level of confidence in "first cut" code that I would normally expect to either heavily redact out or simply throw away. Also, it's eased my notorious grumpiness when I'm interrupted while writing code. 😉
Joe: I learned a new level of respect for my teammates. Each had their own role, and each performed to a T. We had some odd moments at 4:00am, but all in all we worked through it. Developers, operations, architect – it all played out well in the end.
Brian: Hackathons have definitely honed my rapid application development skills. Working with my team, organizing who is doing what and how, and executing to produce our app in such a short period of time was an amazing experience.
Jeremy: Working with others with a different background showed me a wide array of techniques and technologies I'd not previously considered. There was a tremendous amount of learning packed into that 24 hours!
What was your experience at the AT&T Developer Summit Hackathon like?
Awesome! Good setup, great sponsors, and very knowledgeable folks in attendance. It was very well run, including the Developer Summit immediately following the Hackathon. An incredibly powerful yet simple addition this year was placards on the table to identify the location of the teams.
What does the AT&T Developer Program and AT&T Hackathons mean to you?
First off, I would have to admit that being in Vegas is certainly a plus J. It's an incredible experience and motivation to look at technology I might not have with my normal 'day-job.' It's also a great place to "practice" your skill set and become a better developer.
How important is it for companies like AT&T to hold hackathons for developers?
Incredibly important. It brings together developer craftsmen that never knew each other existed and puts them in a competitive environment where they can push each other and the technologies in ways that no one ever envisioned.
The Hackathon led us to experiment with APIs and tools we had previously not used. M2X, Flow, DragonBoard 410c, these were all things we learned expressly for the Hackathon.
Any developer-related advice, or lessons learned from your participation in the hackathon?
Be careful of the churn factor. It's really easy to start working on something, get 90% there and then think, "I've just about got this!" Then four hours go by and you are still struggling with it. In a 24-hour hackathon, four hours is an eternity. Forget your ego, ask for help!
What advice do you have for up-and-coming developers, especially those who are going to attend their first hackathon?
Set aside time to research different tools and technologies so you can choose the best tool for the problem you're going to solve. Using the right technology makes all the difference; don't get stuck using what you know just because it's what you know. For the hackathon in particular, don't be afraid to try out new things!
If you are targeting a particular hardware set, such as the Intel Edison or Qualcomm DragonBoard 410c, invest a little in yourself. Buy one ahead of time and get to know it. Learn how to set it up, configure it, reformat it, write some utilities for it, et al. Know your tools. Come prepared physically. If you're doing it right, you're up all night. Headphones, backup wireless device, side monitors, change of clothes, toothbrush, et al. Plan on grinding it out.
Do you have any tips on presenting to the judges?
1) Know your story – What problem is your app or solution meant to solve? Focus on that message.
2) Keep it brief – Figure out what your focus is for your three minute pitch, but make sure to use the full time!
What type of development background do team members have?
Kelvin has been in the industry since 1999 and began with ColdFusion 4. He got into the .NET world around 2004 and never looked back. Now he dabbles with some of the JavaScript frameworks but seems to like .NET the most.

Joe has been dabbling in, well, pretty much everything for a while. He's currently a C# junkie, delving into Windows 10 (and Win10 IoT) for pure Windows solutions, Xamarin, and VS-Cordova for cross-platform, and some game dev tools like GameMaker and Construct2. So many toys, so little time.

Brian had been a C++ developer for nine years before becoming a .NET developer eight years ago. He has a strong background in back end programming as well as front end UI programming. Most recently he has been a cross platform mobile developer covering Windows, iOS, and Android using Xamarin to cover all platforms.

Jeremy enjoys talking to users and other devs to figure out exactly what they need. Trained on the job in the Microsoft technology stack, he currently implements bespoke Windows apps and websites for entrepreneurs to enterprises as a freelance software architect.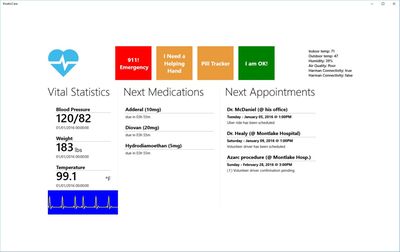 How did you form your team? Was it set before you arrived or did you pull it together on site?
We have a small think tank of developers and consultants in Tampa, where we're all based. We gather regularly to ponder deep thoughts around our particular world of coding and gizmos and such [let's not lie, and to enjoy beers together]. Our group has developed a very deep sense of trust.
Favorite AT&T API?
AT&T M2X (Bonus points awarded because the crew onsite knew their stuff and were SUPER helpful.)
Preferred coding languages?
C#, XAML
Favorite mobile application development tool, and why you like it?
Kelvin: Visual Studio. It's simply the best IDE out there. Even though it is awesome right out of the box, you can bend it to your will however you see fit.
Joe: Visual Studio. I can target Windows, IoT, Android, Apple, HTML/JS and more with it. Great integration into Azure Cloud platform. Best test IDE ever.
Brian: Visual Studio all the way. I used other platforms and they never lived up to the quality Microsoft has produced with Visual Studio.
What technologies are you most passionate about? Did those passions help shape the app you created?
Kelvin, in particular, is crazy in love with Cortana. Somehow, his wife puts up with it. J While we couldn't include her in our demo due to time constraints, you can get that she'll probably figure into the app when it's made available to the public. Creating ours as a Universal Windows App gives us flexibility in the easiest and most productive way.
Joe: I'm most passionate about "apps," but apps can mean about anything nowadays from an 80-inch Microsoft Surface hub to a Raspberry Pi Zero. I built the Dragonboard 410c app as a Windows 10 "app" – Yep, IoT as an App.
Brian: I love mobile applications. Coming from an enterprise development background that released applications to limited users it was an extremely rewarding experience releasing mobile apps that thousands of users began using. Most recently the hackathon has sparked a large interest in home automation after being the team's subject matter expert on Samsung SmartThings and AT&T Digital Life.
Jeremy: APIs! Opening up your system and data, or using data or functionality from other providers, has really just begun. There's still tremendous opportunity here and as their use becomes even more pervasive, I think we'll see huge productivity and benefit gains.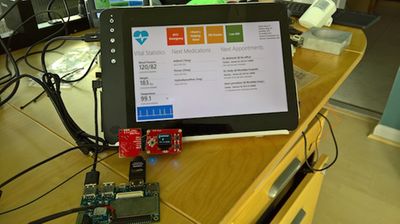 How did you come up with the idea for KineticCare?
KineticCare was formed by six local developers and consultants from the Tampa Bay Area. A couple of members of our team had recently dealt with immediate family who had health-related issues. One night during a regular meetup amongst several of us, we started talking about how we would change healthcare delivery. We naturally gravitated towards the idea of being able to support home health monitoring, as our loved ones were scheduled for tests or required monitoring which needed trips to the hospital or medical facility for completion or evaluation.
What is the purpose of KineticCare?
KineticCare is an end-to-end solution meant to:
Reduce the average length of stay (ALOS) in hospitals
Allow the monitoring of acute care patients at home for healthcare workers and family
Facilitate the independence of elders
Knit stronger communities through multi-generational volunteer interactions
Optimize civic/emergency personnel positioning to ensure optimal responses/response times
What technologies did you use in KineticCare?
AT&T Technologies: M2X, Flow, Drive, Digital Life, Sponsored Data
Other Technologies: Qualcomm DragonBoard, Intel Edison + SparkFun Blocks, Harman Audio APIs, Samsung SmartThings, Philips Hue, Windows 10 IoT Edition, Microsoft Azure, Visual Studio 2015
How does your KineticCare app work?
Using wearable IoT technology, KineticCare monitors patient EKG, pulse, and fall readings in real-time. If an emergency is detected, KineticCare alerts first responders and family members. It also assists those responders by unlocking the house doors, flashing exterior lights, and providing health status information while the responders are in route.
What are your future plans for KineticCare?
The response to our solution was overwhelmingly positive, and we have fielded several requests post-conference from technology and healthcare companies eager to learn more about our vision to extend high-quality healthcare to the home. Recent advances in technology, typically referred to as the Internet of Things (IoT), can bring the KineticCare solution to a home at an extremely low cost compared to extended hospital stays. The six of us are continuing to work together to refine the initial design and hope to turn the initial 24-hour prototype into a full-fledged offering available for purchase later this year.
What's Happening in the AT&T Developer Community?
Would you like to meet more developers in our community? Join us at an upcoming event: http://developer.att.com/community/events
---
Share this post