Updated: Mar 08, 2016
Published: Mar 08, 2016
Got a Smart City idea? Enter it in the Shape Challenge for a chance to demo it at AT&T Park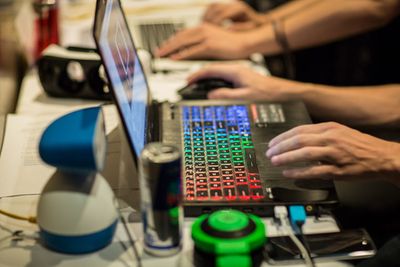 A smart city is more than just the latest technology buzzword; it is a topic of breathless coverage in science and business publications worldwide. The definition of a "Smart City" has evolved to mean many different things to many people. From city leaders, to technologists, to even people working at the White House, every stakeholder has been weighing-in on this concept and adding to the vernacular of how we define it. While there is no single consensus definition for a smart city, one thing remains constant – information and communication technology (ICT) will be an integral component of any smart city solution; facilitating improved insight into and control over the various systems that affect the lives of city residents. It is this "improved insight and control" that has city leaders all over the world embracing the smart city concept with increased enthusiasm at what is becoming an increasingly critical time in history.
With more than 50% of people worldwide living in cities, a number projected to grow to nearly 70% by 2050 according to the UN*, the challenges cities face will also continue to grow. These challenges include everything from sustainability and energy use to safety and effective service delivery. If researchers, public officials, citizens, technologists, and companies can develop effective solutions to these issues, the impact at home and abroad will be enormous. For instance, San Francisco, New York, and other cities have started to install solar-powered, sensor-enabled waste bins that measure waste levels and compact items to reduce overflow. The bins share the data with local authorities, allowing them to enhance efficiency by planning collection routes based on demand. According to the Fast Company article, "The Smartest Cities in the World," using this type of system can reduce operational costs by 70-80%.
Overall, technology is creating new opportunities to reduce traffic congestion, fight crime, foster economic development, reduce greenhouse gases, and make city governments more open, responsive, and efficient. Around the world, cities are beginning to harness the power of sensors while taking advantage of cloud computing, high-speed networks, and data analytics. However, the smart city concept is still in its infancy, and as such a gap remains between technologists and cities; a gap that AT&T is looking to close.
Smart Cities and the AT&T Shape Challenge
Our Shape Challenge, an open contest where students, developers, and entrepreneurs can enter their smart city product and/or technology for a chance to win a grand prize of $50,000. We are looking for solutions that close the gap and showcase how technology can be integrated into cities that provide:


Cost-reductions
Citizen well-being
Sustainability
Economic development across a wide range of use cases including, energy and utilities management, transportation, and smart infrastructure
AT&T has recently formed a dedicated Smart Cities Organization extending our technology expertise into the smart city space and we want to continue to build on our success. So if you have a smart city technology project that you've been working on, submit it to our challenge!
Open to US residents of majority age.
Enter by 5/6/16. Void where prohibited. Subject to official rules available here.
* Information comes from United Nations. Department of Economics and Social Affairs, Population Division (2014). World Urbanization Prospects: The 2014 Revision, Highlights (ST/ESA/SER.A/352)
---
Share this post