Updated: Aug 17, 2011
Published: Aug 17, 2011
Google Developer Lab Event Recap
Today I attended a Google "Developer Lab" event at their Fremont offices just north of Seattle. Let the record show that it doesn't rain all the time in Seattle, here you can see that we have the sun going full blast while we were inside coding. You'd almost think you were in Palo Alto with how warm it was outside: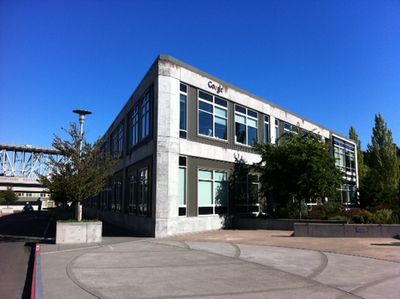 The event was by invitation only with mostly developers attending the event. Though there were some marketing/business attendees from local companies, most of them filtered out within two hours as the presentations got technical. All told, there were about 50+ people in the room and this number includes the Google developer support staff.
Developer support was everywhere and helpful as there were at least seven (7) floating around the room at any given time, helping to answer marketing/techncial questions throughout the various presentations and sessions.
All told, there wasn't a session that stood out because, well, the entire day was great. Granted, I might be slightly biased since I was fed really well. But I can tell you that the devs in the room were when free LG tablets for the coding session at the end. I have to say that I was very impressed by the staff that was always on standby just looking to pounce on every question.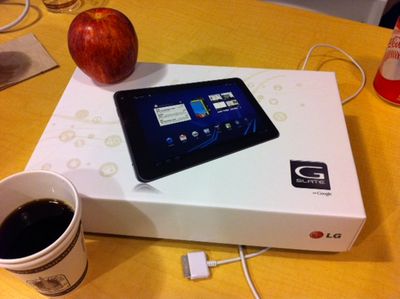 If you remember from your kindergarten days of getting up in front of the class to "show and tell" something of interest from your week, the Google Developer Lab employed a very similar session. During the "App Show & Tell" session developers got up to show and tell about the apps/projects that they are currently working on.
This resulted in lots of good UI/UX comments as well as UI/US learning achieved via this session. I really hope that we can replicate this piece as part of our developer.att.com site somehow to help promote apps as well as drive shared learning as other developers ask questions of the app that is being shared. Here is a shot of the Zappos mobile team demoing their as-of-yet-un-released Android mobile app: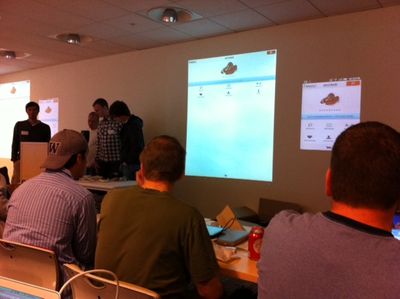 Looking back over the course of the day, the event felt like a mini-version of our AT&T Developer Summit, but with an extreme focus on code. Developers came in from all over the US include Portland and Vegas and it was good to see their current projects as well as hear their feed back on events of this type.
I am walking away with good contacts, enhanced knowledge about Honeycomb and a number of ideas on how to streamline/improve our AT&T Mobile App Hackathon events and AT&T Developer Program website.
Here are some additional high-level notes on the event that you may find interesting:

Event Structure (in chronological order):

Continental Breakfast
Presentations on new Honeycomb features and UI/UX technical best practices
Lunch
Google TV presentation
Developer App Show & Tell – developers got to show and tell about their app and get feedback from their peers
Google Honeycomb Code Lab – This is where devs were given a free LG tablet and shown how to code with Honeycomb fragments. Developers downloaded sample code and loaded it onto their laptops.
Topics Covered:
GoogleTV
Multi-screen application development
Tablet Development Best Practices
Tablet & Smartphone UI Best Practices
How to use HoneyComb Fragments technology
Interesting Developer Comments:
I want to use both of my thumbs when holding a tablet
I prefer grids to lists when viewing content on a tablet
Try not to have buttons close to the edge of the tablet because my newly manicured nails get in the way
There's so much more screen real estate on a tablet!
Links:
– http://j.mp/hcintro – Hit this link to download the HoneyComb CodeLab sample code
– https://sites.google.com/site/androiddevlabs2011/ – Link to the RSVP site for the event
---
Share this post