Updated: Sep 08, 2014
Published: Sep 08, 2014
Getting Started with In-App Advertising
This is the first of a series of blogs discussing AT&T Advertising best practices. Our first post will focus on developers who have never used in-app advertising, while also serving as a primer for developers who have tried using in-app ads from a single ad network, but are looking for a simpler approach.
The Basics of Mobile Advertising
You've developed your app and there's some interest in it. Whether you've started out as a free app, a freemium app, or a paid app, in-app advertising can help monetize your app quickly and easily. Here's a quick review of how it works.
Advertisers pay to have their ads placed within your app. When you, the developer, 'publish' the ad in your app, you become the "publisher" in the advertising equation. When an ad displays to a user, that is called an ad "impression." It is a key component to the overall mobile ad revenue model. These "impressions," that you as the "publisher" offer, are part of what an advertiser pays you for.
There are two primary revenue models for mobile ads. They are:
CPM (cost per thousand)

A fixed rate paid for every 1,000 impressions served
Revenue = CPM * Impressions / 1000

CPC (cost per click)

A fixed or bid rate paid every time a user clicks on an ad
Revenue = CPC * Clicks
Advertisers will typically have multiple advertising campaigns running simultaneously, using different revenue models and audience targets. What an advertiser pays to publishers can vary significantly. Factors that influence what an advertiser pays include: audience demographics, impressions, clicks or all of the above.
To simplify revenue calculations for publishers, effective CPM (eCPM) is often used as a primary KPI for publisher / advertiser effectiveness. It is calculated as eCPM = (Revenue / # Impressions Served) * 1000.
How You Get Ads in Your App
There are two primary methods to introduce advertising into the app: Direct Campaigns, or via an Ad Network. Here's the description of each.
Direct Campaigns: Developers could sign a direct contract with an advertiser. However, the developer would be responsible for ensuring the advertiser has the right inventory to fill the ad "slots" within their app. The following diagram (figure 1) illustrates the relationship. You would need multiple advertisers to fulfill the impressions your app could deliver.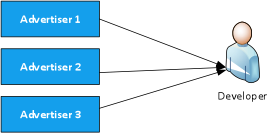 Figure 1
However, the more advertisers you have, the more administrative details you as a developer have to attend to. In short, it isn't a scalable model.
Ad Networks: To help alleviate some of the administrative overhead, a developer can enlist an ad network to supply ads from multiple advertisers representing many different ad campaigns. In this case, the developer has one partner to deal with from an administrative perspective as the diagram below (figure 2) illustrates.

Figure 2
However, again in this instance you are limited to the advertisers that the one particular ad network is bringing to your app. There are many different ad networks representing literally thousands of different types of advertisers. It isn't a one-size fits all proposition.
AT&T's Mobile Advertising Solution
AT&T's Advertising API enables you to use a blend of several top ad networks with one interface. It provides a developer with a:
Broad spectrum of advertisers
Diversity of ad impressions
Robust fill rate
Competitive ad revenue
The diagram below (Figure 3) illustrates how as a scalable solution, the AT&T Advertising API enables apps of all scopes, big or small.
Figure 3
With the AT&T Advertising API you eliminate the hassle of managing multiple advertisers or ad networks. You get the breadth of ad inventory you need to ensure a quality experience for your user while maximizing your monetization opportunities. Finally, the AT&T Advertising API is designed for easy implementation and offers a generous revenue share of 80% to developers.
Measure Your Success
Another advantage to using the AT&T Advertising API is having all of your advertising KPIs centralized in one place. Instead of grokking your web/app analytics package and mashing that up with data from your different ad networks, the AT&T Developer portal tracks impressions, clicks, and estimated revenue all in one place under the Advertising Analytics tab in the "My Apps" page.
In-app advertising is a viable way to help monetize your app. Most of the time, the administrative overhead of managing advertiser relationships directly will add tasks while reducing your time to improve your app. Ad networks are a way of aggregating advertisers to your app, but often developers need to employ multiple ad networks to ensure optimal monetization opportunities, again introducing more administrative and technical complexity. The AT&T Advertising API removes all of that complexity while providing an optimized, easy-to-integrate framework for your app.
We hope this post has given you a good foundation of mobile advertising basics, as well as how the AT&T Advertising API helps developers monetize their apps quickly and effectively. Look for our next post where we'll talk more about best practices for balancing the integration of ads in your app to both add value to your users and maximize your revenue opportunity. In future posts, we'll also explore how you can use the AT&T Advertising API to effectively focus your ads to your app users, as well as look at other best practices for using the AT&T Advertising API.
---
Share this post