Updated: Sep 05, 2014
Published: Sep 05, 2014
Get Your Product Connected with Bluetooth Smart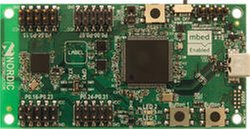 By Glen German
Here at Nordic Semiconductor, we are very excited about the upcoming AT&T Hackathon – Code for Car & Home in Las Vegas. One of the great things about working in a technology company is to see the product you have been working on being used in new and innovative ways that you could never have imagined. We are looking forward to seeing you all unleash your creativity and come up with new and exciting ideas.
Our main contribution to the event is the introduction of Bluetooth Smart technology to the mbed platform. Bluetooth Smart is a wireless standard designed for battery powered sensor applications, with a particular focus on low power consumption and unit cost. In recent years, we have seen a rapid adoption of Bluetooth Smart and the technology is now supported by every major operating system. All this makes Bluetooth Smart a very attractive choice when it comes to adding wireless connectivity to your product.
At the event, we will hand out our mbed enabled nRF51822-mKit and help you get started using Bluetooth Smart. If you want a head start, then join our webinar at the AT&T Bootstrap week where we will give a brief introduction to the technology.
Last, but not least, we hope to see a lot of candidates for the Nordic Accelerator award, which will be given for the best product using Bluetooth Smart.
See you tomorrow!
---
Share this post