Updated: Aug 27, 2014
Published: Aug 27, 2014
Get Your Geek On!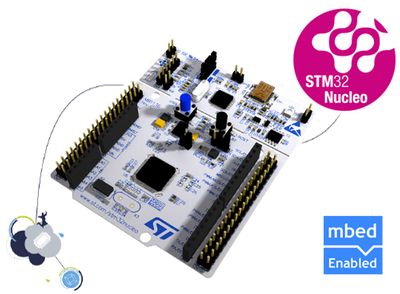 Come code with ST at the AT&T Hackathon, held at the swanky Cosmopolitan Hotel in lovely Las Vegas, September 6-7, and hack your way to cash and prizes with the sharpest MCU hardware on the block – the NUCLEO-F411RE.
Complete with Arduino Uno Revision 3 connectivity, on-board ST-LINK/V2-1 debugger/programmer with SWD connector, and mbed software enabled, the NUCLEO board will allow you to launch your nebulous notion of super mobility for the home or car straight to the cloud.
ST experts, Sean, Stuart, and Joe, will be on-hand to show you how quick and easy it is to use sensors and connectivity shields to collect data from temp, touch, motion, and alcohol sensors – among others. Think home and car owner safety, security, comfort, and cost savings as you craft your best ideas into workable prototypes to pitch to industry leaders when your design makes the final cut.
What can you do in 24 hours? Imagine the possibilities for your next biggest little connected device.
A thermostat that can determine your usage patterns, knowing your temperature preference year round and automatically adapting to your preferences.
The smart watch that can measure your vital signs, tracking your activity level, sending the information either to your smartphone or to the cloud.
Maybe you'll create an advanced alarm system that can not only notify you of a break-in, but snap photographs and send them to your cloud-based account to share with investigators.
What about a car system that can sense the presence of a break-in and immediately page your smartphone so you can react quickly to further lock down your car or initiate a distress signal; or imagine your car informing you that it is pouring rain and you'll need an umbrella when you leave the office.
Your house informing you that it is snowing, and you'll need that down jacket and snow boots for your commute this morning (or maybe that the office is closed and you'll work from home today).
Here's how to get started:
Prior to the hackathon: Go to www.stm32hackathon.com where you will find detailed information on our NUCLEO platform and partner collateral about what it can enable you to build at the Hackathon.
Grab the board: At the event, when you're ready to begin, swing by the ST booth for your FREE STM32F411 NUCLEO board and a USB cable.
Determine your connectivity medium: Select one of the compatible connectivity modules from our partners (Wi-Fi or BTLE).
Find and connect sensors: ARM has sensor kits available with a variety of sensors that will plug into the platform.
Use ARM mbed (mbed.org).
On your mark, get set, CODE!
For more details click here. Stay tuned to this blog for direct links to EVERYTHING YOU NEED to get your geek on!
---
Share this post