Updated: Jul 20, 2015
Published: Jul 20, 2015
Get Up To Speed Now on iOS 9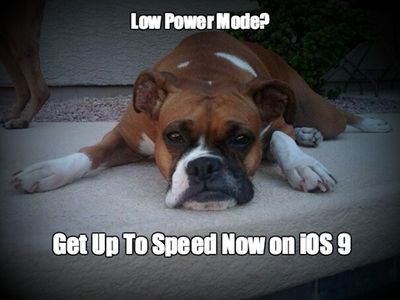 Guest post by Bill Weir, Senior Product Development Engineer for AT&T
The Apple World Wide Developer Conference always breaks new ground, and this year was no exception. In June, probably the biggest news for mobile developers was the iOS 9 SDK, released to anyone registered in the iOS developer program. It is also the first version of an iOS available as a public beta.
With iOS 9 there is added emphasis on anticipating the user's needs. By learning user behavior the system can offer recommendations and open appropriate apps before the user launches them. One new feature taking advantage of this functionality is Proactive, an intelligent assistant that anticipates your needs and delivers timely, relevant information.
Spotlight and Siri also leverage this ability and are more predictive in iOS 9. Siri's new "proactive assistant" delivers more accurate search results based on current context, making apps accessible to users based on the time of day they are used, and the ability to suggest possible names when a random number appears on your phone's screen.
Low Power Mode is similar to an Android feature, which allows users to manage their devices to save energy. It does this by disabling features when their battery is running down. Some examples of features that are disabled incluede animated wallpaper, motion effects, background app refresh, and push in the Mail program. The new iOS 9 is expected to be more power efficient, but every little bit can help. Low Power Mode is a feature of special interest to me. I help developers improve the energy efficiency and speed up performance of their apps by using AT&T's Application Resource Optimizer (ARO).
Those highlights are just scratching the surface. Below are some of the new features and enhancements in iOS 9 of interest to developers:
Multitasking enhancements for the iPad
App Search provides users great new ways to access information inside of your app, even when it isn't installed. Users can access activities and content deep within your app through Handoff, Siri Reminders, and Search results.
Use NSUserActivity APIs to make app activities and states searchable
Core Spotlight APIs and Web Markup help make app content cearchable
Universal links enable your app to handle links to your website
Gaming updates include improvements that make it easier to implement your game's graphics and audio features. Developers can take advantage of high-level frameworks for ease-of-development, and use new low-level enhancements to harness the power of the GPU.
GameplayKit provides foundational technologies for building games.
Model I/O provides a system-level understanding of 3D model assets and related resources.
MetalKit has a set of utility functions and classes that reduce the effort required to create a Metal app.
Metal Performance Shaders provides highly-optimized compute and graphics shaders that are designed to integrate easily and efficiently into your Metal app.
There are new features in Metal, SceneKit, and SpriteKit to explore.
App Thinning helps you develop apps for diverse platforms and deliver an optimized installation automatically.
Support for right-to-left Languages
App transport security improvements
New extension points
Contacts and contacts UI frameworks
Watch Connectivity provides two-way communication between an iPhone and a paired Apple Watch.
Keychain update provides more item protection options and new types of encryption keys owned by the secure enclave.
Swift Language enhancements
AV Speech Synthesis Voice lets you specify a voice by identifier, instead of by language. You can also use the name and quality properties to get information about a voice.
New AVKit Framework classes
CloudKit Framework lets you use CloudKit web services or CloudKit JS, a JavaScript library, to provide a web interface for users to access the same data as your app.
There are enhancements in the Foundation Framework, HealthKit Framework, Local Authentication Framework, Safari Services Framework, and UIKit Framework
MapKit and PassKit Frameworks have additions
It's time to get up to speed on iOS 9 and start preparing for all the new features. For more information on what's in IOS 9, see Apple's developer portal.
---
Share this post