Updated: May 04, 2012
Published: May 04, 2012
Get Involved: Upcoming Contests, Hackathons, Webcasts, and Conferences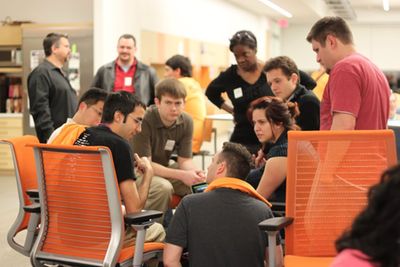 We're incredibly excited to announce that we have nearly a dozen events and contests scheduled for the next two months! Everything from epic hackathons with over $20K in prizes to webcasts where we'll walk you through using our new Speech API. We'll also be attending several conferences including CTIA and Uplinq.
If you haven't yet been to one of our hackathons, we really encourage you to check one out. They're a great way to meet new people and learn about the latest cutting edge tools. Winning cash and prizes isn't bad either!
If you can't make it out to a hackathon, webcasts are a great way to learn about our new tools and APIs. They're completely free and all actual attendees can enter to win an AT&T Smartphone. A list of upcoming webcasts can be found on the events page and recordings from past webcasts are in the events archive.
Below is the short list of what we have planned in May. For the full list, head over to our events page.
BEHIND THE TILES with Windows Phone: 4/19 – 5/17
Contest & Events
Join Microsoft for an exclusive event at select Best Buy® locations. At the event, you'll get to:
Play with a Nokia Lumia 900 in our demo room
Use new Windows Phones, including the HTC TITAN II
Learn about "Metro" style design and the future with Windows Phone
Walk-away with a bag of Windows Phone branded gifts†
Food and beverages will also be provided to help recharge your battery.

Space for this engagement is strictly limited and starts at 6:30PM.
Be sure to RSVP today with your information to secure your spot!

AT&T Mobile App Hackathon: 5/4 – 5/5
Palo Alto, CA
This special Mobile App Hackathon, produced by the AT&T Developer Program, Facebook, and WAC is designed for attendees (technical & non-technical) to learn more about HTML5, build HTML5 mobile apps, get fed, and compete for some jaw dropping prizes. Prizes include $20,000 for the best overall app and a special prize provided by Facebook for the team with the best social app. To help you build a winning app we will introduce you to the latest cutting edge tools so that you can easily deploy your own HTML5 app with a website backend, fully hosted in the cloud.
CTIA Wireless 2012: 5/8 – 5/10
New Orleans, LA
CTIA is All Things Mobile. Now with new dates in May, International CTIA WIRELESS® is even better positioned to meet the needs of the global wireless marketplace. This conference is a great opportunity to create a personalized, powerful experience at the one place for carrier services, enterprise, communications, apps, content and social networking.
AT&T Mobile App Hackathon: 5/11 – 5/12
Miami, FL
Have an app idea or need an app built for your business? The AT&T Mobile App Hackathon is an event produced by the AT&T Developer Program and Apigee that is designed for attendees (technical and nontechnical) to build apps/mobile apps, get fed, compete for prizes across different categories, and, most importantly, meet new people and scout for teammates to work on new or current projects. Our hackathon will introduce you to the latest cutting-edge tools to help deploy your own app with a website backend, fully hosted in the cloud.
TechCrunch Disrupt: 5/21 – 5/23
New York, NY
TechCrunch's Disrupt conference is a highly participatory, single track program that attracts a diverse group of attendees, including top CXOs, industry influencers, VCs, startup innovators, corporate professionals and media mavens. TechCrunch will be bringing big names to the Disrupt stage and will reveal an all new slate of outstanding startups for the Battlefield competition. And it wouldn't be a DISRUPT event without the ever popular Hackathon to kick it all off on May 19-20. Come, code for 24-hours with over 500 of your new best friends and see what you can create.
Target Windows Phone as Part of Your HTML5 and JavaScript Cross-Platform Project: 5/24
Webcast
Join us for this free webcast to learn how you can do cross-platform HTML5 based development targeting Windows Phone. HTML5 and Javascript are more and more used by developers who need and want to target multiple mobile platforms with a common code base. Open source framework such as Apache Cordova (previously known as PhoneGap) and jQueryMobile are fully supported on Windows Phone and this session will show you how to use the Cordova tools along with the recently released Metro theme for jQueryMobile to integrate your application into the Windows phone experience.
We would love to hear from you! What are we missing? How can we help you get more involved?
---
Share this post