Updated: May 09, 2017
Published: Sep 23, 2016
Get improved video capture with ARO 5.1 updates
We are extremely excited to announce the release of the Application Resource Optimizer (ARO) version 5.1.  ARO 5.1 has a number of great new innovations and tools that will make understanding your mobile application's performance easier.
In addition to bug fixes and continuing to support the latest iOS and Android releases, there are three major new features added to ARO in 5.1:
Multiple device support
Network Attenuation
Improved video capture
Let's walk through these new features and what they mean to you.  All three features can be found when you start a trace collection in ARO: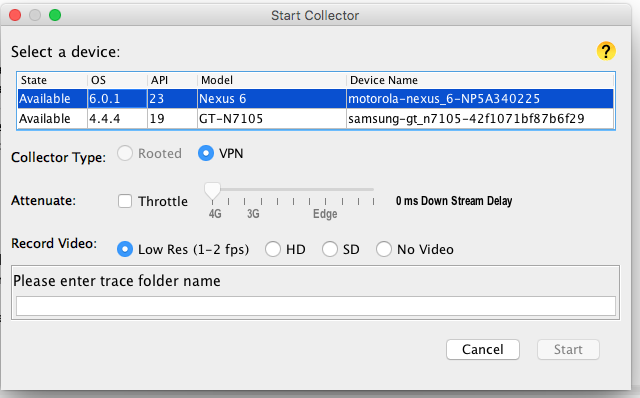 Multiple Device Support
In the past, you could only run ARO if you had one device connected to your computer.  If you had more than one device, ARO would behave unpredictably.  With the release of ARO 5.1, you can now choose which tethered device you would like to run the trace on.
This is also available as an API using the ARO command line tool.  The parameter '–ask' will prompt the user which device to use:
sh arocli.sh –ask vpn_android –output /User/documents/test
scanning devices…
list devices
0 – Android:motorola, api:23, abi:armeabi-v7a, id:NP5A340225, model:Nexus 6, DevName:motorola-nexus_6-NP5A340225
1 – Android:samsung (rooted), api:19, abi:armeabi-v7a, id:42f1071bf87b6f29, model:GT-N7105, DevName:samsung-gt_n7105-42f1071bf87b6f29
Select a device, q to quit :0-1>0
Alternatively, the flag '—deviceid' allows you to specifically choose the device from the command line interface.
Network Attenuation
While 4G connectivity is virtually ubiquitous in the US, there are many regions of the world that are not as fortunate.  In the past, it has been difficult for developers to test their mobile applications on slower networks.  For this reason, we have introduced the Network Attenuator (based on a beta product released in 2013).  This new version does not require root access, but will slow down the network on your device, allowing you to test how your application behaves on a slower throughput network.  (It is important to note that the Network Attenuator can only SLOW traffic.  If you are on a 2G network, and choose a faster connection, the network will still run at 2G speeds.)
To run the network attenuator, simply slide to the desired speed range before starting the trace.  It might also be a good idea to test the throughput on your connection using testmy.net.  There are other popular speed test applications, but we have found this one to be more accurate with VPN type connections.  Also important to note is that this release only throttles downlink data.
APIs to control the Network Attenuation are in progress, and will be released in a future version of ARO. In the meantime, this video will take you through the new features.

Improved Video Capture
One of my favorite features of ARO is that it captures a video of the device screen while the trace is being run – and all files/packets can be correlated to what is on the screen at the time of download.  Through ARO 5.0, the video has been recorded at 1-3 frames per second – not bad for simple analysis, but it does come off as choppy.
With ARO 5.1, Mac users can now record HD or SD video at 27-30 frames per second.  This video is much smoother and nicer to view.  To enable this video recording, simply choose the HD or SD options on trace startup.  From the command line SDK, the –video now has four options sd, hd, slow (the original 1-2 fps video) and no (meaning no video recording). If this option is left off, the default is no video recording.
We hope you enjoy these features as much as we have had getting them into ARO. Let us know how you used them, or leave a comment in our forum.
---
Share this post