Updated: Aug 12, 2013
Published: Aug 12, 2013
Game Development for Kids
This blog is from Brad Barnhart, Director of Marketing for the AT&T Developer Program.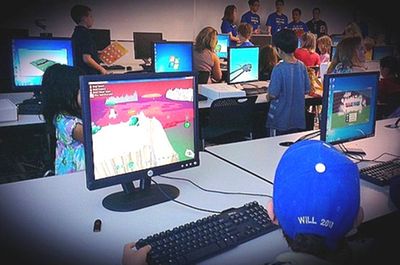 My 9-year-old son recently took a Game Development course at the DigiPen Institute and had a blast so I thought I would share a bit about his experience. For context, DigiPen is a leader in game development education and is the first school in the world to offer a bachelor's degree in Game Development.
During the summer DigiPen offers ProjectFUN youth programs to students in grades 1 -12 with the goal of engaging kids in the arts and sciences through hands-on development courses.
My son took the Exploring Game Development course which he thought was super cool. In this course, he learned how to make both video and a traditional (board) games and saw how math, science, and art skills are required to create games.
During his course, my son used Kodu to build a video game which he ended-up presenting in a final showcase on the last afternoon (and he has since been able to work on/modify it at home). When I asked what his favorite part of the course was he said, "Learning how to make a robot and having it move and shoot at targets," in a game he designed. All in all he had a ton of fun while getting a great intro into game development.
I'd love to hear about any kids you know that are creating video games – how did they learn, what dev environments / tools do they use, what types of games have they made, etc..
---
Share this post