Updated: Apr 13, 2021
Published: Jun 24, 2015
Futurecast at the AT&T Foundry: Nir Eyal and Habit-Forming Products
Update July 20,2015: Watch the Futurecast video at the end of this post.
The AT&T Foundry innovation centers are fast-paced and collaborative environments. AT&T and technology providers work in the AT&T Foundry to deliver applications and services to customers more quickly than ever before. The AT&T Foundry – along with AT&T Foundry sponsor Ericsson and Andrew Keen, author of Cult of the Amateur and Digital Vertigo – host a series of salon-style discussions called Futurecasts. These discussions bring the brightest minds together to tackle the future of a wide array of technologies.
About this event: From Fitbit to Flappy Bird, habit-forming technology shapes industry headlines, trends and hype. Some brands and products sustain through the product cycles and the years, while others flare out soon after their introduction to the market. Are companies trending towards creating consumer experiences that are nefarious time wasters or virtuous tools? Will technology be used to drive good habits that improve our lives? Or is technology the new cigarette of our time, as people reach for their phones the moment they wake up each morning? In this Futurecast, Nir Eyal, author of "Hooked: How to Build Habit-Forming Products," discussed the psychology, marketing and creation of technology that accessorizes our daily lives.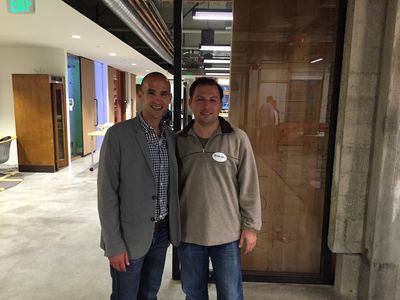 Guest Post by JeanCarl Bisson, Developer and Co-founder of Sleek-Geek Inc.
I was invited to the recent Silicon Valley Futurecast discussion held at the AT&T Foundry in Palo Alto. Nir Eyal, author of Hooked, shared with us the Hook model. Aimed at forming user habits, the model uses a process of triggering a behavior, having the user perform the behavior, rewarding the user for taking the action, and finally setting up the next trigger with an investment. The more frequent and faster the user goes through the loop, the more likely this behavior will become a habit.
Eyal said that these habits are impulses to perform a behavior with little to no conscious thought. According to Eyal, about half the things we do are performed out of habit. For example, when we're standing in line at the grocery store, we check our social media notifications, scratching an itch to be social. We might interact with a couple of notifications and then return to reality and pay for our groceries. We might be triggered internally by the need to be social or by boredom, or externally by a notification on the home screen of our phone. Internal triggers are becoming more important as the device form factors that trigger these habits have become smaller, from desktop to mobile to wearables. He said 90% of the notifications on the home screen of a mobile phone are from apps we use.
Who Is Ultimately Responsible for Creating Habits?
As a co-founder and developer at an edtech startup, Sleek-Geek, I was intrigued with this habit forming process. We want to make our mobile apps sticky, encouraging teachers and students to come back frequently to use our apps. So what company wouldn't be crazy to implement this tactic of encouraging habits that become effortless for developers? It kind of feels like a gold mine waiting for us!
As a consumer, this makes me do a double-take. Am I being manipulated to form habits that could become an addiction? Could the innocent task I do periodically, from posting to Facebook or Twitter become a huge distraction in my life?
Eyal said as consumers, it is our responsibility to understand how these products work, how this Hook model is designed into products, and maintain control over our interactions with these products, so we can prevent unwanted manipulation.
An interesting point that came up was about corporate responsibility. An entrepreneurial attendee posed the question, could a popular photo sharing app, Instagram, be held accountable for creating an addictive experience? If so, could users ultimately take the company to court for the habits-turned-addictions the company employed against their users?
Now, you may be wondering at what point a habit can become an addiction. And it seems like many people interchange the two. A habit is a positive behavior that the person enjoys doing. An addiction is a negative compulsive behavior, where the person desires to stop doing the behavior, but can't. A habit, taken too far, could become an addiction.
Who Benefits Most from Habit-Forming Produts?
The discussion left me confused and in conflict. Is encouraging habits ethically right if they could be addictive? Both the company and the user are benefiting from these habits, right? We've consented to these behaviors and habits. Or have we? It seems harmless. If we are internally triggered to perform actions in return for a reward, are we actually unconsciously performing a behavior that benefits one side more than the other? Sure, as a user, I get a reward. But does the company get a BIGGER reward?
If the company is reaping a reward, will they be more likely to push the boundaries of my habits to gain a bigger reward, causing my habit to become an addiction? Where does the boundary end? And do I have a choice?
I talked with a couple of other attendees about my concern. One suggested more transparency might be needed. If a company is transparent about the habits they are encouraging and aren't deceiving the user into adopting behaviors, the consumer ultimately has a choice. In reality, is this transparency possible? Or does a company prefer to keep this on the down-low?
What about getting to choose which habits I form? Is it an either or situation, where I either stop using the service to avoid the habit, or can I choose to customize the habit to fit what I want it to be?
We hear about users getting too involved on social media and then cutting the cord. That doesn't seem to be very beneficial to either the user or the company. Can I ignore the buzzing phone in my pocket as I type this? Or do I need to check who is trying to contact me? If I continue to immediately respond to this buzzing phone, will I lose control?
The Fine Line Between Habit and Addiction
I'm not alone. Eyal encouraged this healthy fear, also known as reactance. When our autonomy is threatened, we rebel. We should have an understanding of the habits that are being formed, be able to keep control over the habits and actions we take, and to remain conscious of these habits. When we lose control of the habit, it becomes an addiction.
Eyal shared with us the ways he keeps technology under control. He uses an app that disables distractions for two hours while he writes. He has also set up his Internet router to turn off at 10pm on weeknights, preventing him from checking on email and other online activities when he should be sleeping.
Eyal has noticed interesting behaviors millennials use to control technology. For example, during exam week, millennials will change their Facebook password and hand it over to a friend guard to control the habit of checking Facebook and becoming distracted.
So it seems like the consensus is that companies can and will continue to encourage the habits that regularly bring us back to their service. Consumers should recognize and control the habits that they have formed. Most importantly, there should be a dialogue about these habits to keep them in check and provide the user options.
As Eyal elegantly ended the Futurecast, how can we put technology in its place? How can we control these technologies instead of the technologies controlling us? In the comments, share your perspective about how technology habits control you, and how you control them.
Watch the Futurecast
Hear directly from Nir Eyal in video clips from Futurecast, including the one below on habit-forming technology, found on the event page of the Futurecast portal.
—-
Nir Eyal writes, consults, and teaches about the intersection of psychology, technology, and business. The M.I.T. Technology Review dubbed Nir, "The Prophet of Habit-Forming Technology."
Nir founded two tech companies and has taught at the Stanford Graduate School of Business and the Hasso Plattner Institute of Design at Stanford. In addition to blogging at NirAndFar.com, Nir is a contributing writer for TechCrunch, Inc. and Psychology Today.
For more information on the AT&T Foundry innovation centers, read more here and watch prior Futurecast recordings here. Visit the Futurecast Facebook page here.
—-
JeanCarl Bisson has been developing websites and mobile apps for nearly two decades. He is a co-founder of Sleek-Geek, Inc., building mobile classroom tools and games, including a reading assessment app and student behavior management app, Read With Me App, the first place winner at AT&T's Mobile Education App hackathon in 2012, is used by teachers and students around the world. He is a regular at hackathons around the Bay Area and enjoys travelling to NASA launches and National Parks. Read his fascinating experiences on his blog and @dothewww.
Read JeanCarl's blog post What to Expect at Your First Hackathon and learn more about his winning AT&T Developer Summit Hackathon app here.
---
Share this post