Updated: Dec 18, 2017
Published: Sep 28, 2016
10 Essential Free Virtual Reality Apps
Virtual Reality (VR) is becoming increasingly popular, and if you haven't already tried out a VR headset and immersed yourself in a VR video or a VR app, it's not too late. After all, 2016 is the year of VR – or haven't you heard? Since you can experience VR right on your smartphone without a specialized headset, there's no reason why you shouldn't see what all the excitement is about. We've rounded up 10 free VR apps to help you get acquainted with the experience.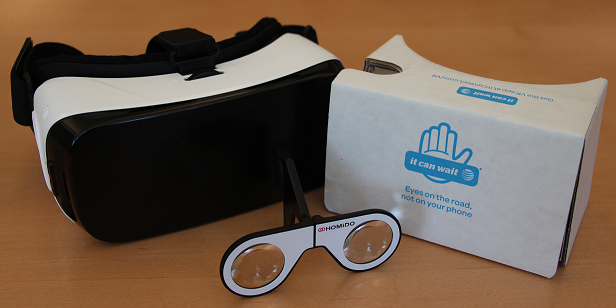 Criteria for Our Selection of VR Apps
Since an ideal VR setup on your desktop (which requires a high-end graphics card and a tethered VR headset) can significantly impact your wallet, we've put together a list of VR apps you can enjoy without breaking the bank. To make VR accessible to virtually everyone, our list of essential apps must meet the following criteria:
Must be VR-Focused – VR must be critical to the app's functionality or must be the core component to the app.
Free or Freemium – Just trying out the technology? Why not start with one these free VR apps; As you can see, there are plenty of good ones to keep you busy. If you really love an app, there may be an in-app upgrade or try out some paid apps.
No Special Peripherals Required – In order to make this list useful to the largest audience possible, we've eliminated any apps that require peripherals such as a Bluetooth game controller.
No Special Viewer Required or the App Uses Google Cardboard – To keep the cost of your VR experience low, the apps we list either work with most smartphones or with Google Cardboard. If you don't have Google Cardboard, don't fret – you can pick one up for about $15.  Personally, for about the same price, I got the Homido mini for viewing VR. The Homido mini will fit almost any smartphone, allows me to interact with my phone easily, and when folded, it easily tucks into my shirt pocket.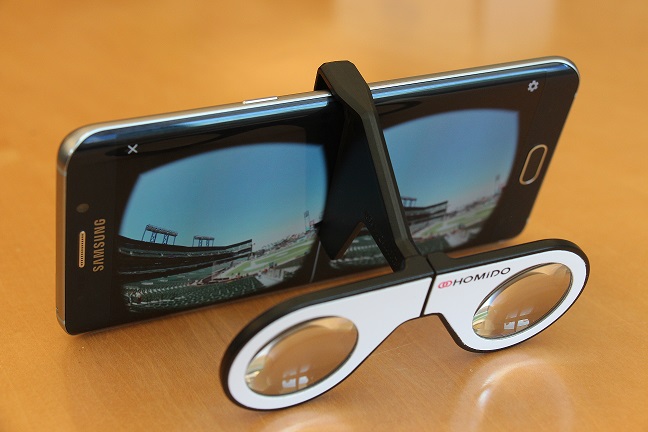 If you want something a bit more robust, you can try Samsung's Gear VR. Working with Oculus, Samsung designed the Gear VR headsets. You can still buy the 2015 version for about $80.00 on the Samsung site ($100 originally and found for $65 on Amazon). If you want the newest, lightest 2016 version that has a wider field of vision (101 versus 96 degrees) or you need to attach it to the larger Samsung Note 7, you can get a headset for $100 on Samsung's site.
WARNING: Heavy Data Usage and Motion Sickness May Occur when Using VR Apps
These apps can use a lot of data and they may make you nauseous. The interactive VR apps will use some data, but not as much as it typically takes to download 360 videos. Not surprisingly, the videos can be quite large. For example, the 4.5-minute Astronaut video on the arte360 VR app is over 750MB. Consider using Wi-Fi with these apps whenever possible.
If you're susceptible to nausea or motion sickness, pace out your viewing time or use a less immersive viewer. Be especially wary of apps or videos where the camera position is moving since this can cause a lag in the video update, which can cause nausea. Also, when you're turning to look around in the app, don't spin or move too quickly as the processors in some phones may not be able to keep up.
10 VR Apps Worth Checking Out 
We've selected 10 VR apps for Android and iOS devices, and listed them below. For some of the apps, there were just too many good options so I also included similar apps. For example, rather than deciding on a single VR video aggregator, I've listed a few.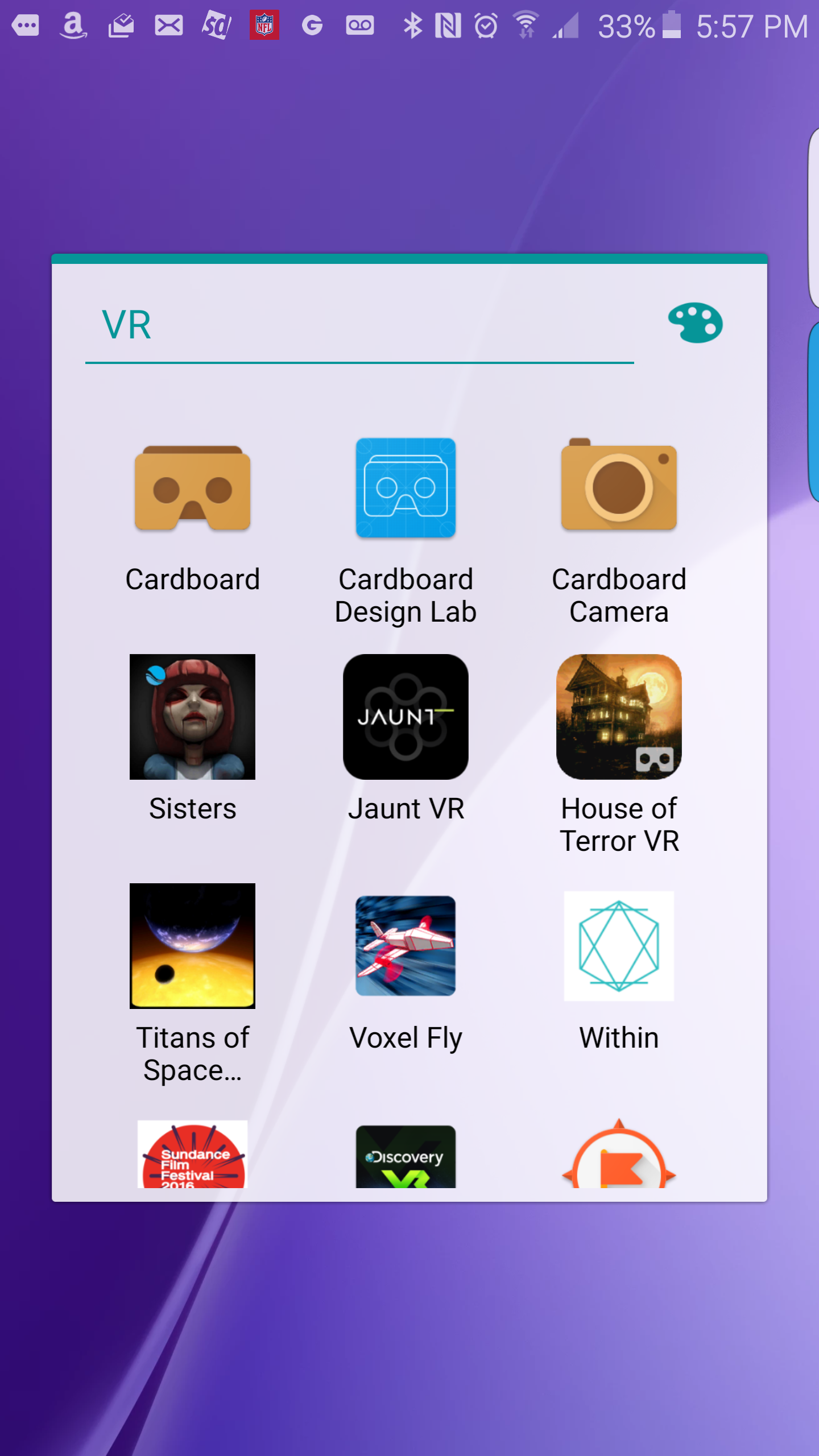 You can use these apps to browse, view, and search different VR films. Some of the apps, like Fulldive and Jaunt will create a virtual room where you'll select content by looking at controllers.  There is some overlapping content between the apps so be prepared for some duplication. Regardless of which one you select, you're sure to find more than enough video to satisfy your VR needs. Note: Cardboard is optional on some apps (Jaunt, Within) and required on other options (Fulldive).
Sisters from Otherworld Interactive (Android, iOS)
Based on the number of apps available, VR definitely lends itself to the

horror genre

. Unsurprisingly, with a fully immersive VR headset and spatial audio to lead or mislead you in different directions, the director has a medium that provides the ability to easily orchestrate jump scares. Placed in a dark room or eerie house, the lights go dark, you hear an odd noise behind you and just as you turn around, something horrific jumps out. If you enjoy the awakening experience that comes from being scared out of your skin, try out Sisters along with these apps:
In all cases, we recommend using Cardboard along with headphones for the full effect.
Titans in Space® Cardboard VR from DrashVR LLC (Android)
Ever dream of becoming an astronaut and travelling through space? How about flying by all the planets, moons, and other celestial bodies in our solar system to get a closer look? Titans in Space excels at allowing you to really see our neighboring planets. For those who want a little more, this app actually provides some interesting facts and figures.  Other educational VR apps worth exploring include:

Expeditions from Google (Android, iOS)
Discovery VR from Discovery Communications (Android, iOS)
While both apps take you to different parts of the world, the Expeditions app goes a step further as it was designed specifically for teachers to lead students through a virtual field trip. With a teacher (or guide) and multiple students on the same Wi-Fi network, the group can explore over 200 expeditions such as the Pandas at the San Diego Zoo or even the Colbert Report set.
NYT VR – Virtual Reality from the New York Times Company (Android, iOS)
VR is a new medium and there are several news and TV outlets experimenting with it. The New York Times has gone all in by distributing a million Google Cardboards to their subscribers in 2015 and another 300,000 earlier this year. The NYT VR app aggregates in-depth VR Video articles that are artistic and informative in nature. From topics like "The Fight for Falluja" to "Seeking Pluto's Frigid Heart" to "Beyond the Map – Step Inside the Unexpected World of Rio's Favelas," this app provides high-quality VR video for viewing with both Cardboard and smartphones. Here are a few more notable VR video aggregator apps with a more artistic or news focus:

ARTE360 VR from ARTE.TV (Android, iOS) provides a more European-focused collection of stories from a European broadcast network.
Sundance VR from Immersive Media (Android) includes select narrative and documentary VR videos from the 2016 Sundance Film Festival.
Vanguard V Google Cardboard from ZeroTransform LLC (Android, iOS)
With the pervasiveness of smartphones and the inexpensive options for viewing VR (i.e. Cardboard), one obvious VR application is gaming. For high-end VR setups like the HTC Vive and the Oculus Rift, VR has created a fully-immersive experience. For mobile gaming, the same potential is there, but the level of immersion can be limited by the speed of your phone. That said, Vanguard V is a rail shooter game with very smooth flight controls. I'm not sure if it's the game or the third-person perspective or both, but the results speak for themselves. Here are some additional games worth exploring:

Voxel Fly VR from Cenda Games (Android) is an obstacle avoidance fly-through that is pretty smooth though that seems like a fair trade for the lower resolution wireframe flying machines.
Radial-G : Infinity from Tammeka Ltd (Android) creates a superb racetrack chase with better graphics than Voxel. Be sure to stay on the tracks and keep up your speed or you'll soon become alien squid bait.
Cardboard Design Lab from Google (Android)
Don't let the title or Android-only support fool you. This app should be used by new VR developers on all platforms or even by casual VR users to help them understand what makes for a good and a not-so-good VR app. The app goes over 10 VR design principles and then provides examples of those principles in practice.

Using a Reticle. This is the visual cue that shows the center of your field of vision.
UI Depth and Eye Strain. Has great suggestions on where to place text you want to read and the associated trade-offs.
Using Constant Velocity. This really demonstrates how doing something so simple can minimize nausea.
Keeping the User Grounded. Helps the user understand what is and isn't moving.
Maintaining Head Tracking. This is another principle that can reduce nausea.
Guiding with Light. No, this isn't a re-spin on an old soap opera. This principle speaks to using light to subtly guide users through your virtual landscape.
Leveraging Scale. Create large objects and landscapes for more depth.
Spatial Audio. This is my favorite, and it uses audio or 3D audio to get users to look in a particular direction or to enrich the virtual scene.
Gaze Cues. Rewarding users as they look in certain directions.
Make it Beautiful. This is less of a design principle and more of a note of encouragement.
Pokemon Go from Niantic, Inc. (Android, iOS)
While this is not a VR app, because of its worldwide popularity and its use of Augmented Reality, it's worth mentioning. Even if you're not a Pokemon fan, you should try this app to experience the addictiveness of the Pokemon Go craze. It's surprising the effect of this app has on the behavior of its fans. During the summer, several parks in the greater Seattle area, normally empty, were filled with hundreds of people late into the evening trying to catch them all. More recently, a rare Pokemon (Snorlax) in Taipei, Taiwan resulted in a mad stampede.
Try out these apps and let us know what you think in the comments section. There are new VR apps being released every day so if you've got an app that should be on this list, leave a comment and we'll consider it in a future update.
For more articles on AR, VR, and all things video, see our new AT&T Video and VR site.
---
Share this post