Updated: Dec 13, 2013
Published: Dec 13, 2013
First Set of AT&T Developer Summit Accelerator Challenges Revealed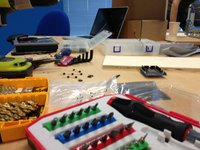 The first set of Accelerator challenges we would like to highlight come from our very own AT&T Business Solutions (ABS) team. Many of you may remember the great M2M track they sponsored last year, which produced two of the three teams for our Keynote Fast Pitch including the overall winner Good Times. This year our ABS team has decided to double down by sponsoring an M2M Accelerator challenge, and building on our wearables theme by also sponsoring their very own Accelerator challenge for use of the new AT&T M2X API.
Here's more detail about each track and their prizes:
Best Use of AT&T M2M App Platform (Sponsored by AT&T) – $10k Prize for 1st Place
Innovate with the AT&T M2M Application Platform to manage connected devices and/or bring a smart product to life. Build an application with our easy, fast M2M development and management platform. BYOD or use an Arduino board, sensors, gateway that we provide. Combine it with AT&T's network APIs adding "smarts" to a product – with a mobile connected hardware and UI.
Best Use of AT&T M2X API (Sponsored by AT&T) – $10k Prize for 1st Place
Create a data driven device and/or application that showcases your innovation and leverages M2X for cloud data. Build a data driven device/application with the new M2X API for AT&T cloud data storage and sharing. We'll enable your creation by providing device kits with select sensors and sample datasets in the M2X cloud. You can also build with your own time series data set, rather than a device. https://m2x.att.com/
---
Share this post