Updated: Jan 14, 2022
Published: Jun 22, 2015
Featured Developers: CyberCode Twins America and Penelope Lopez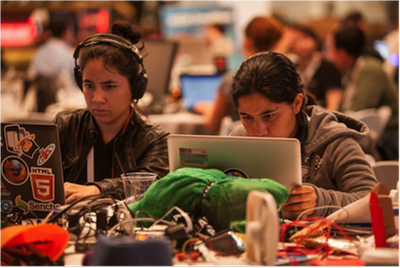 From accidental hack attendees to hackathon winners, America and Penelope Lopez are passionate developers, supporters of Women in Tech initiatives, and driving technology opportunities in their communities through teaching kids how to code. When they aren't at a local Meetup, conference or workshop, you can find them at hackathons up and down the West Coast or helping organize hackathons including one during the Latino Coders Summit at UCLA later this year.
We are proud to have America and Penelope as part of our developer community! From their first "accidental" hack to the top prize in the Women in Tech Challenge at the 2015 AT&T Developer Summit and Hackathon with their "Body Cam Hack" these "CyberCode Twins" are great members of the developer community. Next time you're at a hackathon in or near southern California, keep an eye out for them and introduce yourself! Looking for a hackathon? See our list of upcoming events here.
In between their days of class, weekends of teaching coding, neighborhood council meetings, working to extend their educational programs, giving a TEDx talk and a number other presentations, we were able to catch up with America and Penelope to hear more about how hackathons have shaped their skills and some of the innovative ideas they have created.
You are very involved in Women in Tech, tell us more about your involvement in these programs and what they mean to you.
America: Because of our lack of computer science education in our childhood, it was quite intimidating and horrible to be left at a huge disadvantage to learn code in college. We knew that tech is one of the country's fastest-growing sectors, and we didn't want more women to be missing these opportunities. We knew that there have to be better ways to expose women to tech but the bigger question is why were there not enough women in the tech industry? I believe it is because not enough women were being prepared enough for these tech jobs. That's why it's so important for women to go to Meetups, conferences, hackathons, and developer programs to practice their skills and learn how to compete.
Penelope: We were not exposed to one line of code until we were in college. There needs to be improvements to the education system. Coding should be taught as a second language. Schools should partner up with programs such as DIYgirls and Latinitas. They have an amazing group of role models in their team who are very passionate about teaching girls how to code and how to use hardware. They are making great progress, but there needs to be more funding from schools and the communities to support these programs if they want to prove that diversity in tech matters.
Tell us more about your experience with Women's Startup Lab and how it helped you as women in the startup world.
America: We have made several app prototypes and hardware prototypes at hackathons over the years. Developers at the hackathons know that many prototypes die at those hackathons. We wanted to know how to take our prototypes to the next level. It was quite surprising to learn at Tech Superwomen Summit in San Francisco that women start only 3% of startups. Those are crazy odds, so we were blessed to have been accepted to Women's Startup Lab.
Penelope: What we love was that Women's Startup Lab is an accelerator for female-lead tech startups. It really brought to our attention that we didn't know many women who were tech CEOs. We knew that this would be the right step. Women's Startup Lab brought us knowledge, relationships, and access to female-lead startups. But the most important part was learning about the philosophy of Hito.
America: It is where two people leaning on each make up the symbol of HITO which mean "human" in Japanese. At Women's Startup Lab, Hito is about people supporting and holding each other accountable for extra-ordinary result.. the version of "histology."
Any advice for women who code or who want to get into the industry?
America: A message to the women who are involved in tech, you are not just a coder, you are part of a movement. Be a role model today, not tomorrow.
Penelope: For those interested in tech, join a developer Meetup group and take advantage of Udacity and Khan Academy online courses. If you are a college student, find out if your school has subscriptions to Lynda.com. If they do, you will have a great time learning from their video tutorials.
How many hackathons have you participated in?
Penelope: We have been to about 12 so far that were scattered all over. Last year, we attended five in Santa Monica, one in Anaheim for LATISM hackathon, one in Palo Alto at the AT&T Foundry, one in Studio City for the NBC Universal Hackathon, one at USC for Hack Healthcare Hackathon, and one in Las Vegas for AT&T Mobility Week. This year we went to one in Las Vegas at the AT&T Developer Summit, and one in Pasadena for NASA SpaceApps Challenge. We won prizes in at least eight of these hackathons totaling over $15K in prizes.
America: Now, we are organizing hackathons for schools and for corporate sponsors to show that diversity in tech matters. We organized the hardware weekend for AT&T and HACKSTER.IO and we were very happy that there was a great turnout of women who came to hack hardware. We will be organizing a hackathon in the month of October. Stay tuned to find out who will be our special guests and prizes for that hackathon. It will be a nice surprise.
What prompted you to attend an AT&T Developer Program Hackathon?
Penelope: I took on a few computer science and robotics classes. My professor recommended I go to a Meetup. I joined a local Meetup group and learned there was an event happening soon. I skimmed the description and knew it was an event where one makes an app in 24 hours. I asked my sister to come with me since we both wanted to learn how to make an app and see how the people at the AT&T Developer event made an app.
America: We both thought it was supposed to be a workshop. It turned out to be a hackathon. That's where we learn what a hackathon was since we participated in our first AT&T Hackathon…accidently.
How have hackathons helped you personally?
Penelope: In the beginning, it was tough. I remember people were shaking their head at us for not knowing how to code certain things that were basics for real developers. They believed that we only amounted to being spectators at these hackathons. Things got better when we kept showing up eager to learn about coding despite the brutal learning curve at the hackathons the first year.
America: Having access to different types of technology and being able to talk to mentors at these hackathons helped us build our confidence and skills in software and hardware hacking.
What have your experiences at the AT&T Hackathons been like?
America: There was a lot of innovation going on at the AT&T Hackathons. It got us excited about the challenges there and the people we get to meet. AT&T Hackathons also provide online tutorials on how to use certain APIs and hardware before the event starts.
Penelope: Originally, it started out as being involved in learning how to code and taking on workshops to learn how to make an app. Then the hackathon for us changed from learning how to make apps to learning how to make apps with API's. Now, it involved into hackathons where we learn how to use 3D printers and how to have APIs working with Internet of Things (IoT) hardware. We have used an Oculus on occasion to build a game in the virtual world.
What does the AT&T Developer Program and AT&T Hackathons mean to you?
Penelope: It taught me how a person from a disadvantaged background can come far if they participated in these hackathons, especially when the hackathons are organized from AT&T. Also, it helped tremendously that AT&T Developer events are free for students to attend.
America: It was a safe place to compete and learn how to build up our skills. I was working on the latest technology and got to meet other great developers. A lot of them became our friends and we look forward to going to more AT&T Hackathons to see our developer friends again.
Any developer-related advice, or lessons learned from your participation in hackathons?
Penelope: You can probably see the list on who is attending the AT&T Hackathons. Get to know the people before or during the hackathons. The people there might become your teammates, friends, mentors, or someone you go to for help. Don't be the only one in your team learning from all the workshops. Have your team attend workshops, as well. I have a twin and we can be at different workshops that are starting around the same time.
America: It helps a lot when the sponsors of the event bring their developers who can help you set up and use their SDK. If you continue with your project, make sure to ask the sponsors for their contact information so you can update them on your progress or what new tech they will have.
What advice do you have for up-and-coming developers, especially those who are going to attend their first hackathon?
Penelope: I grabbed my twin so I at least knew someone who was also attending a hackathon for the first time. That way, you won't feel alone if you didn't know anybody there at the start. You are going to make mistakes, but you are learning from them. If you are stuck, don't huddle in a corner, ask around because you are surrounded by hackers.
America: Keep an open mind and try out new things. Don't stick to one thing. Developers should know how to work with different types of hardware and how to use a 3D printing machines. They should continue learning new things.
Favorite AT&T API?
America: I like using the AT&T M2X APIs the most because I can manage and share the sensor data from several IoT devices at once. It is an amazing platform to work with.
Penelope: I like the AT&T SMS/MMS API for texting.
Preferred coding languages?
America: C++ is my favorite language at the moment.
Penelope: HTML5, CSS3, and JavaScript are the most fun to use.
Favorite development tool, and why you like it?
America: I love using the mbed Complier the most because I get instant access to my C++ development environment. It's a web app that one can login from anywhere and quickly get to where you left off. I wish Arduino editor could do that, but mbed.org is my go to as my favorite development tool.
Penelope: Sublime is my favorite editor because it makes codes easier to read and it's color-coded.
What technologies are you most passionate about?
Penelope: I'm very enthusiastic about Sponsored Data from AT&T. We are concerned about the "Bring-Your-Own-Device" movement happening in the workplace and how it made people even more concern about going over their personal data limit.
For example, a journalist from the LA Times is covering a breaking news story while they are connected to their mobile hotspot. They have to struggle between keeping the public informed or going over their personal data. They won't have to worry about that with Sponsored Data, which can let them use their company data instead of their personal data. Sponsored data is the future. It will help people become more productive and not worry about their personal data over public safety. This is even more important for government roles as well.
America: My favorite technology is voice bio-print. Instead of opening up a phone with your unique fingerprint, you can open a device with your unique voice with a general command. It is a lot more convenient and much more hygienic to use to start up phones, watches, a TV, etc. and also adds a better security measure. Imagine somebody being able to jailbreak your phone, but they would need your voice to say a certain phrase to access your private information.
What made you want to get into hacking hardware? How did you get started?
Penelope: We had a general idea on how to make an app. Luckily, I took Robotics class at California State University, Los Angeles, and I thought maybe it wouldn't be too different working with the hardware. We fried a lot of LEDs and circuit boards in the beginning, but we improved our soldering and using different types of circuit boards after using tutorials from Instructables.com, Adafruit, SparkFun, and Intel and Arduino forums.
America: It helped that our friends Justin Zemlyansky and George McKinney encouraged us to keep pursing the IoT boards. I remember when George was teaching a class with a computer science professor at LACC on how to program into Galileo Boards. I thought it was the ugliest board I ever saw, but I was impressed with how it worked. So from then on, I became more interested in hacking hardware.
What are some examples of hacks you have done during AT&T Hackathons?
Penelope: We made an app that taught people how to draw, called CR8TIVE. At another hack, we made an app that uses Gimbal's iBeacon technology so police could find each other in a location such as a casino. We also did a smart helmet hack that would call your emergency contact thru Bluetooth technology if you were to get into an accident.
America: The most popular hack was our smart "Body Cam Hack," a prototype camera with face-tracking technology infused with real-time GPS tracking that can be worn by law-enforcement officers to record their actions in the field. We were inspired by recent events, and it surprised a lot of people to find out body cameras the police currently use are only video and audio recorders, there is nothing smart about them. Our objective is to bring transparency to law enforcement. This device is also useful for journalists, first responders, and researchers, who are recording weather events such as storms and tornadoes.
How do you come up with the ideas at hackathons?
Penelope: We keep a close eye on the latest happenings in tech, politics, and in our communities.
America: We want to work on apps and prototypes that will make a big impact in our communities and those beyond our borders.
What are your future plans?
America: We have three projects that we are moving forward with to make communities safer through wearable tech and mobile apps.
Penelope: Our top project is to bring smart body cameras that utilize face-recognition software to innovate the security industry and government sector. It is important, not only for bringing transparency back to law enforcement, but also for workers who live in high-risk neighborhoods. We should not only depend on cameras that are hidden in the dark corners of a store that can only provide a blurry photo to show to the news when crime happens. We believe strongly that criminals will think twice about going in when they see a sticker on the store that says "body cam in progress," rather than a sticker that says "less than 50 dollars in the cash register."
America: The second is to keep working along with Ruby Guillen and her team to bring child advocacy through technology. They are the creators of Hands Off, a child/human sex trafficking app that grabs real-time child trafficking incidents, filters and processes the "victim" and or "perpetrator" incident data. As a result, the app may assist federal, state, and county agents to collaborate their efforts to rescue victims in real-time. Also it provides assistance and access to social services to victims based on needs. The app is ready to launch now.
Penelope: The third project is an anti-bullying app called ExBully that operates in a four-part process. First, it provides students the ability to call/text for help when they are in immediate danger. Second, the bully can be identified and assessed for mental health services. Third, it allows for the school administration to match the immediacy of their response based on the danger level of the threat presented. Finally, it captures and tabulates threats in real-time so that school districts may use this data to strengthen their student safety goals, as well as addressing student mental and physical health issues.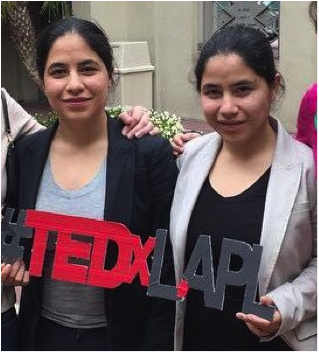 Anything we missed you would like to share with the developer community?
America: We have been honored by Hilda L. Solis, former Secretary of Labor under Barack Obama, for developing award-winning technology, inspiring young Latina women and girls, and bringing technology back to our communities.
Penelope: We gave a TEDx Talk together about "The Hackathon Effect." Just recently, we were on a speakers' panel with other all-stars hackers at CTRL Collective. It was a Hacker and Hackathon panel, with LA's top hackathon organizers and developers who routinely run and win hackathons. This was recorded live and also uploaded on Periscope. The moderator, Kevin Winston, who is the founder of Digital LA, is a great leader in tech community and also leads the Silicon Beach Fest 2015.
America: At Hack4LA in Los Angeles – National Day of Civic Hacking, our team won 1st Place in the Health Category (there were four categories) sponsored by the California Health Care Foundation for the creation of ExBully (mentioned above). Over 500 hackers registered for Hack4LA and the hack was featured in the LA Times.
This post highlights CyberCode Sisters, America and Penelope Lopez, as part of our Featured Developer series, which spotlights members of our community to help provide insight into how people ideate and develop applications. See more about the Lopez sisters in the stories linked below:
East Los Angeles twins win $10K to develop new police body cams
Speaking in code with computer science prize winners America and Penelope Lopez
Cal State L.A. student and twin sister win top prize at AT&T Hackathon
Twins from LA Win AT&T's Women in Tech Challenge in Vegas
You can catch-up on how other developers have built teams and accomplished success through hackathons by visiting the links below:
Noel Geren and The Hardware Hack
Thanks Penelope and America for sharing your insights! Do you know someone spotlighted in our Featured Developer series or someone who should be featured? Let us know in the comments below.
---
Share this post