Updated: Feb 25, 2015
Published: Feb 25, 2015
Featured Developer: Team Sitter
How do ideas form, teams unite and apps emerge from the hectic environment of a Hackathon? This Featured Developer series spotlights members of our community to answer these questions and give insight into how people come together to ideate and develop applications.
In this second edition of our Featured Developer series, we connect with the second place winner at the 2015 AT&T Developer Summit Hackathon, Team Sitter. The four members of Team Sitter ended up focusing efforts on an app designed to help find a local sitter for your kids, pets or house, connect with the Sitter via in-app video, open your home remotely for them and finally pay for their services. In addition to second place overall, the team's app also won the Cisco Home Automation Challenge.
The 2015 AT&T Developer Summit Hackathon challenged over 700 developers to create an app that made the cut into final top 20 apps presented at the end of the second day (see video of the top 20 presentations here). The Top 3 teams from the Hackathon, including Team Sitter, then had an opportunity to present on stage during the AT&T Developer Summit Keynote where audience members voted for their favorite app via text. If you haven't seen it yet, take a look at the Featured Developer profile of the 2015 Grand Prize winner, Team Anti-Snoozer, here.
Team Sitter is a team of four, who came to the Palms Casino Resort in Las Vegas from Atlanta, GA to take home $20,000 in prizes.
Team Sitter:
Annalisa Recio

Location: Atlanta, GA
Occupation: Consultant at Slalom

Brian O'Connor

Location: Atlanta, GA
Occupation: Consultant at Slalom

Amanda Shebat

Location: Atlanta, GA
Occupation: Nurse

Jeremy Lizza

Location: Atlanta, GA
Occupation: Practice Area Lead Consultant at Slalom
We caught up with Team Sitter a month following their success at the AT&T Developer Summit Hackathon to learn more about the team and the Sitter application.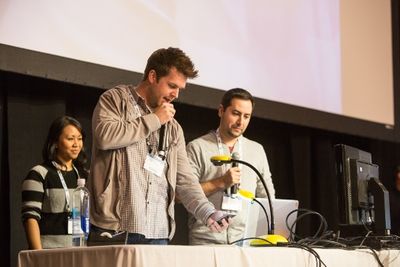 What prompted you to attend the AT&T Developer Summit Hackathon?
Three of the four team members work at the consulting firm Slalom. Slalom has sent teams to the AT&T Developer Summit Hackathon for the last three years and each year the team has placed second overall. The two previous winning apps that were submitted were Talk To You Now, a tech support natural speech interpreter that would connect you with an agent best fit for answering your question, and Rescue Route, an emergency response app that provided in-building directions leveraging Philips Hue Lights to direct emergency responders to the scene of an accident. The Slalom teams have consisted of various consultants each year; this was the first year at the Developer Summit for Annalisa, Amanda, and Brian.
How many Hackathons have you participated in? Was this your first AT&T Hackathon?
Annalisa – I've participated in only one hackathon in the past – we worked on an app for the Boys and Girls Club of America
Amanda – This was my first hackathon
Jeremy – I've been out to the AT&T Developer Summit Hackathon the two previous years
Brian – My first hackathon was in March of 2014 and this was my 7th so I guess I've become a regular
How have Hackathons helped you personally?
We've found that hackathons not only benefit each member individually, but also are more impactful on the working relationship of the team. Each person grows as they rapidly prototype, struggle through issues late at night, strive for perfection in a short period of time, and gain exposure to new technologies. The team bonding that happens at these events is incredible.
What was your experience at the AT&T Developer Summit Hackathon like?
The experience was intense, but exciting! The team slept very little but the overall experience was well worth the lack of sleep!
What does the AT&T Developer Program and AT&T Hackathons mean to you?
These hackathons have helped us experiment with different ideas, iterate on strategies, and learn more about emerging technologies and what they mean to companies like AT&T.
Any developer-related advice, or lessons learned from your participation in the hackathon?
If you're struggling with a chunk of code for more than 30 minutes then skip over it and come back to it later. It's amazing how late nights land you in a spot where you spend entirely way too much time looking for that missing semi-colon or misspelled variable in your JavaScript.
In addition, focus on the design, core use case, and presentation. Those three things will set your submission apart from everyone else.
What advice do you have for up-and-coming developers, especially those who are going to attend their first hackathon?
Don't be shy. Meet other developers, designers, and bounce ideas off of each other.
Spend some more time ideating. There are so many ideas out there don't just go with your first one.
Play the game. Most developers have great ideas but they're not a great fit for the hackathon or what the judges are looking for. Table those great ideas for your late nights of creating your startup and focus your hackathon efforts on something that nails the problem set and fits within the guidelines.
What is your development background?
Annalisa – Designer
Amanda – Team Manager
Jeremy – Developer
Brian – Developer
What type of development background do team members have?
The team has a strong development background and has diverse roles – we think that's what made us successful. Having each person fall into their respective categories allowed us to naturally split up the work and get our app built in the 24-hour period.
How did you form your team? Was it set before you arrived or did you pull it together on site?
The team was formed before we arrived in Las Vegas; however, the concept behind Sitter was an idea that Annalisa kept quiet until we were almost done with our ideation session. She mentioned that she had this idea and we encouraged her to share it and then the team took that idea and elaborated on the ways we could solve the problem. Let's just say it was clear that we needed to build out Sitter because the concept is just that awesome.
Favorite AT&T API?
AT&T Digital Life – although home automation and IoT adoption isn't quite at a point where apps can be scaled out to the masses, these are the coolest APIs and the ones that will become more impactful as consumers adopt technologies in their home.
Preferred coding languages?
Anything that allows us to work fast, has a strong community, and allows us to quickly build out a prototype. JavaScript has grown to be a front runner in this arena but we also build our backend in C# because of the quick scaffolding that is available.
Favorite mobile application development tool, and why you like it?
We didn't leverage the tool for Sitter, but Ionic is an awesome set of technologies to build mobile apps on and we've become huge fans since the 2015 Hackathon.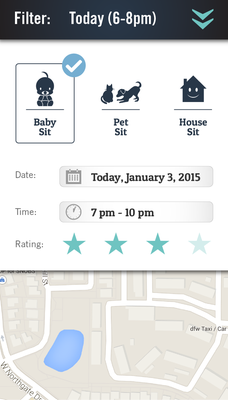 What technologies are you most passionate about?
Emerging technologies like beacons and the abundantly available microprocessors.
How did you come up with the idea for Sitter?
We spent a couple hours brainstorming ideas at the beginning of the hackathon. I'd say we probably had about 75 ideas to pick and choose from when Annalisa mentioned she had a cool idea for an app – something that allows you to easily select a baby sitter. The team instantly took up that idea and started elaborating on features – we could apply this to house and pet sitting, we could make this the Uber for baby sitters, we could integrate this into AT&T Digital Life APIs to give the sitter instant and controlled access to the home, we could allow live interviews of the sitters via AT&T Enhanced WebRTC APIs, and the ideas rolled on from there. After about 5 minutes of elaboration and cool additions to the app that would soon be called Sitter, the team knew this was an award winning app.
What is the purpose of Sitter?
Sitter allows customers to book baby sitters, house sitter, and pet sitters in a streamlined manner and provides end-to-end management of the process – something that alternatives like care.com do not provide. Sitter leverages ESRI map technology to display a map view of local sitters, WhitePages APIs to verify some identity information on the sitter, AT&T Enhanced WebRTC API to provide live, in-app interviews with the sitter, and AT&T Digital Life APIs to grant the sitter access to certain parts of the customer's home while the sitter is providing service.
What technologies did you use in Sitter?
How does your Sitter app work?
The app works well. But seriously, the app was built as a prototype to function on iOS and Android phones and leverages a RESTful API provided by AWS. When fully built, the app will be able to scale vertically and horizontally and also will provide large amounts of crowd-sourced data once the app is launched.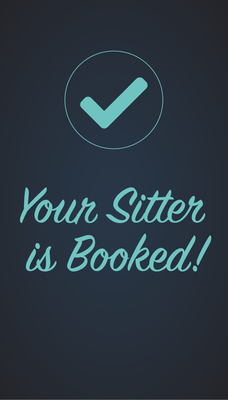 What are your future plans for Sitter?
The future of Sitter is still TBD. The team loves the idea – it'll just be a matter of time before the team can carve out the appropriate free time to devote to the future of sitter bookings.
Thank you to Team Sitter for sharing these thoughts with us. Keep an eye out for this team at our Hackathons in Atlanta!
What's Happening in the AT&T Developer Community
Would you like to meet more developers in our community? Join us at an upcoming events: http://developer.att.com/community/events
Do you know someone spotlighted in our Featured Developer series or are you interested in being featured? Let us know in the comments below.
---
Share this post