Updated: Mar 16, 2015
Published: Mar 16, 2015
Featured Developer: Team SafetyNet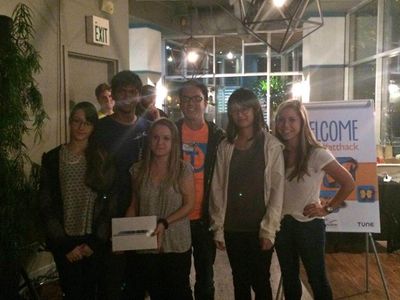 In this edition of our Featured Developer series, we meet Team SafetyNet. This team came together at one of our Women in Technology hackathons held in Seattle at Tune.com. The Women in Tech hackathons held across the country are designed to encourage collaboration between entrepreneurs and professionals of all genders and backgrounds. This Hackathon brought together a team of male and female developers and provided them an opportunity to develop a mobile app using a number of exciting platforms. Comprised of a majority of women, Team SafetyNet is a combination of students and working professionals. The team focused on a Yelp-like app that would allow people to rate a place based on how safe they felt. It was awarded 1st place in three award categories: Best App from a Woman Led Team, Best Public Safety App, and Best Use of ESRI Maps API.
This Featured Developer series spotlights members of our community to help provide insight into how people come together to ideate and develop applications. See our other Featured Developers Team Anti-Snoozer and Team Sitter.
Interested in joining us for a Hack? Check out our upcoming events calendar here.
Meet Team SafetyNet:
Name: Lindsey Heuscher
Location: Seattle, WA
Occupation: Consultant/Developer
Name: Allan Yeung
Location: Seattle, WA
Occupation: Product Management
Name: Sonia Skarbek
Location: Redmond, WA
Occupation: Student
Name: Connie Shieh
Location: Portland, OR
Occupation: Technical (Web) Producer
Name: Rohan Yelsangikar
Location: Seattle, WA
Occupation: Student
What prompted you to attend an AT&T Developer Program Hackathon?
Team Safety Net arrived at the AT&T Hackathon for the same reason we meet many of our developers, they wanted to meet people, see cool technology and brush up on skills.
Lindsey: I had just graduated from college and wanted to broaden my skills. I figured a hackathon would be a great place to tune up my skills, and meet similar people, especially other women in my field.
Connie: I lived nearby and thought what better way to spend my night than at a mobile hackathon! I've always been interested in developing mobile apps and understood the benefits from hackathons – cool people we get to meet and interesting concepts we get to see. The fact that it was targeting especially women made it more interesting.
Allan: I was interested in participating in a smaller Women in Technology hackathon. It was also an opportunity to meet other like-minded entrepreneurs, and check out Tune.com's great facilities!
How many Hackathons have you participated in? Was this your first AT&T Hackathon?
While familiar with a variety of hackathons, this was the team's first experience at an AT&T Hack; we hope to see them again soon!
Lindsey: I had participated in a few hackathons in Kentucky, but they were informal and small. This was my first AT&T hackathon and the first I had been to in Seattle.
Connie: I had participated at a Google Developer mobile app hackathon. This was my first AT&T Hackathon.
Allan: I have participated in Zillow Housing Hack, Intel IoT Hackathon, and Start-up Weekends. This was my first AT&T hackathon.
How have Hackathons helped you personally?
There are a lot of reasons to check out a Hackathon including building your portfolio during a job hunt, getting coached by the mentors and senseis we have available, and be among the first to test our new APIs.
Lindsey: I had been looking for a job for a few months when I went to the Hackathon and was feeling down on myself. This helped me realize I did have the skills needed to get hired in Seattle, and I just had to keep trying. The AT&T hackathon gave me the drive to continue and helped me build my portfolio.
Connie: What stands out for me is seeing how other people work who I could get advice from on the same interests.
Allan: The hackathons have helped me as they expose me to new test APIs, and introduce me to the latest technologies. Hackathons are a great way to find future start-up collaborators. Lastly, the outcome of the weekend is a great portfolio of teamwork.
What was your experience at the AT&T Developer Program Hackathon like?
The atmosphere at the Hackathons are designed to help you make connections and spur innovation.
Lindsey: I loved the size of the event. We were able to meet with all the sponsors and talk with everyone there. We did not feel overwhelmed with people everywhere and we were able to get help when we needed it. I was able to learn about all sorts of new technologies, which was fantastic. The prizes were just a bonus at the end of the day. I didn't expect to win anything when I walked in, let alone three separate prizes.
Connie: Very engaging, people were super friendly. The mentors were fantastic! I felt lucky to be a part of my team; we worked in harmony because we each had a different role.
Allan: The hackathon was great because it was smaller in size so it was very easy to meet the sponsors, ask questions, and meet other hackers. The technologies introduced and the prizes were great. The hosting by Tune meant great food and a comfortable work environment.
What does the AT&T Developer Program and AT&T Hackathons mean to you?
Sonia: The AT&T Developer Program and hackathons are a great opportunity to test out one's skills in making real-world projects and applications and exercise one's creativity in the technological field. The hackathons are also a great way to get to know other coders and see what's new in the industry.
Lindsey: It is a great program for beginning developers who are trying to expand their horizons as well as those who have great ideas but not the technical knowledge to implement it. People can also learn what is new in the industry as well as meet great people.
Connie: Exciting opportunities, free education, new friends, and… prizes? : )
Allan: An opportunity to experiment with building a new user product while using live service APIs and interfaces.
Any developer-related advice, or lessons learned from your participation in the Hackathon?
Team Safety Net advises developers to keep teams small and nimble and don't be afraid to ask for help!
Lindsey: Do not have a large team as it will be hard to work together in such a short amount of time. Five people should be the absolute limit, but 3-4 is probably better. Spend a large amount of time planning and researching before jumping to solve the problem – this will save the group so much time. Do not be afraid to ask for help as everyone will be willing to help you. Don't forget to have fun and make friends.
Connie: I've heard of people being afraid to go to hackathons in general and told me about bad experiences when people start to work individually instead of as teams. I'm thinking the beginning of forming a team is the most important– get to know each other so the team warms up. Also, maybe think about what you want to get out of a hackathon. It's ok to be eager to learn no matter what level you're at– and have fun! That's mostly the point of hackathons and judges like to see that.
Allan: Look for a well-balanced team that is not too large. Pick a compelling problem to solve, and try to complete an achievable demo over the weekend by dividing up the parts. Most importantly have fun, enjoy the opportunity to socialize – and by doing so everyone comes out winning.
What advice do you have for up-and-coming developers, especially those who are going to attend their first hackathon?
Here are some good reminders to bring your (well-caffeinated) energy, talk to new people and learn!
Lindsey: Do not get scared that you will not get sleep for 2-3 days because many of the smaller hackathons allow you to leave for the night and do independent research. Don't be afraid to ask for help or meet new people. It is a time to get better and just have a good time while learning.
Allan: if this is the first time, think of it as a chance to learn and get better. On our team we had some students still in college, and one in high school – a pretty awesome collaboration.
What is your development background?
Teams with diverse backgrounds often do very well at hackathons.
Lindsey: I was interested in technology since I was in middle school. I got into web design at a young age and built a small business around forum and web design. When I was in high school I took some programming classes and enjoyed them. I ended up majoring in computer science and political science and now I am a consultant and developer for a tech company.
Allan: Electrical Engineer with some computer science coursework. I have led product development teams for Android software. Some recent experience with Github, Bitbucket, XCode, HTML5.
What type of development background do team members have?
Lindsey: I was the one who came up with SafetyNet, and helped lead the group with the help of Allan. He took control of the project's direction while I programmed the backend with ArcGIS mapping software.
Allan: I focused on typing up some quick user scenarios, and use cases. Then sketching the application screens using Balsamiq. Lastly, I put together a demo front-end using a drag and drop tool Codiqa. Sonia and Connie helped with processing the City of Seattle Police Data, and creating location data for our service. Rohan experimented with iOS development, and worked with merging HTML mobile app pages to the Github repository.
How did you form your team? Was it set before you arrived or did you pull it together on site?
We pulled together the team on-site. In particular, we were looking for a team that was not too large, and not too confrontational. We formed by common agreement around a good idea and interest in safety.
Favorite AT&T API?
We considered using the AT&T SMS/MMS API.
Preferred coding languages?
Lindsey: I can use just about any major programming language, but prefer Python, Ruby, and Java.
Allan: I lean towards the language the developer prefers, as long as there is good design that accomplishes the product idea.
Favorite mobile application development tool, and why you like it?
Allan: XCode's emulator makes building and testing straight forward. I also like to use Google Chrome's developer tools to test HTML code on different screen sizes.
What technologies are you most passionate about?
Lindsey: While I have always loved web development, I have been moving into mobile development as well as new technologies for green energy for the future.
Sonia: I'm most interested in web development because of all the different things one can make a website do.
Allan: Payment technologies as a secure way to monetize a product. It's going to get even more competitive in the mobile payment space.
How did you come up with the idea for SafetyNet?
Personal experiences often make the best source for app ideas.
Lindsey: I have rarely felt comfortable enough going out at night alone, especially to a bar or a late night event. I know I am not alone in feeling this way and wanted to build something that will allow women, minorities or anyone else to be able to go out and feel safe. This led me to pitch the idea to the group for consideration and to develop this idea some more. We decided on a Yelp-like app that would allow people to rate a place based on how safe they felt.
Sonia: The particular hackathon where we made this app reached out specifically to women in the technology field, and one of the suggested categories for applications was safety, so we were inspired by the theme to make an application that would protect the safety of women going to a place they were unfamiliar with.
What is the purpose of SafetyNet?
The purpose of SafetyNet is to supply users with information about how safe an area is. The idea is that with this knowledge, users will either take the necessary precautions to be safe in that area, or not go there at all. It would also show any police reports in the area, as well as displaying people's reviews on what happened to them that made them feel safe or unsafe.
What technologies did you use in SafetyNet?
We used ESRI technology for the map feature of our application as well as HTML5, CSS, JavaScript, and JQuery Mobile.
How does your SafetyNet app work?
Before deciding to go somewhere, the app user enters the address of their intended destination into the app. The app shows any recent police intervention incidents near the intended destination, the location of the closest police station , and provides other users' review of that area: if they felt safe, uncomfortable, or threatened. It would also show commented reviews of each individual location. The goal is for the information in the app to be crowd-sourced.
What are your future plans for SafetyNet?
We would like to enhance the user interface and make the app more aesthetically pleasing. We could also add more features to the review aspect. For example adding categories so that users can tell if any threat they experienced was gender-related, race-related, sexual orientation-related, or other. In addition, we want to be able to analyze the data from the reviews. A user should be able to put in a city and it will lay out a grid of good and bad neighborhoods based on their reviews. This will show others what neighborhoods are best to be avoided. We also want it to be more pleasing and quicker to use.
What's Happening in the AT&T Developer Community?
Do you know someone spotlighted in our Featured Developer series or do you know someone who should be featured? Let us know in the comments below.
---
Share this post