Featured Developer: Team RedLine and the 1st Minute App
Featured Developer: Team RedLine and the 1st Minute App
by
Posted on
06.30.2015 01:15 PM
---
We see quite a few unbelievable apps on a weekly basis from our hackathons and from members of our AT&T Developer community that cover a vast number of technology areas. An area of development that has been quickly growing is apps created specifically for use in 'smart cities' – towns, cities, governments, and other municipalities that look to leverage technology in various ways to improve the lives of community members. One area in particular that is beginning to get a lot of visibility is public safety and emergency preparedness with a particular focus on efforts to help save lives and property. Public Safety Hackathons across the country bring in the best and brightest developers to work side-by-side with local government, police and fire departments, as well as federal agencies such as the Department of Homeland Security in the creation of innovative technology to solve critical needs for the greater social good.
The AT&T Developer Program holds hackathons across the country with different themes. One theme we love is Public Safety, and Team RedLine came together during a Public Safety Hackathon at our AT&T Foundry in Dallas focusing on ideas to support first responders that would help them respond to emergencies more efficiently, fight crime more effectively, and help make our communities safer. See more on the need in this news story and read our event recap.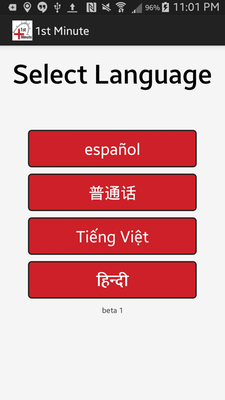 Team RedLine was created at one of our Dallas Hackathons and, in the short 24 hours of the hackathon, they created the application that has become 1st Minute, by LanguageMaps, Inc. 1st Minute is an application created for first responders in situations where they have a need to communicate with an individual who doesn't speak their language. This innovative app helps communicate vital information in time-sensitive and life threatening situations. For their efforts, Team RedLine won first place at the AT&T Public Safety Hackathon they attended.
We connected with two of the eight original team RedLine members – Lance Manning, a Technology Advisor, and Paul Sturm, a Software Engineer, both of Dallas, Texas – to give us additional insight into their experience at the hackathon and their 1st Minute application.
What prompted you to attend an AT&T Developer Program Hackathon?
The sponsorship of the Department of Homeland Security and the topic of Public Safety initially attracted me (Manning). I was also conducting research for an article I was writing about the future of 911 and mobile health. The hackathon seemed like an interesting place to gather information and meet domain experts. This was my first ever hackathon.
What does the AT&T Developer Program and AT&T Hackathons mean to you?
They are a mash-up of smart people and cool technologies. When those are applied to solving societal problems, anything is possible. The AT&T staff on hand were super helpful and enthusiastic in supporting the teams at the event.
How did you form your team? Was it set before you arrived or did you pull it together on site?
During the idea pitch session, one of our eventual team members, Alan Chong, told a story that related to the hackathon theme: first responders, emergency situations, and new technology solutions. A few months earlier he walked into a post office and saw that paramedics had just shown up for a woman who had fainted. She was soon conscious, but her native language – Mandarin Chinese – was a major communication barrier. That's when Alan intervened. Though originally from Malaysia, he also spoke some Mandarin, but was unable to translate her medical terminology. He explained this frustration during the pitch and wondered if something could be done about language barriers in emergency situations. Then, I approached him at the break and proposed a few ideas. Others gathered around and we settled on the concept of a mobile app solution.
What was the development background of your team going into the hack?
A few of us had some Android familiarity and web application experience. Not enough to be experts, but just enough to be dangerous.
Any developer-related advice, or lessons learned from your participation in the hackathon?
As a non-developer, I didn't really plan to stay more than a few hours at the kick-off program. But, I'm glad I showed up and got in the mix. I learned that when people with all kinds of backgrounds attend a hackathon, great teams can emerge. Being a competent developer is a valuable commodity, in high demand for teams with ideas but without the ability to execute on them.
What advice do you have for up-and-coming developers, especially those who are going to attend their first hackathon?
Show up and meet people! Attend on your own or go with friends or colleagues. You never know what can happen.
What technologies are you most passionate about? Did those passions help shape the app you created?
I am passionate about digital health and mobile technologies. My work experience is in supporting R&D-based startups funded by government grants (Larta Institute – www.larta.org). Technology commercialization takes a concerted effort in research and business development. Many of the clients we work with are ideal acquisition candidates for larger companies.
You attended an AT&T Public Safety Hackathon in Dallas – give us your perspective on the need and opportunity in this space.
The event was co-sponsored by the Mobile Applications for Public Safety (MAPS) program established by the Department of Homeland Security (DHS). Its mission is to provide guidance to developers entering the public safety apps marketplace. MAPS collaborates with industry, academia, and government to foster development, discovery, and distribution of quality mobile apps for first responders.
So, the event aimed to help first responders in a few areas: better collaboration & communication, and wearables that collect and distribute critical data. Awards were given in related categories: Best Overall Public Safety App, Public Safety Wearables Challenge, Best Use of AT&T APIs, etc.. We won the award for Best Use of AT&T APIs.
Earlier this year, the Department of Homeland Security's Science & Technology Directorate (S&T) decided to create a program to promote consumer technologies that represent the next generation of solutions for DHS' end users. S&T chose to pilot its accelerator program with Tech Wildcatters in the field of wearable technology, a high priority sector for its Next Generation First Responder initiative. As it applies to first responders, wearable tech is a rich source of new capabilities that span everything from physiological monitoring to environmental sensing, networked mobile communications, situational awareness, and smart, resilient fabrics.
The Department of Homeland Security was on site at the hackathon – what was your experience having them supporting the hackathon? Did you stay in touch with any of those contacts after the hack?
Alex Kreilein of the Department of Homeland Security attended the event and proved to be a valuable resource in answering questions about technology, policy, and commercial markets. Our team kept in contact with Alex, who encouraged us in the development of the mobile app, incorporation, and to connect with industry leaders. He is now in the private sector and serves as an advisor to LanguageMAPS, Inc.
How will government agencies such as cities, police, fire departments, etc. benefit from connecting with developers through hackathons and similar outlets?
These groups can give direct feedback about needs, trends, and technology adoption to developer teams as they seek to create applicable solutions. For example, TEEX (out of Texas A&M) is an emergency response training program that has partnered with Tech Wildcatters and the EMERGE program. Their involvement will bring much needed insight and testing scenarios as the technologies mature into viable products.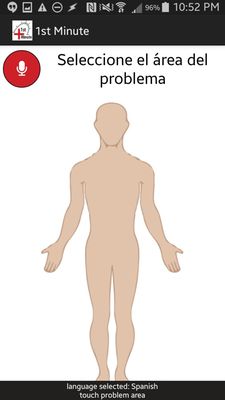 How did you come up with the idea for the 1st Minute App?
As mentioned earlier, our team attended the AT&T Public Safety Hackathon held at the AT&T Foundry in Plano, Texas. The Department of Homeland Security partnered with AT&T to put on a hackathon that addressed the needs of first responders – an underutilized market for the mobile app revolution of the last few years. The story of coming across a person who didn't speak English, but needed some urgent care was the origin of our team formation. Our goal was to find a solution to the language barrier problem and 1st Minute's precursor (RedLine) was born.
What is the purpose of the 1st Minute app?
The 1st Minute app helps first responders overcome the language barrier. Firefighters, Police, and EMS deal with foreign language speakers by finding or calling a translator. However, it can take up to 20 minutes to connect – not to mention dropped calls. This may be too long in a life or death situation.
Unlike LanguageLine and Google Translate, the 1st Minute app is optimized to capture critical medical details, simplified with visual prompts, and then provides a translation of the encounter. Our goal is to improve the communications capabilities of first responders so they can provide faster and more accurate patient assessments.
How does your 1st Minute app work?
The app is shown on a phone or tablet. The first responder prompts the patient to choose their language, pick symptoms on a body map, and click through a few questions about medical history, allergies, and medications. A summary is then displayed in the first responder's native language. The basic app does not require an Internet connection since it has a pre-populated language database. There are currently four languages available in our Android beta app with plans for more in the next version.
What technologies did you use in the 1st Minute app?
Here are the technologies we used for RedLine (our hackathon prototype for 1st Minute): Android, AT&T Speech API, Google Speech API, and Microsoft Bing Translator Service. A real-time "translate" feature requires an Internet connection, something we are considering for future versions of the app.
At what point did you decide to form a company and turn the hackathon app from Team RedLine into the production app and form a company? How did you come to that conclusion?
After doing some market research, competitive analysis, and consulting with our DHS contact, we decided to develop the app further and took the necessary steps to form a company. We also got feedback from first responders through a survey that assessed the value of such a technology. With over 50 points of positive input, we felt certain that sufficient demand existed to risk the investment of time and money.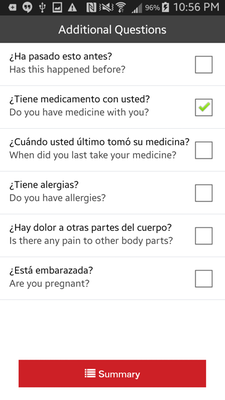 How did your app go from an idea at a hackathon to a full production app?
When we made the decision to move this past a hackathon prototype, our goal was to shoot for MVP (minimum viable product). We used tools like the Lean Canvas, adapted from The Business Model Canvas, to assess and develop the right workflow within the app, all the while using first responder feedback to guide the overall product development. The app got a face-lift, but not an entire rebuild, which was not required, since the interface and user experience were designed for simplicity – something we captured quite well with the original version.
Early on, the founders decided to bootstrap the company through personal funds. We chose a law firm, filed a provisional patent, and began meeting weekly to work on the app.
Any direct quotes we could share from customers?
"LanguageMAPS is working on a great product that solves a real need. I have been a firefighter/paramedic for a decade now, and have consistently faced a language barrier problem throughout my career. But I have never seen a viable solution, until now. 1st Minute is not only a highly useful product, but it will directly contribute to better patient outcomes in emergency situations."
-Justin
Lieutenant
"The 1st Minute app from LanguageMAPS Inc. is the most useful and innovative new product that I have seen in the field of EMS in many years. It allows the EMS provider to quickly and accurately triage and treat patients that we were previously unable to communicate effectively with in the past. This asset greatly increases any organization's capability in providing top-notch care to non-English speaking patients. I encourage all caregivers to add this app to their toolbox."
-Collin
EMS Captain
What's next? What are your future plans for 1st Minute app?
iOS and Windows versions will be available soon. We plan to debut the app at the EMS World Expo in Las Vegas this September. In addition to our EMS advisors and domain experts, we are building up a national advisory board.
Would you tell us a bit about your involvement with Tech Wildcatters. How will startup accelerators like this help drive innovative apps like 1st Minute?
Our team is excited to be one of the six finalists for the Tech Wildcatter's EMERGE accelerator program. Seed funding is provided in exchange for a small portion of equity. Being involved in this program definitely increases the commercial viability of our app and the future product strategy of our company.
Anything else you would like to share?
The programs and partnerships that AT&T, DHS, and Tech Wildcatters sponsor for developers and entrepreneurs do much to benefit small businesses that are bringing relevant, emerging technologies to market.
Watch more about 1st Minute below and connect with them on Twitter @1stMinuteApp or on Facebook.
We are highlighting Team RedLine and the 1st Minute App as part of our Featured Developer series, which spotlights members of our community to help provide insight into how people ideate and develop applications. You can catch-up on how other developers have built teams and accomplished success through hackathons by visiting the links below:
Want more on Public Safety Hacks? Read more about another one of our recent Public Safety Hacks here. Want to visit us at one of our hackathons? Find a hackathon in your area here.
---
Share this post
Comments