Updated: Mar 21, 2015
Published: Mar 21, 2015
Featured Developer: Team Host Magic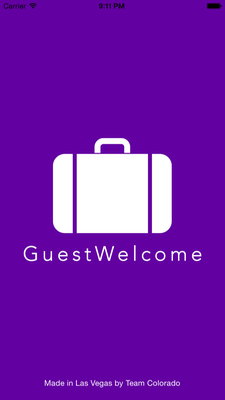 In this edition of Featured Developer, we bring you the last of our discussions with the top three finalists from the 2015 AT&T Developer Summit Hackathon in Las Vegas. Team Host Magic hails from Colorado and created an app geared toward Airbnb users that among other features provides controlled access for guests arriving at a home.
The other two 2015 AT&T Developer Summit Hackathon finalists were Team Anti-Snoozer and Team Sitter. All three teams survived the hackathon and made it through the semi-final round of the top 20 apps presented at the end of the Hack (see video of the top 20 presentations here) and advanced into the final 3. The Top 3 teams from the Hackathon then had an opportunity to present their apps on stage the following day during the AT&T Developer Summit Keynote where audience members voted for their favorite app via text.
Team Host Magic:
Location: Denver, CO
Occupation: Senior Android Developer at iTriage and President of Digital Construction
Mike Lockwitz

Location: Denver, CO
Occupation: Awesome web guy for LockDev Ltd.

Sam Murphy
Mike Zelem

Location: Denver, CO
Occupation: Senior Developer at iTriage and owner of Unleash The Web, LLC
We connected with Team Host Magic following their success at the AT&T Developer Summit Hackathon to learn more about the team and application.
What prompted you to attend the AT&T Developer Summit Hackathon?
Mark: We are all friends and current or former co-workers, so booking a 50th floor suite in Vegas and partying and geeking out for a weekend isn't a tough sell. It's something we all looked forward to. We had a last minute schedule conflict with another good friend and rockstar programmer, Josh, so Sam was awesome enough to join at the last minute from Los Angeles (he used to live in Denver).
How many Hackathons have you participated in? Was this your first AT&T Hackathon?
Mark: Dozens. I have done regional and national AT&T Hackathons before. They are some of the best organized ones and have great prizes and partners.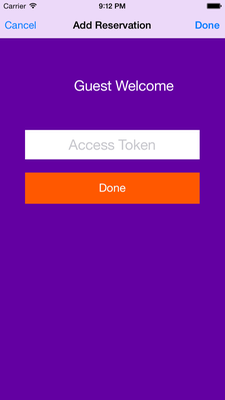 How have Hackathons helped you personally?
Mark: I have made incredible friendships (at hackathons) that have turned into great professional relationships. It's hard not to bond on little sleep with a challenging problem at hand. And when you succeed like our team was lucky enough to do this year, it makes it even better! Other benefits include learning about new technologies and – like any kind of practice – the rapid development makes me a better programmer and businessperson.
What was your experience at the AT&T Developer Summit Hackathon like?
Mike L.: Busy! Three of the team members were veterans to the AT&T Dev Summit Hackathon and knew that we had to act quickly to identify the technologies we wanted to use in our solution and discuss the architecture for our final product. We quickly identified tasks and began working. We regularly held team stops to make sure we were all going in the same direction. We also interacted with other teams to gather more ideas and solve problems. We reached out to mentors who were able to provide valuable advice and guidance.
What does the AT&T Developer Program and AT&T Hackathons mean to you?
Mike L.: The AT&T Developer Program means that we get access to play with API's and technology that would otherwise be prohibitively expensive to investigate. We can try out the features and determine if we can build a viable product. The hackathon is a great opportunity to interact with AT&T developers and program managers to understand how the products are designed and intended to be used.
Any developer-related advice, or lessons learned from your participation in the hackathon?
Mike L.: Hackathons are a blast and they should be fun. They are a great opportunity to network with other devs and industry representatives. These relationships can be helpful in your personal career if you ever need advice or help. They are also a fun way to learn something new that you haven't tried on your own or through work. Our team learned that working too late can be a detriment and it can be better to get some sleep and try again in the morning with a clear head. The mentors and company sponsors are all valuable resources, and you should definitely reach out to them for advice and guidance.
What advice do you have for up-and-coming developers, especially those who are going to attend their first hackathon?
Mike L.: Make sure to bring proper equipment. Have accounts with GitHub and Heroku and know how to use them. Bring all your cables and adapters such as Ethernet. Wi-Fi is always spotty at hackathons. USB keys will work when all else fails. Make sure you have checked out all the available API's ahead of time and are familiar with the offerings of the sponsors. It can be helpful to come with ideas ahead of time, but don't get too wedded to them. Listen to the company pitches/lightning talks for ideas on what will judge well.
Mark: Mike is spot on. We had an idea going in, but after the kickoff we were all excited about AT&T Digital Life, so we had our infamous blackjack table meeting, where we took over an empty blackjack table on the casino floor and charted out Host Magic. It used many technologies we had never considered before.
What is your development background?
Mike L: I'm a front-end developer and have been in the industry for about 4 years. I've worked at digital agencies, dev shops, startups, and freelanced. I think my experience with a variety of environments helps with flexibility, which is huge for a hackathon.
Mark: I got started programming in college. In fact, this hackathon I did some C++ work I haven't touched since college! I also have a masters in Computer Science, but not much of that matters at a hackathon. It's all about practical experience, working in sleep-deprived environments, keeping a great attitude, and always thinking about a good story.
What type of development background do team members have?
Mike L.: Our team was a great compliment to each other. Sam Murphy is a talented iOS developer who worked on our native app. Mike Zelem is a backend developer and built our Ruby on Rails backend. I worked on the admin web interface. Mark is an Android developer, but took on leadership duties for the hackathon and was responsible for making sure we communicated and had all the resources we needed as a team.
Mark: Mike Lockwitz is an awesome web guy and promoter. His answer is too modest. It was a treat for me to brush off my C++ skills for this hackathon, as I programmed the iBeacon hardware we used.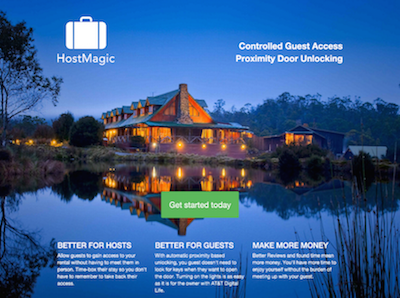 How did you form your team? Was it set before you arrived or did you pull it together on site?
Mike L.: Mark put the team together before we came out to the hackathon. Our original team name was "Team Colorado" and we proudly call Colorado home.
Mark: Well, Sam left for sunny Los Angeles, but the rest of us do. When we were running on fumes and things were not working well Saturday night we pushed each other pretty hard. Humor was a big help. We were intense but we were laughing a lot, too. Although the product design didn't come to be until the first day of the hackathon, we had our team mostly set months in advance.
Favorite AT&T API?
Mark: This year it was AT&T Digital Life for sure. It was awesome to play with the "igloos." AT&T M2X is an amazing platform and it was a treat to work with it. We also took big advantage of the AT&T SMS/MMS API.
Preferred coding languages?
Mark: Whatever gets us from point A to point B the fastest! A hackathon is more about speed than longevity. Most of the time, I write in Java, but this hackathon I did C++. We have Ruby, Objective C, and javascript fans on the team.
Favorite mobile application development tool, and why you like it?
Mark: Mine is Android Studio, although it used to be Eclipse. We also used RubyMine, XCode and Sublime.
What technologies are you most passionate about?
Mark: I love the idea of Internet of Things (IoT); how small inexpensive devices can be made smart, powerful and useful. I love mashing together things. I really like home automation. I've got a big set-up in Colorado with a connected thermostat, lights, camera, lock etc. I'm a huge Android fan. Sam, of course, loves everything Apple. We have epic Ping Pong matches over which is better.
How did you come up with the idea for Host Magic?
Mike L.: After the sponsor pitches and lightning talks we sat at an empty blackjack table and quickly brainstormed our ideas on paper. With a talented and experienced team we picked a critical path of features needed and prioritized tasks from there.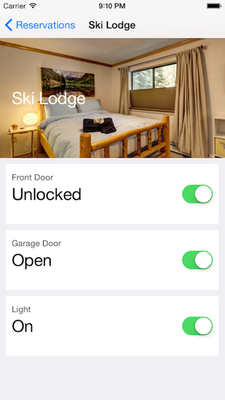 What is the purpose of Host Magic?
Geared toward Airbnb users, this app provides controlled access for guests arriving at your home. Here's how it works: A guest signs up for their reservation. The host uses the portal to assign the time that the guest will be in the home and confirm the reservation. The guest receives an invite to download the app on their phone. When they arrive at the destination, the phone will unlock the door and send an alert to the host notifying them that the guest has arrived. When the reservation is complete, the phone can no longer unlock the door. The app is designed to amplify host and guest delight.
What technologies did you use in Host Magic?
AT&T M2X, AT&T Digital Life, AT&T SMS/MMS API, IBM BlueMix, iBeacon, iOS
How does your Host Magic app work?
Mark: The app is primarily used by the renter or guest. They receive a code by text message, enter that code, and then are authorized for a location and time window the host sets up through our web interface. When they approach the property at the right time, the front door automatically unlocks and they can control lights, garage doors, and other connected devices in the home using a friendly user interface.
What are your future plans for Host Magic?
Mike L.: We are interested in pursuing our idea further by building out an MVP and seeing if we can gain traction.
Mark: We talked to some VC people at CES who were very excited about the idea. It turns out its very complicated, there are lots of hosting platforms like Airbnb, VRBO, and others. There are many home automation systems. Building this out would mean tackling every combination. We hope to meet monthly and make small progress. If we can get a product that can be sold, and a small number of customers willing to pay, then we may pursue it as more than a hobby. But for now, we all love and are pretty dedicated to our day jobs. I have an MBA as well and did some business research into the idea. I reached out to SmartHost, a similar business I discovered after the hackathon who were Hackathon winners themselves. I want to thank them for the advice and mentorship they provided recently and wish them well. If they hit it big offering services to hosts, then we are more likely to follow!
What's Happening in the AT&T Developer Community
Would you like to meet more developers in our community? Join us at an upcoming events: http://developer.att.com/community/events
Do you know someone spotlighted in our Featured Developer series or are you interested in being
---
Share this post