Updated: May 13, 2015
Published: May 13, 2015
Featured Developer: Ruggero Scorcioni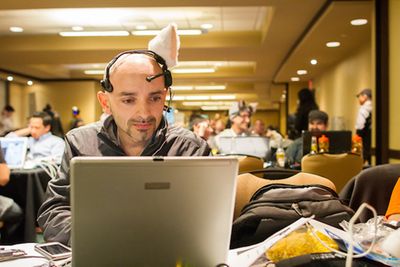 Ruggero Scorcioni is no stranger to hackathons, taking home prizes from a number of hackathons including winning the grand place at our very own AT&T Developer Summit for the development of "Good Times," which provides real-time call filtering based on your mental state (see his live pitch here https://www.youtube.com/watch?v=60-ter2x2XQ). Like many developers, Ruggero combines his experience and passion for neuroscience with his expertise as a software engineer and a love for technology to create some great results. Originally from Italy, but now based in San Diego, CA, Ruggero is CEO & Founder of Brainyno Inc. where he further develops his ideas.
The Featured Developer series spotlights members of our community to help provide insight into how people come together to ideate and develop applications. Miss one of our Featured Developer stories? You can catch-up on how other developers have built teams and accomplished success through hackathons:
Interested in joining us for a Hack? Check out our upcoming events calendar here.
We recently caught up with Ruggero to discuss his experiences with hackathons and development.
What prompted you to attend an AT&T Developer Program Hackathon?
The first hackathon I ever attended was the San Diego AT&T Hackathon. I thought it would be fun to spend the weekend creating something new. I was surprised by how much fun it was and how many new things I learned. I was able to make and publish my very first app.
How have Hackathons helped you personally?
From the very first hackathon, I found them to be not just fun, but also a great learning and networking opportunity. Each time, I meet great people, play with the latest technology, and always have fun competing for the prizes. It feels like a 24-hour race. I was also able to start my own company, using my winnings from the AT&T Hackathons.
How many Hackathons have you participated in?
I have participated in eight hackathons.
What does the AT&T Developer Program and AT&T Hackathons mean to you?
It is a special place to meet like-minded individuals who love to build new things. It is a place where I learn what major companies in the world are bringing to the market and where I get to play with the latest tech toys. Sometimes I even get to take some of these back home with me.
Any developer-related advice, or lessons learned from your participation in the hackathon?
One of the things I learned is to focus on one or two new technologies and try to make it work in the limited time available. I would also suggest to focus on technologies that you are not familiar with, so you can really take advantage of the many experts that are present to help. These sensei are incredibly knowledgeable and often they are the actual engineers involved in creating the technology that developers like me use. Whether you win or not, you bring back some valuable lessons, meet great people, learn new technologies, and… eat lots of food 🙂
What advice do you have for up-and-coming developers, especially those who are going to attend their first hackathon?
If you are curious and want to create your very first app, then a hackathon is the best place to start. You will learn the many online tools that make app development easy. At the same time, there are plenty of opportunities for people interested in other aspects of technology, such as marketing and management.
What is your development background?
I used to develop in C/C++. At my first hackathon, I created a simple app using JavaScript. Now I develop in Node.js, C/C++ for firmware, and PhoneGap for mobile Apps.
How did your teams form at Hackathons and what were their backgrounds?
At most hackathons I compete solo, but I have also participated as part of a larger group. I enjoy working in both ways and each has advantages and disadvantages, so it is good to have a mix.
Favorite AT&T API?
My favorite API is AT&T M2X, as it allows me to easily upload data from my hardware project to the cloud and mobile app.
Preferred coding languages?
I prefer JavaScript and C++.
Favorite development tool, and why you like it?
I like to keep it simple, so I use Sublime Text for editing and Git for code versioning. For the GUI, I like to use a rapid prototyping tool like Appery.io, which allows me to quickly code a mobile app in JavaScript.
What technologies are you most passionate about?
I am passionate about wearables, Internet of Things (IoT), and mobile health technologies.
What are some examples of hacks you have done during Hackathons?
Good-times: A brain-activated do-not-disturb button, which was the first place winner at the 2013 AT&T Developer Summit Hackathon. I hacked a pair of Necomimi cat ears which is a headset that records brain-waves and moves the ears based on the user's mental state. I used an Arduino board to record the position of the cat ears and Call Management APIs to block any call from reaching a mentally busy user. This hack keeps users from receiving phone calls at the wrong times.
Running Mate Finder: This Android app can be used to search and find ideal running mates by analyzing Fitbit data. An ideal running mate and one who is nearby, has a similar schedule and similar endurance levels. The app locates runners using GPS, analyzes their past data and invites the best nearby running mates. This hack won the Elance.com prize at TechCrunch Disrupt in September 2013.
Online Behavior Forum: Designed to teach elementary school children proper online behavior through gamification. Both teachers and students monitor this app, and gamification rewards good behaviors. The best students are promoted to substitute the teachers in monitoring the forums. The ultimate goal is a self-policing forum for students to participate in.
Toddler Sleeping Pad: This sleeping pad for toddlers' alerts parents when they are needed. I created a touch-sensitive sleeping pad based on a Freescale board. The touch sensitive pad allows the system to identify if the toddler is just moving in bed or actually trying to get out of the bed. In the latter case, the parents are alerted with a text message. This hack was a second place winner at the 2014 AT&T Code for Car and Home Hackathon.
How do you come up with the ideas at hackathons?
I usually go to hackathons with an open mind and try to find an answer to "What would be really fun to build in 24 hours?" I spend the first few hours just talking with other developers, tech experts, and all the vendors to help shape my ideas.
What are your future plans for building new applications?
At the moment, I am working on an IoT device to help people sleep better.
Thanks Ruggero for sharing your insight! Do you know someone spotlighted in our Featured Developer series or someone who should be featured? Let us know in the comments below.
---
Share this post