Updated: Oct 08, 2016
Published: Jun 25, 2015
Featured Developer: Broward College and Team Smart Class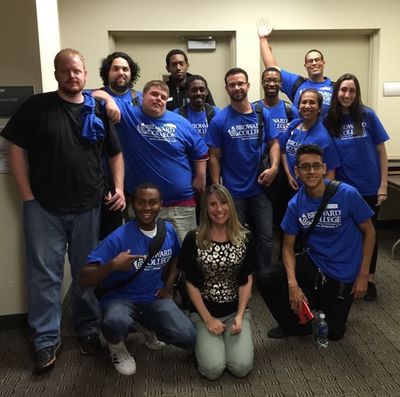 Throughout the 24 hours of a hackathon there is a great buzz in the room as developers work together on ideas and create new apps. Student teams often take the energy in the room to the next level and this was illustrated recently during our South Florida Hackathon at Nova Southeastern University.
From a field of over 95 attendees, Team Smart Class tied as the winner for the Best Use of the AT&T Enhanced WebRTC API prize. The winning Smart Class application was developed to help facilitate connections between teachers and students. For more information on the South Florida Hackathon, see the Event Recap here.
Team Smart Class is a group of local students from Broward College, which is geographically located right next to the Hackathon host school Nova Southeastern University in Fort Lauderdale, Florida. While Team Smart Class is a group of six students, they were only a part of a great showing of 29 total student developers from Broward. The students showed their passion for developing not only through their performance on site, but by giving up a weekend to hack. By all accounts, everybody enjoyed the experience and were positive about attending future hackathons. Teams from other local schools such as Miami-Dade College and host Nova Southeastern University provided a great opportunity to compete against their peers in the short 24 hour period.
This was the first hackathon for all of the students. How did it all start? One student went to a hackathon and returned so excited sharing the experience that Michelle Levine, Assistant Professor of Computer Science, led the charge by encouraging students in her classes and the Broward Women in Technology (WiT) group to join their peers at the Hack, and created and posted flyers around the school to promote a Broward presence at the Hackathon. The efforts to rally students to join the hack worked – they grew from one team to two teams until a final total of 29 students participated. The Broward teams were easy to spot in the sea of competitors since they were wearing blue Broward College t-shirts donated to them for the Hackathon.
Professor Levine believes hackathons are such an amazing opportunity for her students and has been encouraging them to attend as many as possible:
"I feel that Hackathons are a great way for students to learn about current technology in a non-threatening environment where they will be surrounded by others who share the same passion for programming. As IT majors, our students face a particularly difficult challenge as they must try to stay up to date in a field that is constantly changing. Hackathons are a great way to supplement what students are learning in the classroom. The fact that they will have a finished (or nearly finished) project to include in their portfolios is an added bonus to the learning that takes place in such a short period of time. In addition to the technology skills the students gain at hackathons, they are getting extremely important soft skill experience in areas such as teamwork and public speaking. I have been thrilled to see my students get so excited about their experiences at hackathons. From the free food to the camaraderie to the networking, it is a no lose educational opportunity for students and I strongly encourage my students to take advantage when there are hackathons in the area!"
We couldn't have said it better ourselves!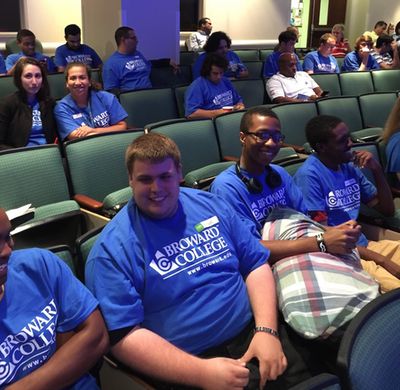 As is the case with other colleges and universities, Broward is proud of its students – the winning team is currently featured on their Computer Science website and was front page news in the President's Monthly Update newsletter for April. You can't go far in the Computer Science department without seeing a photo of the students working on ideas at the hackathon.
Are you interested in joining us for a Hack or DevLab workshop? The AT&T Developer Program holds events across the country throughout the year! Visit our upcoming events calendar here.
Congratulations to the team of Cameron Banham, Dylan Shuart, Gaston Diloreto, Herbert Mihomme, Louis Rush, and Tyler Loiseau on your win! We recently caught up with team members, Cameron Banham and Gaston Diloreto, to discuss their experiences as part of Team Smart Class. In addition, we connected with Kris Bukovi and Fernando Soler-Casanova, whom were part of the broader Broward student contingent at the hackathon.
What prompted you to attend the AT&T Developer Program Hackathon at Nova Southeastern University?
Cameron: I attended the program because I thought it would be fun to work with a team of other people building something, and also wanted to put my skills to the test.
Gaston: I had joined the Women in Technology club at my college and the professor who sponsored the club alerted me to the opportunity of attending this hackathon.
Kris: Women in Tech at Broward College found out about the AT&T Developer Program Hackathon and we thought it would be a great opportunity for us to learn, and immediately marked the date in our calendars.
Fernando: I was a first interested in attending the AT&T Developer Program Hackathon after hearing about it while attending a Women in Tech meeting.
How has the Women in Technology group at Broward College helped in the development of your skills? What does the WiT initiative mean to you?
Kris: Since becoming president of Women in Tech, I have grown so much both as a leader and a programmer. We're always taking on huge projects like building websites and participating in hackathons, and that has really helped us get experience in the field while we're still in school. The Women in Tech initiative is to help promote gender equality within the technology field, and to create an environment where diversity and innovation grow side-by-side. WiT means that I have a group of people who are on my side, and just having them there gives me the strength to continue fighting for gender equality. I can't think of much else that's more important than that.
Fernando: While I only managed to attend a couple WiT meetings due to conflicts with my time it's created a centralized point for tech event news. I learned about the AT&T Developer Program Hackathon as a direct result of WiT. I know they also work on projects throughout the year to help further hone programming skills.
How important is it to for companies like AT&T to hold hackathons for students? How do these hackathons help further innovation by students?
Cameron: Hackathons have become very important as companies look to hire IT professionals with experience or a portfolio. Without companies sponsoring hackathons, new grads have a tough time building the required portfolio to fill these positions. I can sit down at home and make website templates, but the AT&T Hackathon gives me more direction as to how I need to make my website and what functions it should have in order to go along with whatever we are building.
Gaston: It is invaluable for companies like AT&T to hold hackathons for students. The students get exposure to the field that they're interested in and get to interact with like-minded individuals (often times professionals in the field) in a casual group setting that's ripe for innovation. On top of that, you have "Senseis" that are extremely knowledgeable and willing to help everyone, no matter the task. I believe it is the culmination of all of these factors that promotes creativity and furthers innovation.
Kris: It's very important for these hackathons to continue as they create a great learning environment for everyone. These hackathons allow students to build something that we probably weren't able to before, and that allows us to come up with new ideas from different perspectives.
Fernando: These hackathons are crucial if companies would like students coming out of colleges ready to begin coding for them. It gives students a chance to understand and practice their language in a more directed setting.
How have hackathons helped you personally?
Cameron: Hackathons have motivated me to continue to practice my skills, learn more and motivated me to keep working harder in school.
Gaston: This hackathon showed me that I have much to learn. The world of computer science is vast and fascinating.
Kris: Participating in a hackathon is an experience that every programmer should have. Personally, I learned a lot about working like a team even under time constraints and extreme lack of sleep. It really pushes you to communicate even though you're tired and feel like there isn't enough time. The web-based application that my group designed brought up a lot of challenges that I had never faced before, so just going through and solving these problems improved my programming skills tremendously.
Fernando: The hackathon mostly showed me how crucial it was to have a wide range of languages available to use. I now understand that all of them have limitations in your ability to implement them, but that each has a very specific thing that they're best at.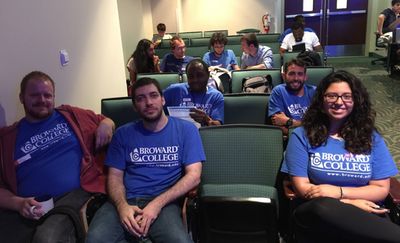 What was your experience at the AT&T Developer Program Hackathon like?

Cameron: It was amazing! My team was awesome and really fun to work with. As we put the app together we put in ideas that we worked together and even had some laughs. It was also great to see other teams working hard and perfecting their projects.
Gaston: It was my first hackathon, and I really enjoyed it! I liked working in a group setting to accomplish a common goal. I liked meeting all the different people with different ideas and approaches to their project and different implementations of AT&T's APIs. It was refreshing to see many people's enthusiasm for developing (especially the AT&T senseis) and it reinvigorated my own enthusiasm to pursue a future in this field.
Kris: I had a great experience at the AT&T Developer Program Hackathon.
Fernando: It was quite the learning experience. Coming from a C++ background with no experience in web development made things a little difficult. I had to quickly learn some HTML to help the group and be of use.
What does the AT&T Developer Program and AT&T Hackathons mean to you?
Cameron: It means a lot to me and I am very thankful that AT&T would go out of their way and sponsor events like these that help give students like me a taste of what it would be like to build an app or website in a professional setting, and something great to add to a portfolio or resume.
Gaston: It means an event to meet people and practice your developing skills. It means being exposed to new technologies, ways of thinking, and great people. It also means delicious food!
Kris: It means a chance for intense growth as a programmer and as a leader.
Any developer-related advice, or lessons learned from your participation in the hackathon?
Cameron: Yes! The hackathon is the very first time I have ever worked with a group of other developers and it has taught me the importance of pitching in my ideas and opinions, and the impact I can make on a project.
Gaston: I learned about the cross-platform text editor, Sublime. Before this event, I had been using Notepad++ and gedit, but an AT&T staff member talked to me about Sublime Text and why he uses it. Also, another participant of the hackathon told me about a group called "Code for Fort Lauderdale" and invited me to go to one of their meetings; I plan to go to the next meeting.
Kris: Take the time to communicate.
Fernando: Learning new languages isn't incredibly hard, but is incredibly necessary.
What advice do you have for student developers, especially those who are going to attend their first hackathon?
Cameron: Have fun! Don't worry about just trying to get first place. You get to meet awesome people, eat good food and work with a team of people who share the same passion as you do.
Gaston: Advice for up-and-coming developers: If you enjoy developing, keep going! It's something I've found that just keeps getting better and better. Advice to those who are going to attend their first hackathon: Go with an open mind and willingness to share ideas. It is a great environment to see what's out there and practice your own skills in a group setting.
Kris: People I talk to are usually worried that they don't know enough to attend a hackathon. My advice is to just go for it, and do your best. There's no harm in trying, but if you don't try then it's a wasted opportunity for you to grow as a developer.
What is your development background?
Cameron: I first got into IT around my junior year of high school, and the first thing I taught myself to do was create a website from scratch using HTML and CSS. After learning how to build websites, I looked into more areas of IT and certain careers that I would be interested in.
Gaston: I was part of the Academy of Information Technology (AOIT) during my high school years and was exposed to HTML, CSS, Visual Basic, SQL, and C++. Now I am in college and pursuing a degree in computer science.
Kris: I took Professor Levine's Intro and Intermediate C++ classes, and am now currently working as a C++ tutor at Broward College. Before her classes, I had no programming experience, but I picked it up pretty fast and I'm not looking back.
Fernando: I have taken two C++ classes.
What type of development background do team members have?
Cameron: My team members had experience in HTML, CSS, JavaScript, Objective C, and more.
Kris: My team members were all Broward College students as well as Women in Tech members, so they had mostly the same background as myself. We had one team member who knew more HTML, CSS, and JavaScript, so she took the lead in those areas.
Fernando: Mostly C++. One had some HTML and CSS
How did you form your team? Was it set before you arrived or did you pull it together on site?
Cameron: When my friend and I heard about the Hackathon, the first thing we made sure of is that we were on the same team. My professor went ahead and added members to our list. Upon arrival to the event, we met up with all the members and were easily able to communicate and share ideas.
Gaston: Our team was formed partially by Professor Levine at Broward College, and we picked up two members on site.
Kris and Fernando: Professor Levine helped determine our teams.
Preferred coding languages?
Cameron: HTML, CSS, JavaScript, PHP, python
Gaston: Most familiar with C++, but I haven't used enough coding languages to have a preference.
Kris: C++, Java
Favorite AT&T API?
Favorite mobile application development tool, and why you like it?
Cameron: I don't have that much experience with mobile applications, but from the few moments I have worked with it, I can say that the SDK Android tool is great. It seems very developer friendly.
What technologies are you most passionate about?
Cameron: I want to learn more about mobile applications, but I am really into web development. I also want to learn more on how to create cloud networks.
Gaston: The Internet! I've always been fascinated by and appreciative of how accessible everything has become since the widespread use of the Internet. Especially information!
Kris: I'm really passionate about a lot of different aspects of Computer Science. Most recently the project that Google is working on with Project Ara is, to put it bluntly, so cool. I think the idea of making it so your phone has the capability to allow for a self-check-up is amazing. There was also a student at UCF who 3D printed an arm for a child who needed one, and I can't help thinking about how amazing it would be to figure out how to make it so the arm can move just by thought. The technologies that I think will make life easier and more enjoyable for people are really the ones that I care about.
How did you come up with the idea for Smart Class?
Cameron: We figured that with the life of a college student, trying to balance work, school, friends, family and more, it is very easy to forget an important assignment or miss an update by a professor just because one day you forgot to login to your school student account. So we wanted a way for students to get updates and notifications on the one thing they all carry with them and check every minute, which is their smartphone. Also we wanted to help professors who are uncomfortable giving out their phone numbers to get virtual ones.
Gaston: It came up during a conversation about the hackathon with our professor a few days prior to the event. Once the AT&T Enhanced WebRTC API was presented at the hackathon, it seemed like a perfect fit so we went for it.
What is the purpose of Smart Class?
Smart Class is an education application designed to facilitate the communication of students and professors without having to give out personal information like phone numbers. It is meant to have many features like texting, video conferencing, calendar sync, alerts, and file distribution. It is also meant to be lite and simple in design.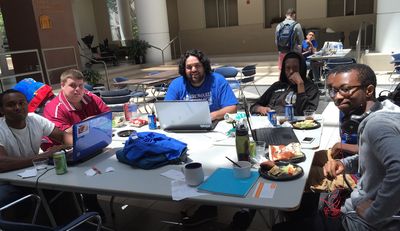 What technologies did you use in Smart Class?
So far, we've used the AT&T Enhanced WebRTC API for the video conferencing Notepad++ and Adobe Dreamweaver were used during development.
How does your Smart Class app work?
Once users register, they will be able to join their course and access features from their course's main page. Professors will be able to upload files, send alerts, and schedule important events on the class calendar. Students and professors can place virtual or video calls to each other.
Any future plans for Smart Class?
Cameron: Our team might perfect our work and offer it to Broward College and see if they like the idea and want to use it in the future.
Gaston: I would actually like to continue its development, time permitting, and eventually release it to the public.
We are highlighting the Broward College students and Smart Class team as part of our Featured Developer series which spotlights members of our community to help provide insight into how people come together to ideate and develop applications. You can catch-up on how other developers have built teams and accomplished success through hackathons:
Were you at the hack and want to share your experience? Do you know someone spotlighted in our Featured Developer series or are you interested in being featured? Share your thoughts in the comments below.
---
Share this post