Updated: Apr 22, 2015
Published: Apr 22, 2015
Event Recap: AT&T Mobile App Hackathon – South Florida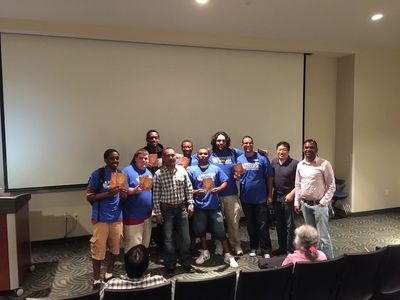 What happens when 95+ developers, students, and entrepreneurs in South Florida get together to hack WebRTC? Dynamic discussions, rapid learning and the creation of some truly great websites and apps. Beginning on Friday at 6PM at Nova Southeastern University, we challenged participants of our South Florida hackathon to build mobile apps or websites integrating our very own AT&T Enhanced WebRTC API (Beta). To make things interesting we even offered prizes for the first two teams to successfully implement our WebRTC platform in their solution and it took less than four hours for two talented teams to claim their victories.
A huge thank you to Nova Southeastern University, especially both Jessica Rodriguez and Eric
S. Ackerman, Ph.D. for not only being wonderful hosts, but also providing great support
throughout the event. These hackathons are not possible without the support of the local
community, so an additional thanks goes out to Bryce Kerley, Katherine Martin, and Juan Carlos Contreras-Piana for their time and assistance. A final shout out to Michelle Levine and all the students, from Broward College, who brought a ton of enthusiasm and energy to the event.
Working with new technology on a 24-hour deadline is no joke, and this hackathon was proof of that. Although, we began with 13 teams on Friday, we dwindled to 10 teams by 6PM on Saturday with seven completing their applications and presenting. [Video] Phone Call App was one of the most interesting apps, providing the ability to leverage WebRTC to launch phone calls from video files. Integrating contact information into video has the potential to disrupt the way that businesses advertise online.
AT&T Mobile App Hackathon – South Florida Winners:
● Best App Overall – WhiteBored
● Best Use of AT&T WebRTC (Tied) – Smart Class
● Best Use of AT&T WebRTC (Tied) – [Video] Call App
● Community Choice Award – TBD
● Most Useful Feedback for AT&T Enhanced WebRTC (Beta) – TBD
Don't forget to help us select our Community Choice Award by posting a comment below telling us which app was your favorite from the seven completed apps listed below:
Agnostic – "We're giving AT&T and registered users the ability to make phone calls from their
PC. Relaying Google Voice features to AT&T and registered users."
[Video] Phone Call App – "Consumers have forgotten how to read. In fact, they are annoyed by businesses that lack a short explainer video. The problem is that these videos when shared
across the web, lose contextual information normally present on the business website such as
contact information. Our application embeds the call to action information directly into the
explainer video itself, so a consumer can call the business directly from the video."
Life: At a Glance – "Multi-platform application that integrates daily needs for a student who
wants to keep in touch with their family, stay on top of their education, and altogether manage
time in order to balance chaos in their lives."
Tell Me, Doctor – "Facilitating private medical consults at any time and in any language."
WhiteBored – "Collaborative white board that you can control with your my."
Smart Class – "Smart Class is a web application that we developed for teachers and students to have easy access to one another without having to disclose personal information like phone
numbers."
PPPicturePhone – "Connect with people in your community who share your interests. Create a deeper connection to the people, places, and happenings that match your passions, purposes, and plans."
---
Share this post