Updated: Apr 17, 2015
Published: Apr 17, 2015
Event Recap: AT&T Mobile App Hackathon – Louisville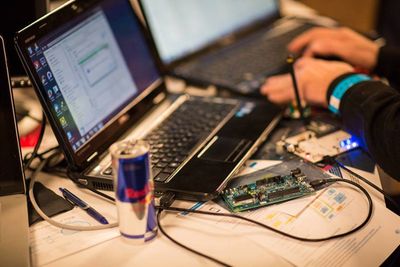 What happens when 237+ creatively motivated developers and entrepreneurs get together in one space? Open discussions, great networking, new friendships and projects getting launched! Over the course of two days, there were twenty-eight teams formed around some exciting projects that leveraged the latest technologies. Cool tech aside, these hackathons are all about sharing and creating an environment that supports developers with new opportunities, life learnings, new friends, and business connections.
A massive shout out goes to Intel, FirstBuild, GE, Freescale, Wunderbar and Atmel for their collaboration on the event as well as outreach to the local community. Also, we really have to thank the local community for helping to pull together the event, especially the University of Louisville and the mentors who put in time with the various teams to help polish the presentations.
A big thank you also goes out to FirstBuild for hosting the event and opening up their industrial-grade tools such as laser cutters and CNC machines to the public for the weekend.
The projects that were pitched on Saturday were technically difficult, ranging from uber-smart appliances to IoT baby products! The innovative ideas and new community opportunities that these hacks enable are why we run these events. To date, I have hosted over 100 hackathons with seemingly no end in sight. If you are interested in working with us on hackathons or have questions about how to host hackathons, please feel to email me via linkedin.com (my email is in the profile) and checkout our upcoming events via this link: http://goo.gl/qngMTs
Hackathon Event Overview
AT&T Hackathons bring together developers, designers, marketers and entrepreneurial types to launch projects and startups in a very short amount of time and enable developers to show off their development skills and ideas. Attendees pitch ideas, form teams, and build prototypes within the short time frame and guest judges help pick the winners. The best part is that many of these aspiring entrepreneurs continue the pursuit long after the weekend is over and strive to launch a business from the concept.
This time around, we supplied the developers with quite a bit of hardware from Intel, Ardunio and Raspberry Pi along with an insane amount of sensors and other electronic components.
Day 1 – Lightning Talks and Team Formation
We kicked off the event on Friday afternoon with a full house of entrepreneurs packing out the venue. The event then moved into lightning talks to orient the developers as well as previously successful entrepreneurs who rallied the crowd to get excited about staying up all night to build apps! Participants networked to self-organize around ideas that they liked and finalized on a number of projects, which are listed at the end of this blog.
Day 2 – Code Completion and Pitching!
A number of teams worked through the night and into breakfast the next morning on Saturday! This hack was perhaps one of the most active hackathons with the workshop seemingly always in action with one device or another always in use.
One of the teams that really impressed the judges was Team Coo with a baby mobile that enables parents to remotely check-in on their baby and even activate the mobile without physically being in the room. Even though some teams were further along than others at the end, everyone was ready for the 6PM presentation start time.
The winning team clearly communicated the problem as well as the solution. This was followed by a demo of the prototype that walked the audience through the solution. The judges assessed the potential of each team, provided candid feedback to the presenters and selected the winners. The top teams were:
AT&T Best Mobile App ($1000) – Team FineLine
Big Thanks to Everyone who Came Out!
These events are made possible by the generosity of the sponsors, amazing team of organizers, volunteers, judges, and mentors. If you're interested in receiving updates about future AT&T Hackathon events, please connect with me on Facebook and Twitter!
Here is a list of the projects that were pitched:
Team grOWN – The urban environment makes finding fresh produce difficult for young families. grOWN is a cabinet-to-plate appliance that promotes healthy eating through providing an effortless gardening experience.
Team PerfectPasta – No more waiting for water to boil. There's no need to stand around and wait for pasta to cook. We have automated the pasta cooking process! All the user has to do is place a pot full of tap water on the stove, put uncooked pasta colander suspended over the pot, enter the cook time, and walk away! The Perfect Pasta system will take over from here. The colander suspension system is linked with the stove top functionality. The system will turn on the stove and when the water is boiling, the colander will lower the pasta into the pot. Once the cooking time has passed, the colander will lift the perfectly cooked pasta out of the pot and the stove will turn off. A phone notification will let you know that it's dinner time!
Team DrinkStation2050 – Table integrated with a refrigerator. At the push of a button, refrigerated drinks will be at your disposal while you sit, relax, and hangout around the table.
Team ToplessHandle – A bottle opener built into the door handle of the refrigerator, with a catch can for the bottle caps on the freezer handle.
Team Shelfie – After market shelf modification for refrigerator, pantries, toolboxes, etc. to intelligently track items, re-order consumables, and analyze inventory usage. This prototype used the Intel Edison (http://www.intel.com/content/www/us/en/do-it-yours…) platform for weight sensing and barcode reading. The board processes the data to determine where objects are placed on the shelf and updates the Firebase (https://www.firebase.com/) database in real time. These events trigger asynchronous updates of the WebApp to indicate the location, type of object(s) placed on the shelf, and track their weight over time. This approach of inventory monitoring could be extended to include automatic order placement of consumables that fall below user specified levels, tracking how frequently items are used, and who is using them. The system could also be extended to provide suggestions for recipes to users based on content, expected expiration dates, and user preferences. This was demonstrated in a home appliance scenario, but could also shine in industrial factories, maker spaces, restaurants, or any other area where tracking inventory of consumables or tool usage is paramount to efficient operation.
Team Freshpad – Measure fill levels of common items in your fridge (milk, beer, 2-liter soda) and notify the app. Sensor pad should be smart enough to detect the shape of different items and report fill level accordingly.
Team Fetch – We help you go fetch your lost items.
Team SafeTea – Stove Alert System: A seamless notification system to remind homeowners that their stove has been left unattended.
Team ShelfControl – Shelf Control will be a retrofitted shelf that goes in your refrigerator that will unlock based on whether you have met their fitness needs for that day. The lock will interface with a FitBit type device in order to determine whether a fitness goal has been met. The shelf control project will also involve a mobile app so the lock can be activated from your smartphone. This will include feedback as to whether the lock has been used recently. Shelf Control can also be used to control other drawers and cabinets around the house that might include candy, alcohol, or anything else.
Team NightGuide – The Night Guide project will include LED lights and proximity sensors. The lights will be mounted into the base boards around your house. When you wake up in the middle of the night and have to use the restroom the proximity sensors will recognize you and turn on the lights around your position. The light will be dull enough that it will not wake up a sleeping partner, but light enough that you will be able to see your way around. The area will also be lit with an orange color light so that it does not disrupt your circadian rhythm.
Team SmartUmbrella – We are building a smart umbrella stand to revolutionize the world one umbrella at a time!
Team Chillhub – Using the Chillhub, which is a Wi-Fi-enabled refrigerator, our team plans to utilize Ubuntu snappy as a platform to recognize and process any ingredients that are stored or removed from the refrigerator. With this data, estimated expiration dates can be used to notify users when food will expire, what recipes can be made, and what foods should be added to a shopping list. In order to fully utilize these features, voice recognition will allow users to interact with the refrigerator. For example, the user could ask the refrigerator if there's milk as opposed to opening the refrigerator, or the refrigerator can walk through a recipe when preparing dinner.
Team CoffeeRoaster – The world is discovering just how incredible fresh coffee tastes. However, freshly roasted coffee is typically only available in cities with high-end coffee shops that roast their own coffee. Some attempt to roast at home, but the learning curve and imprecision with consumer-level roasting devices leaves much to be desired. Why is coffee roasting so difficult? It is a path dependent process. For example, two coffee roasts that each reached 415F in 15 minutes could taste completely different depending on when the heat was applied. Various chemical reactions occur at different temperature ranges, and depending how long the roast dwells at those temperatures, different flavors will be developed. No consumer grade roasting device has the ability to set a temperature "profile" and roast to that profile. Not even many small professional roasters have this capability–and even small professional roasters are $2000-$10,000! Our concept brings a high-level of precision in roasting coffee to the masses. Using a convection oven and direct control of the heating elements, we aim to define a temperature profile via a web or app interface, supply that information to an Intel Edison, and modulate the convection heating element to hold temperatures to the desired temperature profile.
Team FixOfWater – FixOFWater is a project that enables features like glass autofill and precise fill for GE Refrigerators that do not already have these features built-in. It is a web application which is accessible from any client device (mobile, iPad, PC, etc.) and uses voice commands to control the fridge water dispenser, hands-free. Just set your glass below the dispenser and speak into your mobile device to activate the water dispenser. Below are the currently supported voice commands: Autofill / Dispense X Ounces Water / Dispense Cubed / Dispense Crushed / Stop / Light On / Light Off. In addition, the web application running on the Intel Edison IoT allows the user to login, create a profile, and set the configuration for favorite glass size which sets the amount dispensed using the "autofill" feature. Alternate glass sizes can be filled using the "Dispense X Ounces Water" voice feature. Users can also set the speed at which water is dispensed during "autofill." All profile data is stored in the cloud (Firebase) and will keep track of how much water the consumer is drinking per day / week / month. It also uses the user's weight to suggest a recommended amount of water a user should be consuming each day to prevent dehydration.
This project will enable users to save time and free their hands by not having to hold a glass under the dispenser while it fills up. Users will also be able to impress their friends by controlling their fridge dispenser using voice commands. The fixed size of glass for the "autofill" feature gives users their "Fix" of Water while saving time and can lead to healthier drinking habits.
Team FreshFridge – A new twist on an old fridge favorite – snap the FreshFridge on a standard box of baking soda, plug into your ChillHub, and enjoy an odor-free fridge. The low-power fan forces air past the baking soda, removing any unpleasant smells as it is pushed out the other side. 3D design thanks to AutoDesk Fusion, and printing thanks to the Makerbot Replicator.
Team CrockWatch – A smart CrockPot app that allows you to monitor your food via a camera, control the power settings, and check the temperature.
Team FridgeFriend – This fridge hack is designed to make it easier to stow away your groceries or that gigantic crystal punch bowl. With the touch of a button, a motor silently opens the fridge door to give you access inside. Another touch and the door closes securely. There are also accessibility implications for older people or people with disabilities who may have trouble opening fridge doors.
Team AlwaysOnTime – 1st: Appliance resets to correct time after power failure once power is restored and back online. Also notifies time that power went out and came back on (especially important for refrigerators). 2nd: After power is restored, appliance returns to the correct cycle it was on when power failed (dishwashers, washers, dryers, etc.).
Team SPAM – Shared Power Appliance Monitor
Team Fridge – Using touch-less sensors to operate (open) the refrigerator door. Good for full (or dirty) hands or handicapped personnel.
Team AutoDrip – This faucet uses a built-in temperature sensor attached to a downstream pipe to detect if the temperature of the water in the pipe is at risk for freezing. If this is the case the faucet will turn on a "leak" mode and water will begin slowly leaking out of the faucet. This will prevent the pipe from freezing up. There is a status LED in the drain stem hole. The device uses a raspberry pi 2 for the central processing and event responses. It could also be integrated with the TI wireless devices to attach to the pipe even further downstream, that way if the same pipe in another location of the building is too cold, it would be notified and turn the faucet on as well.
Team Faucet – This hack is designed to be helpful for caretakers of elderly people who live alone. By receiving a text message the first time the faucet is used each day, the caretaker can know that someone is awake and active. If the faucet hasn't been used in 18 hours, the caretaker receives a text that they should check on their loved one. By embedding the sensor in a commonly used appliance, it's non-intrusive but still accurate and very helpful We modeled a Delta faucet handle in Autodesk Fusion 360 and 3-D printed it on a MakerBot. The faucet handle is hollowed out to allow a SmartThings contact sensor to fit inside.
Team LaundrySensor – A laundry room sensor with reporting. Many home insurance claims are made due to failures in the laundry, either from overflowing washers or burst hoses, or from dryers with lint traps that have been improperly cleaned and catch fire. The laundry sensor is: Internet connected sensor using Intel Edison board and IoTivity for use in monitoring a laundry or basement for the following conditions: Water overflow of washer / sump failure (moisture sensor on ground) Unexpected power draw/lack thereof in washer/dryer. Accelerometer to determine if washer is unbalanced. Temperature/smoke sensor for overtemp/fire detection. Webcam for photo / video if an issue is detected. The edison continually monitors the sensors, raising a flag on the user's smartphone when one of the error conditions is met. From there a user can login to the webcam to further diagnose the issue.
Team WirelessCharging – Smart solutions for keeping your devices charged and batteries healthy. The chosen implementation was to create a smart charging coffee table using Helios Wireless Charging devices from Leggett & Platt, controlling them with Plugs from ElectricImp having a polished look thanks to loads of work by ShopBot. Features include: Qi wireless charging. Smart on / off control via cloud (powered by ElectricImp) Smart power monitoring (voltage, current and power) Great area to drink beer and charge your phone 🙂
Team TempASure – Colors water stream based on temperature of water (blue for cold with shades changing to red for hot).
Team Coo – Notifies parents when their newborn is in need of care. Sensors provide critical information, as well as comfort for the parents as there is no longer a need for constant monitoring.
Team FineLine – This mobile app is essentially a computer controlled cookie jar where refrigerator drawers containing your favorite snacks would only unlock after your chores had finished. A scenario could be tied to your child's chores, where the kid's snack drawer would open only after the dishwasher had run or the washing machine AND the dryer had run. An adult scenario could be designed for beer, and had a self control mode which allowed rules to lock you out of the beer at 1am on a Wednesday.
---
Share this post