Updated: Mar 25, 2015
Published: Mar 25, 2015
Event Recap: AT&T Mobile App Hackathon – Los Angeles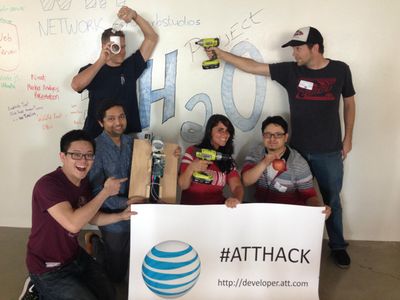 <04.24.15 Update> Team SightCycle won the community choice award! Congrats!
What happens when 176+ creatively motivated developers & entrepreneurs get together in one space? Open discussions, great networking, new friendships, and projects getting launched! Over the course of two days, 22 teams formed around some exciting projects that leveraged the latest technologies. Cool tech aside, these hackathons are all about sharing and creating an environment that supports developers with new opportunities, life learnings, new friends, and business connections.
A massive shout out goes to Intel, Freescale, mbient, Hackster.io, Wunderbar and Cylon.js for their collaboration on the event as well as outreach to the local community. Also, we really have to thank the local community for helping to pull together the event, especially Teresa and the local mentors who put in the time with the various teams to help polish presentations.
A big thank you also goes out to the Rhubarb Studio space for hosting and also staying with us through the weekend. Their space was perfect for hosting a hackathon of our size and the security through the weekend really helped ease the flow.
The projects that were pitched on Sunday were technically difficult, ranging from self-driving vehicles to water conservation hacks! The innovative ideas and new community opportunities that these hacks enable are why we run these events. To date, I have hosted over 100 hackathons with seemingly no end in sight. If you are interested in working with us on hackathons or have questions about how to host hackathons, please feel to email me at alex.donn@att.com and checkout our upcoming events via this link: http://goo.gl/qngMTs
Hackathon Event Overview
AT&T Hackathons bring together developers, designers, marketers, and entrepreneurial types to launch projects and startups in a very short amount of time and enable developers to show off their development skills and ideas. Attendees pitch ideas, form teams and build prototypes within the short time frame and guest judges help pick the winners. The best part is that many of these aspiring entrepreneurs continue the pursuit long after the weekend is over and strive to launch a business from the concept.
This time around, we supplied the developers with quite a bit of hardware from Intel, Ardunio, and Raspberry Pi along with an insane amount of sensors and other electronic components. We also had our AT&T M2X team on-site to provide walk-throughs of the API in conjunction with the hardware that was available.
Day 1 – Lightning Talks and Team Formation
We kicked off the event on Saturday morning with a full house of entrepreneurs packing out the venue. The event then moved into lightning talks to orient the developers as well as previously successful entrepreneurs who rallied the crowd to get excited about staying up all night to build apps! Attendees then came up to pitch their ideas and skills to their peers. They had only three minutes to sell their concept and communicate:
Who they are and their super power
The problem they want to solve
How they're going to solve that problem
What they need to solve that problem
Participants networked to self-organize around ideas that they liked and finalized on a number of projects, which are listed at the end of this blog.
Day 2 – Code Completion and Pitching!
A number of teams worked right up until we shut down the venue at 11PM on Saturday night and then were right back with us bright and early on Sunday! To everyone's amazement the snacks were thoroughly picked through and the soda fully consumed. So a bunch of us made extra trips to Costco to replenish the snack counter with enough sugar and caffeine to keep everyone bouncing till the 6PM presentation time.
One of the teams that really impressed the judges was team Selfie with an app that enables you to "selfie" yourself from another phone with your phone and it even displays a preview of the picture! The app was written in native Android by a junior in college and used Bluetooth to enable the remote picture taking. Even though some teams were further along than others at the end, everyone was ready for the 6PM presentation start time.
The winning teams clearly communicated the problem as well as the solution. This was followed by a demo of the prototype that walked the audience through the solution. The judges assessed the potential of each team, provided candid feedback to the presenters and selected the winners. The top teams were:
AT&T Best M2X App ($500) – Team SightCycle
AT&T Best Mobile App ($500) – Team H20 Flow
AT&T Best UI ($500) – Team Augmented 6th
Best Overall App

($1000) – Team Bellbot
Big Thanks to Everyone who Came Out!
These events are made possible by the generosity of the sponsors, amazing team of organizers, volunteers, judges, and mentors. If you're interested in receiving updates about future AT&T Hackathon events, please connect with me on Facebook and Twitter!
Here is a list of the projects that were pitched:
Team BELLBOT – This app enhances the hotel experience by guiding guests to their room & makes check-in/check-out process easier with robot assistants & app. In a nutshell, this app automates the hotel checkin process by using facial recognition via Kinect to check guests in. Then a robot guides guest to their rooms using Sphero, Intel Edison, Cylon.js.
Team Safe.ly – Make thieves think twice about stealing from you again. Unfortunately, robberies and thefts occur daily – Hourly, even. If you're at gunpoint, how do you alert the police of your distress and location without notifying your potential robber of your actions? What kind of action or gesture can you create with your phone that can quickly and discretely contact the authorities while minimizing the potential for false positives? Our product creates a simple solution where a simple series of gestures will do just that. It will call the authorities as well as send them a text of your location. It will also send texts of your location to predetermined contacts. A follow up question then becomes, what if your phone gets stolen suddenly without notification and you don't have time to make the gesture? A key fob, connected to your phone via a wireless connection, is our answer. Once out of range of each other, an alert will be sent to the authorities as well. Furthermore, based on the different sets of data that are received, a matrix will determine whether the police, an ambulance, or both will be needed for assistance. Immediate response from needed help is paramount in any of these scenarios. To do it safely and quickly is the question of "how" we wish to tackle. https://github.com/jhwang90/emergency-notifier
Team Smart Sun-Rise Alarm Clock – Wake up to the gentle glow of full spectrum lighting as if you slept on the beach in Miami and set it just like your native smartphone app.
Team Sight Cycle (IoT Bike Light) – The intelligent bike light that adapts to its environment uses an array of LEDs that independently dim when ambient light is detected – Winner of the Best M2X API award! http://smart-or-bike.azurewebsites.net & https://github.com/akhahaha/SightCycle-android
Team ColdBrew – Text message notification app for when your beer has reached the optimum temperature. The original idea was to create an automated reminder system that made use of the Wunderbar platform to monitor data. Eventually, we settled on solving a problem that many of us have on a daily basis: needing to know when our warm bottle of beer is cold enough to drink, as soon as possible! We used the Wunderbar RESTful API to receive the sensor data, and Twilio API to send a text message to the user once the beer reaches below a certain temperature. Script written in node.js. This could be extended to be a persistent monitoring service, having the node.js app run from an Intel Edison. Source Code: https://github.com/dkrish/lacoldbrew
Team Klimate – A personal water and air quality sensor to keep you safe and healthy. Everyone wants to be fit, right? People are wearing personal fitness trackers to track their steps and their heart rates. But how can you be fit if the water you are drinking and the air you are breathing are full of contaminants, particulates, bacteria, and who knows what else. How can you get a handle on the environmental aspects of your health? Our personal water and air quality tracker will let you finally collect data on what you are drinking, breathing, and potentially eating.
Team Super Data Ball – Football goes digital with Super Data Ball! Visualize the data from your football passes with our smart football and mobile app. Users can learn how to throw the ball better based on the feedback provided on hard metrics such as angular rotation and acceleration of the ball.
Team Lidarscan – An arduino-based lidar-lite scanner
Team FeverApp – Baby icon changes colors as fever temp changes (green, yellow, and red). Baby Fever Monitor: A small, portable fever monitor that stores baby temps –via a wireless connection– to Windows Azure Cloud Services. A PhoneGap app for Android displays the baby's temperature to the parent's cell phone in real time. The app also displays an image of a baby that is green for normal, yellow for elevated, red for fever, and blue for cold.
Team Edison Signal – A curated audio broadcast system.
Team Selfie – An app that uses Bluetooth to view and control a camera from another cell phone, thus enabling selfies with multiple phones!
Team Rover – A rover spider with fun sensors.
Team When – A service to track the location of people meeting for an event. This service tracks people who are part of an event so that the group can know when everyone will arrive. Tracking only takes place within a window of time for the event. Anyone can create an event, map it to a location and time, and invite others to attend. When the event nears, members of the event can see in a list or a map of the location and distance of everyone attending. I have been to many events where people are late, or perhaps not attending. Rather then trying to message them while they're driving, or posting messages to a group discussion, the When service handles all of the tracking automatically. The more I talk to people about the service, the more use cases we come up with. I envision adding messaging within the service, and perhaps even photo sharing. There are many directions in which the When service can expand. Everything was written from scratch in Swift in Xcode for running on an iOS device. A port to Android would certainly be useful, and I could see a web interface for creating and sharing events. I would also like to make an AppleWatch app for the service. The service uses Microsoft Azure for the backend database.
Team SmartWaterMeter – Team H2O brings a smart metering network to water-deprived Californians. Team H2O brings a smart metering network to water-deprived Californians. The H2OFlow network will allow users to optimize their water usage. This will create a marketplace with dynamic pricing to encourage lower usage.
Team Augmented6th – Driving with windows up numbs driver senses. Noises, which clue drivers to environmental feedback, are shut out. Drivers often shut their windows for various reasons, including climate and safety. Augmented Sixth presents environmental feedback through the automotive infotainment system to extend human senses. Augmented Sixth uses ultrasonic radar (and microphones*) to display obstructions surrounding the driver in real-time using visual and audible clues. No longer are driver senses numbed because automobile windows are rolled up. In-fact, driver senses are heightened and the world presented in HD surround sound with visual feedback. Tech Stack: UDOO ATT&T M2X Microsoft Azure Firebase AngularJS Ionic Framework Software Source Code: Mobile app using Ionic — https://github.com/really-lazy-bone/augemented-sixth-mobile A simple node server hosted on Azure — https://github.com/really-lazy-bone/augemented-sixth-proxy-server
Team Sypir – Turn your TV into a living room bulletin board and control it with our interactive app
Team POSe – POSe means present!! Present Item from booth/PC to mobile as a checklist and the mobile can accept/reject. Use COM on PC and BLE to mobile.
Team CSUN-POWA! – Creating a mobile app focusing on accessibility. Brought to you by CSUN students and alumni.
Team NamaTag – A mobile app controlled name tag that glows and blinks!
Team Moto360 – A remote control rover remote using a Moto360 to control a rover. Rover using an Edison board.
---
Share this post