Updated: Jul 16, 2014
Published: Jul 16, 2014
Event Recap: AT&T Mobile App Hackathon – Houston, Texas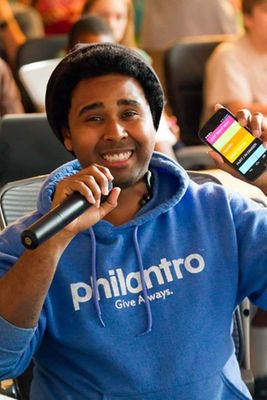 What happens when over 30 hyper-motivated and creative developers and entrepreneurs get together in one space? Open discussions, great networking, new friendships and projects getting launched. AT&T hackathons are all about creating this kind of an environment that is brimming with opportunities, friends, and business connections for those seeking new paths or even those seeking to reconnect past relationships.
AT&T hackathons were designed by our very own Alex Donn as a marketing outreach and demand generation program back in 2010 for our API program and we have hosted over 80 hackathons since. Interested in attending an event? Peruse through our public hackathon calendar on Google Docs and make sure to attend our upcoming Connected Car and Home hackathon at CTIA on September 6th!
AT&T Social Good Hackathon Event Overview
AT&T Hackathons bring together developers, designers, marketers, and entrepreneurial types to launch projects and startups/prototypes in just 24 hours. Attendees pitch ideas, form teams and build prototypes and guest judges help pick the winners. The best part is that many of these aspiring entrepreneurs continue the pursuit long after the weekend is over and strive to launch a business from the concept. For images from this hackathon, please check out our Facebook Album. For the social feed, please check out Twitter.
For this hackathon, we partnered with Easter Seals of Houston to deliver a event focused on disability related projects with the intent of looking at solutions that helped the disabled. Projects ranged from a Craigslist-type of site for used powered wheelchairs to a simple yet effective app to communicate emotion with icons.
Day 1 – Lightning Talks and Team Formation
We kicked off the event on Friday evening with a full dinner and had over 30 attendees pack out Start Houston, a Houston co-working facility. The event then moved into lightning talks from Elise Hough of Easter Seals, ChaiOne and local tech mentors to orient and motivate the crowd. Attendees then pitched their ideas and skills to a room full of their peers. They had only 60 seconds to sell their concept and communicate:
● Who they are and their super power
● The problem they want to solve
● How they're going to solve that problem
● What they need to solve that problem
Participants then self-organized around ideas that they liked and finalized on 6 ideas, which are listed at the end of this blog.
Day 2 – Code Completion and Pitching!
A number of teams stayed overnight and we kicked off saturday morning with bacon and breakfast sandwiches from Panera! There was plenty of food, coffee and snacks to keep everyone energized and cranking away through the morning. We made sure to keep everyone well fed with quite a spread of food from the following restaurants over the course of the two days:
● Panera Bread
While the majority of the attendees were adults, we had a number of high school and university students attend the hackathon, as well. Team MoneyMakersManager developed an app that helps people manage their finances better. Clearly, this specific app wasn't made with disabilities in mind, but we encourage learning and this group of K12 students did their best in banding together to create the app.
The top teams clearly communicated the problem as well as the solution. This was followed by a demo of the prototype that walked the audience through the solution. The judges assessed the potential of each team, provided candid feedback to the presenters and selected the winners. The top teams were:
● Best AT&T APIs ($500 + 1 Netgear Unites) – Team Emoticue
● Honorable Mention ($100) – Team LiftShare
● Honorable Mention ($100) – Team FREEish
Big Thanks to Everyone that Came Out!
These events are made possible by the generosity of our sponsors: Netgear, Vuzix, and Easter Seals of Houston. These hackathons keep getting better and better, and it's all because of the amazing team of organizers, volunteers, judges, mentors, and partners.
If you're interested in receiving updates about future AT&T Hackathon events, please connect with Alex Donn on Facebook and Twitter!
Here is a list of all of the projects that were pitched:
Team Emoticue – An app that allows your special needs child to share their moods and solve problems with you when you're not around.
Team FREEish – This is an app where you give stuff away for free to those in need. Connect with those in need and help thy neighbor.
Team Gorman – Gorman is an application for helping visualize and coordinate first-responders or any sort of small unit of people. It provides a real-time web interface for viewing one or more participants, which can be used to help direct efforts for best efficiency.
Team HeartNode – Our app monitors people with a disposition towards heart conditions and sends alerts to loved ones when their heart rate falls outside of accepted limits.
Team LiftShare – An app that provides an easy way for those with accessibility needs to get on-demand transportation that meets their needs. We connect with public transportation and private transportation to find accessibility-friendly cars and drivers while providing the drivers all the information they need to pickup and transport the requesting user(s).
Team Money Makers Manager – The Design team for Money Makers Manager designed the front end of our app that manages your money using gomockingbird.com. We are the design team and we need back-end developers, within the price range of $3 to $5,000.
---
Share this post