Updated: Feb 17, 2015
Published: Feb 17, 2015
Event Recap: AT&T Mobile App Hackathon – Hawaii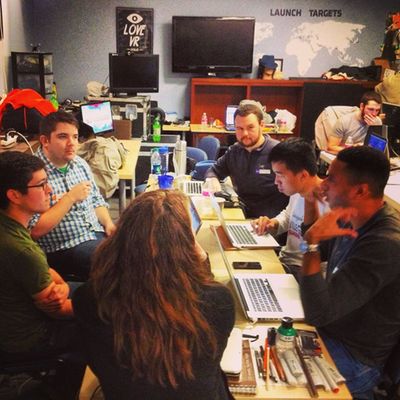 What happens when 137+ hyper-motivated, creative developers and entrepreneurs get together in one space? Open discussions, great networking, new friendships and projects getting launched. In the course of 24 hours, there were 13 teams formed around some exciting projects. At the end of the day, AT&T Hackathons are all about creating an environment that supports developers with new opportunities, life learnings, new friends and business connections.
A massive shout out goes to DevLeague, HTDC, the University of Hawaii, and BlueStartups for their work on event promotions and Omar from Sultan Ventures and Meli James from BlueStartups for helping the teams solidify their pitches.
This hackathon did a great job of pulling together the local community and even drew out the Governor of Hawaii, David Ige! The AT&T Hackathon program was created for the AT&T Developer Program as a marketing outreach and demand generation program back in 2011 and I have always positioned the event as a great community engagement tool, as well as an educational event. To date, I have hosted over 100 AT&T Hackathons and we continue to go strong. Please feel to email me at alex.donn@att.com with any questions you may have and you can find out about our upcoming events via this link: http://goo.gl/qngMTs
AT&T Hawaii Hackathon Event Overview
AT&T Hackathons bring together developers, designers, marketers and entrepreneurial types to launch projects and startups in just 24 hours. Attendees pitch ideas, form teams and build prototypes within the short time frame and guest judges help pick the winners. The best part is that many of these aspiring entrepreneurs continue the pursuit long after the weekend is over and strive to launch a business from the concept.
This time around, we had the honor of having Hawaii Governor, David Ige, and the president of the University of Hawaii, David Lassner, judge the final projects! The hackathon focused on government and public information related projects with the intent of looking at solutions that help local communities.
Day 1 – Lightning Talks and Team Formation
We kicked off the event on Friday evening with a full dinner and had over 120 entrepreneurs pack out the 'Iolani School in Honolulu. The event then moved into lightning talks to orient the developers as well as previously successful entrepreneurs who rallied the crowd to get excited about staying up all night to build apps! Attendees then came up in front of their players to pitch their ideas and skills to their peers. They had only three minutes to sell their concept and communicate:
Who they are and their super power
The problem they want to solve
How they're going to solve that problem
What they need to solve that problem
Participants networked to self-organize around ideas that they liked and finalized 12 ideas, which are listed at the end of this blog.
Day 2 – Code Completion and Pitching!
A number of teams stayed overnight and we kicked off Saturday morning with bacon, eggs, and fried rice! There was plenty of food, caffeine, and snacks to keep everyone energized and cranking away. To keep the excitement going, we also made sure there was a gigantic pile of sugar and energy drinks!
While the majority of the teams attempted mobile web apps, Team Cheatah, developed an app that enables an incentivized system to help students acquire tutoring on their homework. Even though the team did not finish the app, the idea was solidly fleshed out. Even though some teams were further along than others at the end, everyone was ready for the 6PM presentation start time.
The winning teams clearly communicated the problem as well as the solution. This was followed by a demo of the prototype that walked the audience through the solution. The judges assessed the potential of each team, provided candid feedback to the presenters and selected the winners. The top teams were:
Best Overall Mobile App ($5000) – Team HikeAloha
Best AT&T M2X App ($500) – Team RobotsVsWitches
Best UI – Team Dodge
Best Government & Resources App – Team Voggy
Big Thanks to Everyone Who Came Out!
These events are made possible by the generosity of our sponsors: University of Hawaii, 'Iolani School, HTDC, DevLeague, BlueStartups, HNLNT, and XLR8UH. They keep getting better and better, and it's all because of the amazing team of organizers, volunteers, judges, mentors, and partners.
If you're interested in receiving updates about future AT&T Hackathon events, please connect with me on Facebook and Twitter!
Here is a list of all of the projects that were pitched:
Team CHEAtAH – "CHEAtAH is a tinder-style app that matches you with your perfect study buddy."
Team RSVPMe – "It's a social and management app solution for personal events for you and your guests. You as the host will get real time notifications on when your guests arrive, such as half of your party have arrived, as well as when your important guests have arrived so you can greet them. Your guests can also interact socially with each other by sharing images. They can also get notified of when half the guests arrive, so they'll know if they're late or not or if they're waiting to make a fashionable entrance."
Team Dodge – "This app maps the events around the island for the day. It sources events from the city and county events calendar. It then takes their geo-coded locations to plot events by use case, For example, I want to know when it's not a good day to go to Waikiki, or any place because of any planned event taking place."
Team chus.io – "Our app is a simple decision maker that will save you valuable willpower and time. This app is for people who spend more than a minute deciding on things such as what to do, where to eat, and wardrobe, or even things like, should I take this cutoff and other simple problems. An example is when you and your friends can't decide where to go for lunch/ dinner. In the future, we'd like to store users habits, and preferences creating your own personal stylist or even a sommelier."
Team Voggy – "Voggy is instaweather for Vog measurement to raise public awareness about volcanic pollution. We have created a real-time data interface to view Vog forecasts in the user's location and allow them to post photos to a map view. It has ground breaking future potential as it could not only be introduced in other areas with pollution issues such as LA and Beijing, but also it could be tied to Apple health to collect real time health data matched with pollution levels. Thus becoming an academic resource for developing better pollution forecasting and measuring health effects as well as broaching these problems with the public."
Team InteractiveAdvertising – "We have created an interactive way to advertise to customers by entering directly into the virtual world. In short, we have created a way for the universal door-to-door salesman to approach everyone in a personal way."
Team BathroomWall – "Like public bathrooms scribbled with expressions of angst, love, enlightenment, and boredom, The Bathroom Wall app will provide a platform to publicly, anonymously, and interactively leave your mark."
Team LawLaw4Hawaii – "Our app is intended to educate the people of Hawaii about the laws that affect them. It is also intended to raise interest in voting as well as to keep the public informed daily about ongoing bills and new laws. At present, there is no way to access such data on a mobile device, thus this app will help provide real-time updates."
Team Robots Versus Witches – "Robots Versus Witches is a turn-based arcade game that's fast-paced and well suited to pick up and play."
Team ThatIsIt – "This app is a cross between Instagram and tutoring. You get stuck on a math problem and can't type it into Google search; take a picture and post it to our app. Determine the duration, category, and coin worth ('Q' worth) of your question and it shows up on everyone's 'Instagram-type' feed. It is user friendly and incentive-based. If you answer a question you receive those 'Qs' and with those you can then ask a question of your own."
Team GoOnTheGo – "The app uses geolocation to find the most sanitary and human-friendly restrooms. It uses Parse database to save information and allows users to give up to a 5 star rating."
Team Global Ohana – "We bring Meetup groups from all over the world to Hawaii."
Team Hike Aloha – "Our app assists hikers both on the trail and off of it. On the trail, our app provides turn-by-turn guidance with pictures at critical points such as forks in the trail, and our innovative trail of digital breadcrumbs allows rescuers to locate lost hikers quickly. Off the trail, our app provides valuable information about hikes in the user's area, which we help maintain by providing anonymized heat-map data to the State to ensure trail maintenance funds are directed to the trails that are most traveled."
---
Share this post