Updated: Oct 30, 2014
Published: Oct 30, 2014
Event Recap: AT&T Mobile App Hackathon Berkeley – Wearables & Accessibility – Berkeley, CA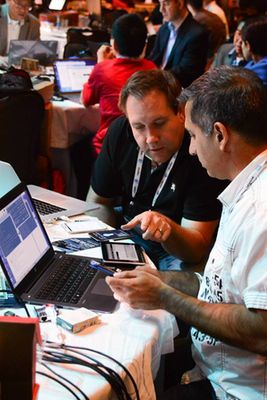 Utilizing the Ed Roberts Campus in Berkeley, CA, developers and entrepreneurs tackled the challenges of accessibility and the wearable trends this past weekend at this AT&T Hackathon on October 24th-25th. The event allowed for great opportunities for attendees to network, have an open discussion, learn from one another, and create new & innovative apps.
AT&T Hackathons were designed as a marketing outreach and demand generation program back in 2010 for our API program and we have hosted over 90+ hackathons since. You can find out about our prior and current events here, and make sure to attend our upcoming hackathon at CES on January 3rd!
Wearables & Technology Event Overview
In just under 24 hours, AT&T Hackathon events bring together groups of diverse developers, designers, marketers, and entrepreneurial types to launch projects and startups. Attendees network and pitch items to form teams to build prototypes of their ideas. Senseis and mentors assists teams in refining their ideas while guest judges help pick winners at the end of the event. However, the impact that AT&T Hackathons has will last longer than the weekend events, as many of the teams will strive to continue and make their ideas better, and some will even launch businesses from concepts started there.
"Wearables" is a hot new trend that has developers and consumers alike clamoring for more. What is even more interesting is that as cell phones and tech gadgets get smaller, these devices become much more embeddable and wearable. It is at this crossroad that we find new and interesting applications for mobile computing – especially for technology to enable greater accessibility, ranging from interaction with apps to interaction with physical objects.
At the October 24th hackathon event, developers and entrepreneurs tackled accessibility challenges that are common to people with disabilities. These motivated individuals see the challenges people such as senior citizens may have with their technological devices in and outside the home. Interactivity issues that were explored included text sizes, speech, and even touchscreens because there are a wide range of disabilities.
Day 1: Event Kickoff, Ideas, and Teams!
Starting at 6pm on Friday night, the hackathon kicked off with a dinner that allowed attendees to network with one another and with the mentors to gain a better understanding of the challenges being presented. Before the hour ended, a quick round of developer dating set the stage for idea pitches and team formation.
Speakers such as Alex Donn, Dmitri Belser, Martin Zerbib, Susanne Stadler, and Juno Duenas gave powerful and inspiring speeches about accessibility challenges faced by individuals with disabilities or age issues. Attendees were then allowed 60 seconds each to sell their concept to the crowd of potential teammates.
Day 2: Coding and Presentations
A number of the teams stayed through the night, fueled by 5hour energy, Rockstar and various other forms of caffeine products. Throughout the event, senseis were available to help teams with the validity of their ideas by providing active feedback.
One of the ideas that really stood out was Team Walk-N-Talk, whose initial idea was to use Google Glass to identify objects and an app to enable non-verbal people to communicate intent. In the end, the Google Glass object recognition piece proved to be too challenging and the team scaled back to an app that would automatically provide common sentences based on your geolocation.
By 6pm, teams were promptly stopped and presentations began. Teams were limited to only 3 minutes to present their new app or idea. Judges used a three part criteria when determining the success of the teams. Each team was judged on their ability to clearly articulate what the app does, originality of the idea, and difficulty of the technical implementation.
The winning teams clearly communicated the problem they were solving, as well as the solution. This was followed by a demonstration of the prototypes that walked the audience through the solution.
The Prizes at the Event
The following prizes are experiential and geared towards accelerating you towards a successful business, as well as expanding your network and industry knowledge:
Best Accessibility App ($1,000)

– Team Walk-N-Talk

Best Embedded Systems/Wearables App ($500)

– Team CheatKey

Best Student Team ($500)

– Team SAM

HP Prize

– Team A2B
A Big Thanks to Everyone for Coming Out
AT&T Hackathon events are only possible thanks to the generosity of our sponsors: Idol OnDemand. Their organizers, volunteers, judges, mentors, and partners keep making AT&T Hackathon events better and better.
If you're interested in receiving updates about future AT&T Hackathon events, please connect with me on Facebook and Twitter!
---
Share this post