Updated: Oct 31, 2014
Published: Oct 31, 2014
Event Recap: AT&T Mobile App Hackathon Atlanta – Public Safety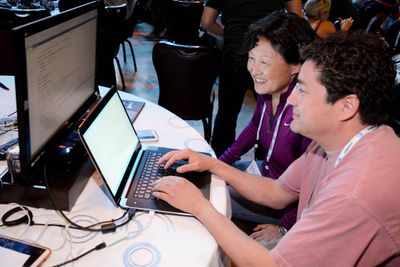 By Ben Nelson, Senior Product Marketing Manager AT&T
What happens when 100+ innovative developers, students & first responders come together to code for public safety? One of a kind iteration, valuable networking, and new disruptive apps are created to benefit the public. Hackathons are all about the supporting the developer and public safety hackathons take it to the next level by benefiting the community as a whole.
AT&T Hackathons were designed as a marketing outreach and demand generation program back in 2010 for our API program and we have hosted over 90+ hackathons since. You can find out about our prior and current events here. Be sure to check back to learn more about our AT&T Developer Summit Hackathon and Conference coming in January!
Sometimes the Idea is Every Bit as Important as the Code!
While the majority of attendees were developers, students, and entrepreneurs, our winning team SafetyNet included a local firefighter who pitched an idea during our team formation period. He helped demonstrate that often times the idea and the story behind it are just as important as the code used to build the app. This is especially true when you are building apps that must be used in strict real world scenarios.
The top teams were:
Best Public Safety App ($1,000)

– Team SafetyNet

Best Public Safety App Using WebRTC Challenge ($500)

– Team Save a Life Fred

Best Public Safety App Leveraging Connected Car ($500)

– Team BlindTracker

Best Use of AT&T WebRTC APIs ($1,000)

– Team SafetyNet

Best Use of ESRI ($1,000)

– Team Evacuate

Best Use of Telerik – 1st Place ($400)

– Team Save a Life Friend

Best Use of Telerik – 2nd Place ($400)

– Team SafetyNet

Best Use of Telerik – 3rd Place ($400)

– Team 10-4
Big Thanks to Our Public Safety Experts and Sponsors
These events are made possible by the generosity of our volunteers and sponsors: Telerik, ESRI, DHS, AT&T Public Safety and APCO. A big thank you to Dia Gainor and the rest of our public safety SMEs who gave up their weekend to help provide great feedback on all the concepts.
As a final note, if you want to continue your public safety hack ideas, please check out http://codeforatlanta.org to learn about some great local events focused on civic hacking.
If you're interested in receiving updates about future AT&T Hackathon events, please connect with me on Twitter!
---
Share this post