Updated: Oct 03, 2014
Published: Oct 03, 2014
Event Recap: AT&T Mobile App Hackathon at the University of Notre Dame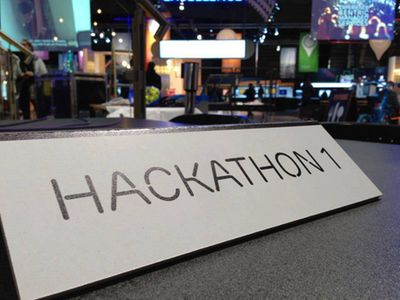 Brainwave cat ears, Tessel.io, and mobile apps were the exciting themes for hackathon this past weekend at Notre Dame University! Over 89 hyper-motivated developers descended on Innovation Park in South Bend for a three day hackathon.
The students and local community really put in the hours on this hackathon by bringing in their pillows, blankets, pjs and spending the night(s)! The teams also cranked out a good variety of projects from a connected car app to a facial recognition app. Two teams event put out an app that was a mashup between a selfie app and Yik Yak with the upvoting feature, complete with a leaderboard.
Our very own Senior Executive Vice President John Donovan, a Notre Dame University alumni, closed out the hackathon with winner announcements and a question / answer session with the students. John urged the students to make every university moment count because the time passes fast and the days, weeks and years fly by in the blink of an eye. He also spoke to how fast the economy was changing and that new skills and knowledge are required for today's fast changing economy.
IrishHacks / AT&T Hackathon Event Overview
AT&T Hackathons are designed as a developer focused community program for our API program, as well as a general engagement program that looks to inspire developers and entrepreneurs alike. Since 2010, we have hosted over 85+ hackathons in cities around the globe. AT&T Hackathons provide attendees the opportunity to network with like-minded developers and entrepreneurs from the local community, form teams around these similar interests and, best of all, build prototypes for ideas that are of collective interest! As an additional kicker, there are also technology sponsors that provide nifty swag/prizes for leveraging their APIs, as well as opportunities for additional swag and mentorship. You can find out about our prior and current events here, and make sure to attend our annual Hackathon @ CES on January 3rd!
This three day hackathon gave aspiring young developers the opportunity to work with fellow developers on a wide range of projects from connected car to games and even order management systems. We had Fosco Marotto kick off this hackathon with a quick introduction to Parse and its various uses, as well as a number of tutorial sessions taught by Notre Dame students that covered the native mobile operating systems.
We also provided a number of tessel.io units that made the creation of Wi-Fi enabled remote control devices much easier since there was a Wi-Fi chip integrated onto the board.
Lightning Talks and Team Formation
We kicked off the event on Friday evening with snacks, coffee, and lightning talks from a number of local industry professionals. Attendees then came up in front of their peers to pitch their ideas and skills. They had only 60 seconds to sell their concept and communicate:
Who they are and their skills
The problem they want to solve
How they're going to solve that problem
What they need to solve that problem
Code Completion and Pitching!
For this hackathon, the facility was open for three days and two nights straight with a number of attendees staying the the entire time and even bringing their PJs, pillows, and blankets.
A number of the students were new to IOT application development and were quite intrigued by the tessel.io boards that we brought to the event. Team TesselMotors, which was made up of two undergrad TAs from mechanical engineering, created a "connect car" app from one of these tessel.io boards and an RC car. The team also created an iOS app to remotely control the RC car's functions. Best of all, they had only Matlab and Arduino experience prior to the hackathon weekend!
Three days and multiple cups of coffee later, the teams had their completed projects ready to present. While some teams progressed further in the hackathon than others, everyone was ready for the Sunday morning presentation start time.
The top teams were:
Grand prize

(Team trip to AT&T headquarters in Dallas) – Team Beyonce

2nd place

($2,000) – Team T.N.

3rd place

($1,500) – Team Foober

Most Interesting Concept

($500) – Team Cactus

Best design

($500) – Team Reckers

Best use of an AT&T API

($500) – Team TesselMotors

Most Creative

($500) – Team TesselMotors
Thank You to Everyone who Came Out!
These events are made possible by the generosity of our SEVP John Donovan and Innovation Park. If you're interested in receiving updates about future AT&T Hackathon events, please connect with me on Facebook and Twitter!
Here is a complete list of teams:
Team Schnippy – Our app is a social media tool that allows users centered around a geographic point to anonymously share, edit, and vote on images.
Team SelfieWarrior – Selfie War is a competition between you and the world in the best selfies. You post selfies to different categories (such as Sporting Events, Selfies Near Me, Selfie Snipes, With Celebrities, etc.) and then let the world up or down vote on your selfies. Selfies with the most up votes will float towards the top of people's feeds. The more up votes you receive, the more points you get. Then you brag about the amount of points all your selfies have received.
Team Foober – Our app is Uber for food on Notre Dame's campus. People can request food from on/near campus, and other students can offer to bring said food to them. The user ordering food simply enters their general location, food wanted, and price they will pay. Any other user can then see a list of requests and contact the person seeking food.
Team 1st Place – Our app matches people up to eat in the dining hall.
Team Misfits – Our app provides iconic food map service for travelers across the U.S. (for now). You might ask, "how does this service differ from Yelp!": the app pinpoints on a map, iconic foods that are well known in a particular city/region and those that the locals/natives are quite familiar with. For instance, a traveler planning a trip to San Diego, California without visiting previously, would find quickly that the city is well known for "Carne Asada Fries." The app can then interface with Yelp and Instagram, and search for "Carne Asada Fries" nearby (or #carneasadafries).
Team Bars – Bars is a quick and easy beat making app for Android. It caters to both amateur and professional music producers. The app will help create a network of beat makers where users can rate, comment, and share each other's work. Other features include Twitter and Facebook integration as well as easy-to-apply sound effects (Similar to Instagram filters but for sound).
Team FoodND – This app allows the user to select their favorite dining hall items, and will notify them when it is available.
Team Chilly – Have you ever wanted to order food from your dorm's deli from the comfort of your room? Well with our web application, you can do just that and more!
Team Kat – A mobile application designed to help visitors on campus during gameday. One of the features will be to be able to find your friends while tailgating.
Team T.N. – Our app is basically a location-based world game. You are able to spawn and fight monsters that are drawn by the user as the app goes on. This allows for a live-action game play feeling that would be exiting. People would receive phone notifications based on their phone's locations and have the options to pick-up items and fight monsters.
Team TesselMotors – Control a RC Car from your phone!
Team Reckers – Reckers sucks at 3 AM on a Saturday night, but it's about to get a whole lot better. Skip the line… and order online. Easily access the menu, customize your order, and pay on your mobile device. Pick up your food when its ready and prepare to feast.
Team Juggerknott – InstaVite (IV) is a social media app geared solely toward college students. It creates the easiest way to invite your friends to a party, as well as the ability to create party profiles to anonymously document the events from the night. After the party profile is created, it begins to factor into the weekly rankings on the app's newsfeed for parties of the week, best Greek houses, top party universities, and much more. InstaVite is the newest social media app with the potential to transform the college party scene. Remember, you've only got IV years, enjoy them.
Team Cactus – It's like Skyrim with music. It's so Alex, I could die. Greek, beat-based 2D platformer. Rhythm game meets dungeon-crawler. Perfection. It's cute.
Team Beyonce – Our application allows the user to check whether a picture taken is of Beyonce. A percentile of how similar the subject is to Beyonce is returned to the application. (eg. 90% is a close match)
---
Share this post