Updated: Apr 01, 2015
Published: Apr 01, 2015
Event Recap: AT&T Mobile App and IoT Solutions Hackathon – Plano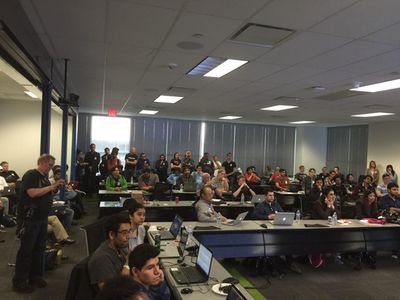 Updated April 23, 2015: Congratulations to the winner of the Community Award Team SitFit!
Last weekend, developers in Plano were challenged with creating mobile apps and Internet of Things (IoT) solutions. Each team had access to a plethora of boards and a cache of newly available MYO armbands to hack. With over 134 people showing up to the event and 12 teams, there was no lack of innovative ideas.
One of the most interesting creations was also one of our top winners, Intellinest, a team that took the presentation from Luke Wallace of Bottle Rocket Apps to heart and strived to improve a current technology. Focusing on the perceived weakness of current smart thermostats, their solution provides additional temperature sensors for each room. The sensors are then connected to motors that will open and close the vents in a home as deemed necessary to regulate the temperature in each room. This allows you to maintain your current system, while at the same time gaining more refined controls.
Another app that is definitely worth mentioning is Stress Free Recycler. This app allows you to simulate the act of crushing cans using a MYO armband. It definitely had the potential to be addictive to the user. The team behind the app worked incredibly hard all weekend and was forced to change both their scope and idea throughout the hackathon. That, of course, in addition to the fact that they pulled together to build their very first app coded in Objective-C, truly an impressive feat.
A huge shout out to Bottle Rocket Apps, Thalmic Labs, UTD, and the AT&T Foundry Team for their help in making this event possible and such a success. We could never put on these events without the support of our sponsors, local meetups, and participation from some awesome local developers.
Here are the winning projects:
Best Mobile App Overall: QyzMyo
Best App from a Women Led Team (TIE): MyoSafe & VoteDallas
Best App using AT&T M2X: Intellinest
Best Use of MYO Armbands: MyoSonus
Most Useful Feedback for the AT&T M2X Platform: SitFit
Community Award (Best Social Good App): SitFit
Please be sure to vote for your favorite social good app from the event after reviewing all the apps created below (Social Good Apps are denoted by an *):
Vote Dallas* – "Our app allows citizens of Dallas to easily find their voting district and information on the candidates that are running for local elections."
MyoSonus – "MyoSonus is an open source project so people who wish to develop the Myo can have an example. We struggled finding examples, so we decided to make one. Moreover, MyoSonus allows you to make music by simply moving your arm. It can be a great way for people who are not musicians, have special needs or disabilities to have fun creating music. Being artistic just became easier for anyone."
Tailor App – "Building social awareness through 'crowd fitting.' Users can chat with other users who purchased clothing online and who match their registered body type. Through this social interaction we can bring awareness to the issue of low self-esteem and beauty bias. It will also serve to promote self-confidence to shoppers who feel they are not what society perceives as the 'ideal body shape.' We hope to also decrease the exuberant amount of money wasted in processing returned merchandise. Lastly, we will establish a clothing donation marketplace for the less fortunate."
FGM – "Who here uses Facebook? Probably everyone. Who here belongs to at least one Facebook group? Here is one real problem I faced before. I met this girl from somewhere, and I do not remember her name. I know she might belong to this Facebook group in my church, but I am not sure. Or, I might want to contact a bunch of people to form a hackathon team, but the current Facebook group listing is terrible and not so friendly. Messenger formats like WhatsApp are much more friendly and accessible. Yes, there is a Facebook Messenger, but I need to have their numbers or add them as friends to talk to them or need to contact them manually. But if we are in a same interest group, we are still connected in someway. Whole point of any social app is to bring people closer, but the current social platforms still have some missing gaps. So, let's say I think I remember this person from a certain meetup, but I am not sure. I just open up my FGM app and see all the members from this Facebook group show up, and I simply scroll to find her name. This information is pulled from the Facebook with OAuth authentication. I do not have her number, but I can contact her with communications methods that are available. And when I get bored, I can see who is online or not. I can join the chat room to talk to anyone in the group."
Land Rush – "Land Rush is an app that gamifies running to promote healthy activities among friends and groups."
Intellinest* – "Current generation smart thermostats are typically based on a single temperature sensor and result in variable temperatures across rooms in a home. Our solution has multiple sensors and custom controls air flow through the vents in specific rooms based on the local temperature. In addition to providing comfort, our solution results in lower energy consumption and savings for the consumer."
Stress Free Recycler – "It brings refreshing relief from stress. Take your stress and channel it to a useful outcome. Crush your cans and bottles so they are easier to recycle. Monitor your crushing progress with the online dashboard. Crush. Crush. Crush. Repeat!! At last, we can say.. Keep Calm And Crush Cans.."
SitFit* – "SitFit is an intelligent chair, themed on the IoT concept. It has sensors embedded on the seat and the back of the chair that tracks the sitting posture of the user. Based on the activation of sensors, the chair detects the sitting posture of the user. The SitFit android app provides daily, monthly and weekly scores to the user indicating how good/bad they are doing with their posture. The user also gets to see the posture on the Android app in real-time. SitFit also tracks the time the user has been sitting. If the time elapsed reaches a threshold of 2 hours, a notification SMS is sent to the user's phone along with the score as a reminder to take break. SitFit Android app can be used to pair other wearables such as Myo, Fitbit, and Pebble Watch. Once paired, the notifications can be received on them as well. Myo functionality: Once a Myo band is paired with the device, the Myo gestures can be used with the SitFit Android app to play a game or perform exercise if the user is sitting for a long time and has been typing a lot."
Seated* – "Seated – Take a seat, we'll take care of the rest. Sensors for every seating purpose: Event Based Reservation & Auction, WorkPlace Reservation, Public Transportation, and Ergonomics Based Interaction."
MyoSafe* – "Get saved at the time of emergency! Real-time communication with your loved ones when you really need them! No need to take out any phone to call, send SMS text, open contacts etc. – Do it all just by doing a secret gesture!"
QyzMyo* – "QyzMyo is a fun kinesthetic learning tool focused on helping children learn math and other subjects. Children use gestures to answer a variety of questions in a timed competition with their peers. The competitive and physical nature of QyzMyo makes learning fun and improves knowledge retention."
EPPI* – "When disaster strikes your region, will you be prepared? EPPI helps you gather documents you will need, and make them available, even when power and communications are limited or not available. You will be able to share documents with others, as well."
---
Share this post