Updated: Aug 19, 2014
Published: Aug 19, 2014
Event Recap: AT&T Fast Pitch Hackathon – Las Vegas – ITEXPO
We recently held (August 13th and 14th) a new format of the hackathon during the ITEXPO conference in Las Vegas that we lovingly call a "Fast Pitch Hackathon." This is the business variant of AT&T Hackathons and was designed to openly engage the public as well as pull in conferene attendees that otherwise would not fall into our sphere of influence.
Major thanks goes out to the AT&T M2M group (Jenny, Nikki, Michele, John and many others) for the heavy lifting in pulling together the various pieces of the event! Also, big thanks to our corporate partners for sending execs to staff the event: Samsung, Multitech, IBM and Axeda!
As you can see we even packed the aisles between the booths!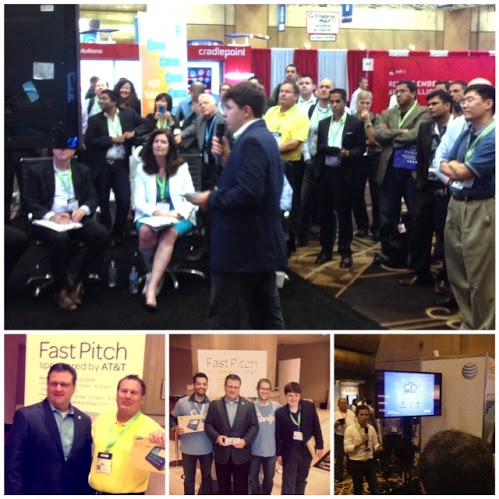 An even larger bonus was that since the pitches were open to the public, attendees were more inclined to walk up and engage our various product managers that were onsite from the M2M team.
All told, we drew in 100+ attendees with 15 teams pitching their tech. The best part of the new format was that our AT&T booth was the most visited on the show floor and definitely, for the row that we were in.
M2M executives from Samsung, AT&T, Multitech, and IBM were the major draw and there were a number of teams that were pre-registered for the pitches as well as walk-ups that took advantage of the opportunity.
The winning pitches went to Team Firefly, a forest fire notification M2M device, and the audience choice award went to Team Storific, a mobile ordering app. Each team won a total of $5k. As an additional note, Team Firefly was a 13 year old who pitched a great idea and delivered the pitch with confidence.
---
Share this post