Updated: Nov 01, 2012
Published: Nov 01, 2012
Early Registration for Developer Summit 2013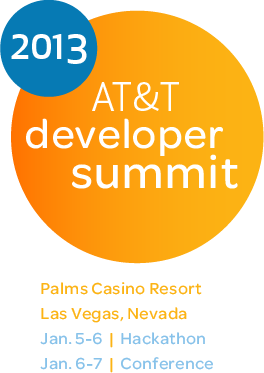 Our Developer Summit is a special developer focused event packed with valuable news and information about emerging technologies and offers opportunities to network with top industry professionals and experts. Our 2012 Dev Summit was a big hit, and we've geared up to make 2013 even better! This year's Dev Summit will be hosted by the luxurious Palms Casino & Resort and sponsored by Apigee, ARM, Blackberry, Open Path Products, Plasma, SiD, Sierra Wireless, Tech Mahindra and more.
The Summit kicks off on January 5th with a two day hackathon introducing you to our Call Management APIs. With over $50k in prizes, this AT&T Hackathon is designed for both technical and non-technical attendees to build mobile apps, get some great food, and compete for prizes across different categories. More info on this hackathon can be found here.
Our main keynote will begin at 9am on January 7th followed by five track sessions covering everything from emerging devices to enterprise mobility. We'll then wrap up the conference with panels on The NFC Evolution and Revolution, maximizing ROI in the mobile content space, building machine-to-machine solutions, and mobile developer API trends. More info on this conference, including a full list of track sessions can be found here.
In addition to the hackathon, keynote, and track sessions, they'll be a sponsor expo where you can chat with our partners, a developer lounge with entertainment and activities, sponsored nightclubs, and an exclusive private concert just for attendees.
Early registration pricing for this event is available now through November 15th!
Use hashtag #ATTDevSummit on Twitter to connect with fellow attendees or to ask us questions.
If you have a private question for us about the AT&T 2013 Developer Summit or require assistance, please contact us at: Registration@2013devsummit.com
---
Share this post