Updated: Feb 08, 2014
Published: Feb 08, 2014
Developer Events: Win Prizes, Meet New Friends, Build Cool Stuff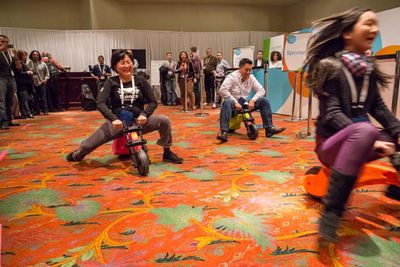 We had an action packed event list last year, full of conferences, hackathons, DevLabs and the Developer Summit in Vegas. This year we're planning to do it all again with even more opportunities to bring developers and mobile industry leaders together to network, create great apps, and win a prize or two along the way.
We're also going to help keep you updated on other great opportunities beyond AT&T sponsored events where you can have a lot of fun and win some big prizes for your creations. While we're mentioning prizes, be sure to participate in our Share The Love Twitter giveaway all month long for a chance to win a Samsung Galaxy S4 Zoom.
AT&T Developer Events In The Coming Months
In case you haven't had a chance to check out all the events we have scheduled for the first quarter, we've rounded them up for you here so you can start making your plans to attend. Here's what's planned through April of this year:
Seattle App Strategy Workshop Monetization
February 13, 2014 – 1:30 to 5:30 p.m. at the Impact HUB Seattle
This workshop is hosted by the Apps Alliance and focuses on providing developers and entrepreneurs insight into building a mobile app business. AT&T ARO's own Doug Sillars and a representative from the CTIA will discuss mobile optimization and the KnowMyApp.org initiative.
AT&T Mobile App Hackathon–Embedded Systems (DFW)
February 21, 2014 – February 22, 2014 in Plano, TX
At this Mobile App Hackathon developers will compete for prizes across different categories. Even if you just have an idea for an app this is the place where you can come meet developers and form teams to get the app built. We'll also show you some tools for deploying your own app with a website backend that's fully hosted in the cloud.
DevLab: Los Angeles–Speech & In-App Messaging APIs
February 27, 2014 – 8:30 a.m. to 4:00 p.m. at the ROC, Santa Monica, CA
This is a free one-day workshop on the AT&T Speech API and In-App Messaging API. Come learn how you can use these APIs in the apps that you build. You'll even leave with our APIs working on your laptop from your own AT&T Developer Program account.
New York City App Strategy Workshop: Monetization
March 20, 2014 – 1:30-5:30 p.m. in New York
The Apps Alliance is hosting this event where developers and entrepreneurs can learn more about building a mobile app business. It's also an opportunity to find out more about the AT&T Application Resource Optimizer.
Atlanta App Strategy Workshop: Monetization
April 3, 2014 – 1:30-5:30 p.m. in Atlanta, GA
This event hosted by the Apps Alliance is similar to the event held in Seattle on February 13th. It's a great place to learn about how to make money from the apps you build and turn them into a thriving business.
San Francisco App Strategy Workshop: Monetization
April 25, 2014 – 1:30-5:30pm in San Francisco, CA
If you couldn't make the events hosted previously by the Apps Alliance in Atlanta, Seattle, or New York, now is your chance to attend the workshop in San Francisco. At this event, you'll hear from app publishers about app monetization, optimization strategies, and tools.
Eat. Drink. Code: Five Other Developer Events You Don't Want To Miss
While we put on a lot of great events for developers, we also want to keep you apprised of other events happening in the mobile space where you can learn more skills, make new friends, and do what you do best: code. The first quarter of the year is a hot time for mobile products. Here are some industry events you might want to check out:
February 15, 2014 – February 21, 2014 in San Francisco
Spend a week at this Conference & Expo building new apps, creating startups, and developing new product features. Whether you're new to developing, looking for a developer job, or just want to get more chops by learning more languages this week-long event has plenty for everyone.
Samsung Developer Day at Mobile World Congress (MWC)
February 26, 2014 – 10:00 a.m. – 6:00 p.m. in Barcelona, Spain
Mobile World Congress is one of the hottest shows for mobile around, and it doesn't hurt that it takes place in Barcelona, Spain. At this developer event hosted by Samsung, you'll get the latest tools and SDKs for Samsung devices, as well as APIs for Samsung content services. If you happen to be attending the show, you might want to check out this event.
February 24, 2014 – February 27, 2014 in Barcelona Spain
This is a four-day Hackathon event at MWC presented by WIP and GSMA that will be giving away over $25,000 in prizes. There are 12 categories covering multiple mobile platforms.
February 21, 2014 – February 23, 2014 in San Francisco, CA
This three-day Hackathon is giving away two million dollars in prizes. That's quite a package. This event is geared toward developers and designers. So what you build here should be slick.
International Women's Hackathon
April 25, 2014 – April 27, 2014 in Washington DC
This is a crowd-sourcing event designed to empower young women leaders in computer science. The idea behind this Hackathon is to give women around the globe who are attending college a chance to come together and help create innovative technology.
These are just a few of the great events happening for developers this year. There will be many more events, so be sure to keep checking back in on our blog and our Hackathons & Events tab to see where we'll be holding events in the coming months and how to register to attend.
Which events are you planning to attend? Are there other upcoming events not listed that are note worthy? Let us know in the comments below.
---
Share this post