Updated: Jan 30, 2013
Published: Jan 30, 2013
Developer Economics 2013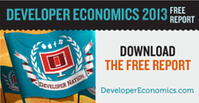 AT&T was very happy to sponsor the Developer Economics 2013 report . We have been impressed with the data and analysis that VisionMobile puts into this and we were very glad to help bring that to developers.
Here are some of the insights from the report that I found interesting:
First, the market for mobile developers remains very strong. Competition is fierce, but the market continues to grow. Tablets are a particularly strong area—they noted a remarkable stat that although PC's now outnumber tablets 3 to 1, they are expected to reach parity in the next couple of years.
HTML5 was the third most popular platform choice among developers, with 50% using HTML-based technologies (where they do not go into great detail, but I suspect there is a lot of hybrid development). However, developer feedback indicated that HTML5 needs better API support and a more favorable development environment.
As far as new device categories, IPTVs have yet to really take off with developers (only 6%). With the focus on smart TVs (and U-verse with AT&T) I expect this to change, but this needs to work through the hype cycle.
As far as monetization, advertising is now the most popular revenue model for apps (used by 38% of devs)—although also the model with the least revenue per app. Every little bit helps. Following ads is pay per download and then in-app purchasing.
Finally, one trend the report covers in depth is tools. They figured that there are over 500 tools to choose from, which indicates the increasing need for devs to get help at any stage of their life cycle development. Over 90% of devs use at least one third-party tool or service—with an average of 1.47 tools used concurrently. Ad tools are most popular, followed by analytics, and then cross-platform tools. Phonegap and Appcelerator are the most popular cross-platforms tools (and AT&T has enabled our APIs with both of them).
Download the free report today and comment below to tell us what key insights you found most interesting.
---
Share this post