Updated: Jan 05, 2015
Published: Jan 05, 2015
Cool Tech Created by AT&T Developer Summit Hackathon Finalists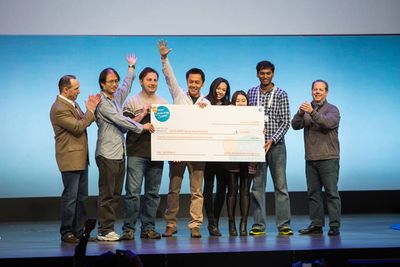 Update, January 5, 2014: The winner of the AT&T Developer Summit Hackathon was announced at the Keynote today. Congratulations to Team Anti-Snoozer for their sleep detection driving app. Plus, the full list of winners (scroll down).

Over 700 developers ascended on the Palms Casino Resort with one goal in mind: To build an app worthy of winning one of the many prizes and some of the more than $100,000 in cash up for grabs. People came from all over the world to attend the event and put their skills to the test. The youngest hacker on site? A 13-year old girl, who wanted to spend her birthday at the event. She's helping her dad build a parent notification app that increases ringtone volume on a phone, so teens will answer when parents call. If that doesn't work, the app can lock you out of your phone. Even worse, the app will call their friends to tell you to answer the call from your folks. Talk about embarrassing! That's just one example of the innovative ideas found at the 2015 AT&T Developer Summit Hackathon.
At the event, developers had access to all kinds of help including gear from sponsors, support from mentors, and tech pros to help with integration and answer questions. At the beginning of the hackathon, developers got a chance to listen to lightning talks to learn more about the tools and APIs available. While onsite, AT&T architects who work on APIs such as M2X and WebRTC spent time visiting developers at the tables to see if they needed any help with implementation.
As expected, there was no shortage of food or beverage on hand to keep the developers nourished. Whether they win or lose, developers won't go home empty handed. There has been a ton of great swag available from our sponsors – from cool tech to fun toys.
This year people from around the globe tuned into the Geek Beat live stream of the hackathon. We had viewers watching the feed from London, Australia, Texas, Malaysia, Canada, Denmark, Tel Aviv, New York, Canada, and more. If you didn't get a chance to see the presentations, you can watch the recorded feed at geekbeat.tv/att.
AT&T Developer Summit Hackathon Finalists Present On Stage

After 24 hours of hacking, many of the teams staying up all night to get the job done, there were a total of 600 entries. The judges had the tough job of choosing the top teams to present at the end of the hackathon. Here's the recap of those teams that you can watch on Geek Beat:
Connected Home Apps
Gamify – This app turns the connected home into a game. The premise is that aliens are attacking your home and will prompt you to do specific things when the aliens approach, such as turn off the lights and open the windows. This app will help keep your home protected from an alien home invasion.
Technologies: AT&T Digital Life APIs, M2X, Harmon Speaker APIs, 3D printing
Wearable Home – This app integrates with any BLE-enabled wearable device to take over basic tasks in the home such as turning on and off the lights. This includes wearing a Pebble watch and with a simple gesture it can unlock the door. The app also uses proximity and context, so you can go into a bedroom and while wearing the watch do the same gesture and it will turn on/off the light in the room.
Technologies: Intel Edison, Pebble Smartwatch, Nordic board, Gimbal, BLE, Native iOS, AT&T M2X, Flow, and Digital Life APIs
Finalist at AT&T Developer Summit Hackathon – HostMagic – Geared toward Airbnb users, this app provides controlled access for guests arriving at your home. Here's how it works: A guest signs up for their reservation. The host uses the portal to assign the time that the guest will be in the home and confirm the reservation. The guest receives an invite to download the app on their phone. When they arrive at the destination, the phone will unlock the door and send an alert to the host notifying them that the guest has arrived. When the reservation is complete, the phone can no longer unlock the door. The app is designed to amplify host and guest delight.
Technologies: iBeacon, IBM BlueMix Development, AT&T M2X, Digital Life, and Partner Services
Home Harmony – With this app, you can be your own home monitoring system. For example, if you've fallen and can't get up (remember that?), the smartwatch you're wearing will detect that and send a message to the EMT along with your location and address. It will also turn on the red bulb installed in your porch light so the EMT's will be able to easily find your location. As they approach your door, it will use the home monitoring service to identify them and unlock the door. The app will also alert anyone you've specified (doctors, family members, etc.) that you've fallen and help is on the way.
Technologies: AT&T Digital Life, Smartwatch
Connected Car Apps
Personal BlackBox – A system that tracks how you drive, the health of your car, and can provide valuable information about your surroundings in the case of an accident. The app can collect the Bluetooth IDs around you, so you can find out more about who hit you or locate witnesses. It will also collect data about your route, how fast you were going, and more for the collision report that the app generates.
Technologies: AT&T M2X and Drive API
Winner of AT&T Developer Summit Hackathon – Anti-Snoozer – This driving app uses facial recognition to detect if you're yawning, blinking frequently, shifting of the pupils, or eyes are closed. When any of those actions are detected, your smartwatch will vibrate to try and wake you. To disable the alarm you need to look into the camera. The app will also set off red LED lights to alert other people on the road that your being a hazardous driver, as well as text friends and family at home.
Technologies: Intel RealSense camera, Intel Edison chip, Windows Phone, IBM Bluemix, AT&T Auto API, M2X, Flow, Sponsored Data, and WebRTC
FamJam – This caretaker call management app is targeted around care giving and managing calls while you're driving. If you're driving and a call comes in from one of the people you're responsible for you can decide not to take the call using your smartwatch. Additionally, if a doctor calls for a parent, you will be alerted so that you can join the call. It will also block calls when a teenager is driving.
Technologies: Whitepages Pro API, Samsung Smartwatch, IBM Bluemix, AT&T Drive API and WebRTC
Green Apps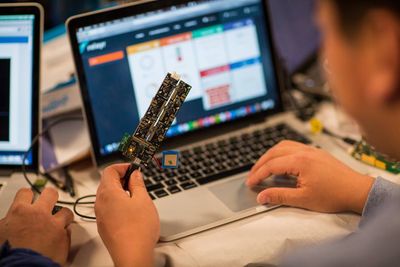 GreenGuest – This mobile app is designed to help manage the energy used in a hotel. When you check into a hotel and install the app, it will inform you of all the energy being used in the hotel room via the water sensor, energy detector, and a smart sensor for towel consumption. The idea is that you can see how efficient you are in your room compared to other hotel guests. Additionally, there is a hotel manager view so staff can see how much energy is being used in the room. If someone has checked out and left the lights on, the manager will be alerted and they can turn the light off from the app.
Technologies: TripIt API, Concur Expenses, Cisco Home Automation, Relayr WunderBar Device, AT&T M2X, Digital Life, and M2X Flow Designer
SmartG – An app to help create smart green houses of the future. The SmartG device will monitor all the vitals in your farm, and can control growth lighting, soil temperature, water schedule, and humidity based on each individual plant profile. The device has multiple sensors that you can use to control a number of devices within the green house. The app's dashboard will tell you all the readings of your green house. This can also be used on farms.
Technologies: IBM Bluemix and AT&T M2X
Health and Fitness Apps
MI Link – The MI in this app stands for myocardial infarction and it's all about monitoring your heart. The team uses a biometric identity device (in this case, NYMI) and uses telemetry to manage your heart rate. This is the same type of technology that's used if you're hooked up to an EKG machine at the hospital. It monitors your heart rate 24/7. If your heart stops, the device will text emergency medical services and get an ambulance dispatched to your location. It will also text message anyone you put in the system and alert them of your condition.
Technologies: Esri technology, Intel Edison, AT&T Digital Life Home Automation, SMS API, and M2X
Dude Where's My Steps – This wearable fitness app is designed to help the everyday commuter take more steps. When driving to work it will locate a parking spot that will put you further from your destination, so you'll take more steps. This will make it easier for you to reach your daily step count. Once you put in your destination, it syncs with your smartwatch, and uses that information to help you meet your step goals for the day. There's also a map view of parking spaces around the destination. Since it also uses AT&T Sponsored Data, all the data coming in or out to the device is free. This app can also work with other modes of transportation such as trains, telling you to get off a stop earlier, for example.
Technologies: Smartwatch, Esri API, AT&T M2X and Sponsored Data API
Apps Focused on Pets & Kids
PetAlone– Miss your pet, while you're away? This app can help you see how your pet is when you're not home. The video app can initiate a call with your pet, and when it issues a whistle sound it notifies your pet to come to the screen. Additionally, there's a treat component so you can give them treats. The key to this treat-dispensing device is that it has sensors so you'll know if your pet is trying to break into it to get more treats.
Technologies: MediaTek LinkItOne, WunderBar, 3D printed components, AT&T WebRTC, M2X API, and M2X Flow Designer
Edu-K – Designed as an interactive way to provide education to underprivileged kids, this app has two user modes: student and instructor. When in an Edu-K learning room, you can see other people in the room and share content with each other. With this app, students can interact with teachers directly. At the end of the session, teachers can have kids play a game to see what they learned from the lesson.
Finalist at AT&T Developer Summit Hackathon – Sitter – Whether you need someone to watch your kids, pets or house, this app will set you up. Say you want to hire a baby sitter for the evening; you can use the app to find sitters nearby and filter the results by availability for your time, date, and even care giver star rating. Each sitter profile has the ability to include a video bio or the option to initiate a video chat with the potential sitter. Once you select your sitter, you can give them access to your house and the front door will unlock when they arrive.
Technologies: Esri maps, AT&T Sponsored Data, WebRTC, and Digital Life
My Best Friend – This is a connected solution that uses crowd sourcing to help find lost pets. If your pet runs off, you'll get alerted on your phone. Additionally, people in your neighborhood who have the app will be alerted on their phones when your pet is nearby. When the pet is found, simply take the phone into the connected car and it will direct you to your pet's location. The pet's tag is the key to this app and also features a video of you playing with your pet. This is so the person who has found your pet will know you're the rightful owner.
Technologies: AT&T Drive, Gimbal Proximity Sensor, HP Link Watermark, 3D tag
Social Apps
WeVerse – TV is better when you can watch it with friends. This app lets your create a "watch party." So you can invite friends to watch a show with you. When a watch party is happening, you can talk about the show and even start a video chat. If someone is using their phone to join the party, it won't use any of their data since they integrated AT&T Sponsored Data.
Technologies: CouchSpace, AT&T SDK, Sponsored Data, Digital Life, WebRTC, and Advertising APIs
Option 3 – Looking to connect with someone nearby? That's the idea of this app. You can use it to make yourself visible to others in close proximity. For example, maybe you're looking for a hackathon team to join. It uses Bluetooth to propose a question to Bluetooth-enabled devices nearby and if someone answers, you can connect with them. Privacy is guaranteed since you never share your information unless you want to.
Technologies: IBM BlueMix, Watson User Monitoring, AT&T SMS, Advertising, and WebRTC
Traced – This self-contained app for the Samsung Gear S lets you create and share your adventures when you're out and about. The events can be captured in real time, planned in advance, or posted after. It will tag your location and then you can embed video, images, and audio. On a smartwatch, you can record audio. If you want to share video and photos, you can use your phone and then send it to the watch.
Technologies: Esri, AT&T WebRTC and M2X
Interactive Apps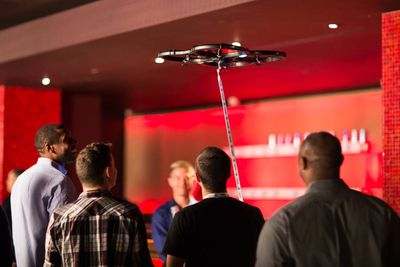 Red Alert – This evacuation management system uses drones to make sure people get to safety in the event of emergency. When a building evacuation occurs, the app will be able to tell if you were at work that day, it can trigger lights on an exit route, and send an alert to the phones of people in the system informing them of the evacuation. As you evacuate the building, drones will check you into the system so everyone is accounted for.
Technologies: Windows Universal, Android, BLE, MediaTek LinkIt ONE, AT&T Flow Designer, and M2X
One – This app is designed to make objects be interactive. In the demo, the team used a phone to send questions to a wired-pineapple. The pineapple was able to respond to questions such as "What's your name?" and "Do you need water?" With this app you can configure responses based on specific parameters and timeframes.
Technologies: Watson Speech API, Fitbit API, and IBM Bluemix
Zone Out – Aimed at replacing the keyboard, this app uses a Myo wearable to interact with your computer. Say you're talking to someone online and want to zone out for a while; simply double tap the wearable to mute the volume. You can also make another gesture to play music.
Technologies: Myo wearable, BLE, AT&T WebRTC
The Winners Are:
Best Overall App
1st Prize ($25,000) – Anti-Snooze
Finalists: HostMagic and Sitter
Accelerator Challenges:
AT&T M2X ($10,000)

– GreenGuest

AT&T Digital Life ($10,000)

– Host Magic

AT&T WebRTC ($10,000)

– AirDoorman

AT&T Drive ($10,000)

– Anti-Snooze

AT&T Women in Tech ($10,000)

– BodyCamHack

Samsung Technology ($10,000)

– R U Awake

Intel Edison Challenge ($10,000)

– Anti-Snooze

Cisco Home Automation Challenge ($10,000)

– Sitter

Esri Accelerator Challenge ($10,000)

– I'm Almost There

Ericsson Enterprise Wearables Challenge ($10,000)

– R U Awake

Alcatel OneTouch Education Challenge ($10,000)

– Edu-K

Windows Universal App Challenge ($10,000)

– WeVerse
MediaTek Labs IoT and Wearables Challenge ($10,000)

– Sensus
Kicker Contests
AT&T Sponsored Data ($5,000)

– Tract

AT&T Flow Designer ($5,000)

– Red Alert

IBM Bluemix ($5,000)

– SmartG

HP IDOL OnDemand ($5,000)

– AirDoorman

Harman API Challenge ($5,000)

– TIE: Alfred / Gamified Home

TCS Technology Challenge ($5,000)

– pneumatic

HP Link Creation Studio ($5,000)

– My Best Friend

Couchbase Mobile Challenge ($5,000)

– Gaggl

mDot Technology Challenge ($2,000)

– SmartG

Jasper ($2,500)

– TIE: Octoblue / Antisnooze

WhitePages API Challenge ($2,500)

– FamJam

10 Backbeats Pro – Plantronics

– Emote Control

Vuzix Glasses – Best Use of Vuzix Glasses

– trACT.mobi

Sensoria Devices – Sensoria Integration Challenge

– Nursery of Things

Sensoria Devices – Most Original Idea Using Sensoria

– Custom Feetures

WunderBar Devices – Best Use of Relayr

– GreenGuest

Best Use of Intel XDX or Intel Eclipse Extension

– Airdoorman

Best Use of the Intel Mashery API Network

– CarSafe

Most Creative Use of Deezmaker Bukito 3D Printer

– GamifiedHome

Best Example of Wearable Technology made using Deezmaker Bukito 3D Printer

– Blind BoBo
Which idea do you think should win? Let us know in the comments below and be sure to watch the AT&T Developer Summit Keynote online that aired at 9:00 am on Monday, January 5th to see which teams are the big winners. We'll be updating this post with the list of winners.
---
Share this post