Updated: Dec 16, 2013
Published: Dec 16, 2013
Christmas Wish List for Developers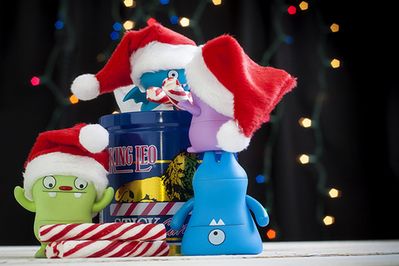 I know Cyber Monday and Black Friday have passed, but maybe there are still quite a few people who have not finished their holiday shopping. While it is mainly developers who read our blog perhaps you can share this with friends or family as a hint about what is on your wish list.
Game Systems: Xbox One vs. Play Station 4. What a phenomenal time to be a gamer. The Play Station 4 seems to be set up a little better for gaming and the Xbox One has better media offerings (like sports options and HBO Go). For me, it kind of came down to which system my nephews have so that we could play against each other and swap games —so it is Xbox One for me (but I would be happy with both). With the new devices, people will need new games, which also make excellent gifts. The graphics are stunning, but which gift to get kind of depends on their interests. For hard-core gamers, you should look at the Oculus Rift. When you put on this virtual reality (VR) headset it provides an incredible experience and it is so odd that when you turn around your view changes. If you are a game developer, I would look closely at coding for this, I think it is going to do really well. On a related note, I watch the TV show Shark Tank and it recently featured an accessory called the Virtuix Omni. The company created a platform that you can walk on while wearing the Oculus Rift—the point being that you cannot experience true VR if you are sitting down. I have not tried this gaming accessory yet, but plan to at CES. Unfortunately, the company did not get funded on the show, but I hope they do well.
Audio: When I was growing up audio was about speakers and receivers, now it is more about headphones and streaming hardware. Headphones have been getting expensive, but good audio quality can make all the difference. I have liked Bose for years — and really like the company's noise cancelling headphones like the Bose Quiet Comfort 15. Additionally, you cannot go wrong with the Beats by Dre Studio — sound quality is exceptional and if you have not tried them on, they are surprisingly comfortable. As far as streaming, I really like the Roku 3, although there are several models available that are reasonably priced.
Smartphones: Obviously this is an area where it's difficult for me to be critical. I can say though that across the board that the selection of devices available is incredible. On Android, the Samsung Galaxy 4 Active, the Motorola Moto X, the HTC One, and the Samsung Galaxy Note 3 are all really great devices. I personally am not such a big fan of the giant screens and prefer slightly smaller devices, but also know that many people love having more screen real estate. Then there is the Nokia 1020, which has gotten a lot of attention with its 41-megapixel camera, but the Nokia 1520 is also an excellent device worth checking out. There are a few great tablets, but I do not play with those as much.
Wearables: This is going to be a focus for our summit hackathon and a big part of my summit presentation, but there are lots of potential gift options here. In terms of fitness, I wear the Jawbone Up, but there are several good devices that would make good gifts like the Fitbit Flex and the Fuelband. Smartwatches are also an interesting emerging area. Both the Pebble and the Samsung Galaxy Gear are intriguing initial devices that might make a good gift, but I'm really curious to see how this technology moves forward. Then, we cannot forget tech for the head. I have only briefly tried Google Glass. I am not sure this is something I would wear all of the time, but certainly is useful for some (mainly, I think for areas like healthcare).
Miscellaneous: One device I really like and hope is successful is the Hello Ivee Sleek. This uses our AT&T speech API so I may be biased, but I am really happy to see a speech-driven personal assistant device on the market and hope that a lot of people use this. Finally, a device I am dying to try out is the Myo. This is a gesture control armband and could have many interesting uses.
Which one of these gifts would you want?
Happy shopping!
Photo credit: Nomadic Lass cc
---
Share this post