Updated: Jul 06, 2021
Published: Jul 28, 2016
RECAP: Hackathon in Chicago at the AT&T Flagship Store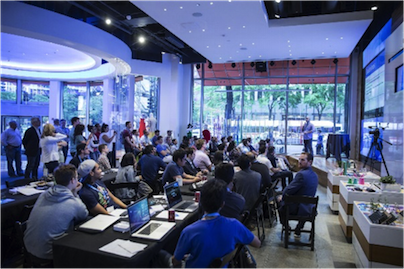 On Friday, June 10th we traveled to the Windy City to host our latest Hackathon. We found the perfect spot, too—inside AT&T's Flagship retail store on the Magnificent Mile. This time, we challenged 93 attendees to build a Smart City App—an app that could connect their community with real-time data to help improve traffic, utilities, landscaping—you name it!
To get things started, special guest AT&T's Brad Lane shared the company's vision of a Smart City and the types of innovation we can expect from cities like Chicago.  We also heard from Fred Hoch, the President of the Illinois Technology Association and Alex & Joe Renz from the House of New Mobility and Spot Hero, one of the Hackathon's sponsors.
Then we started team formation.  Such a fun experience—highly recommend it!  Who can forget Jeremiah's appeal for team members…and his description of his latest app called "Grunt."
Once teams were set, everyone got to work: Laptops open, music blasting, teams were buzzing with ideas to get a jump on the task at hand. We're happy to report the teams did not disappoint! Check out some of the winning apps below.
1ST PLACE: CHICAGO PRECOG
"Crime is virtually everywhere and inevitable. If you can predict it down to where and when a crime is going to occur we can be one step ahead. With Chicago Precog we can inform citizens of Chicago where specific auto crimes are most likely to occur. Chicago Precog can also help maximize the utilization of the Chicago police force. Smarter cities can mean safer cities, and that is what Chicago Precog helps provide."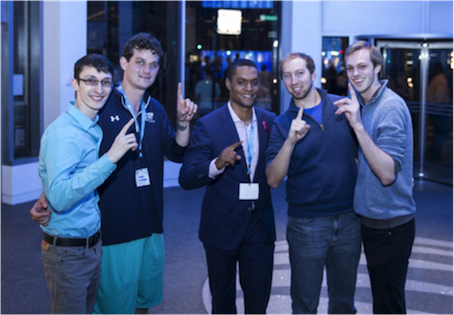 2nd PLACE: HUNGRYHELPER
"HungryHelper uses kiosks placed on certain street intersections to offer a new way for people in need to ask for help in terms of food, clothing, medicine, etc. . This helps remove the dependency of actually commuting to shelters. Kiosks will register help requests and will place a beacon on visitors to minimize duplicate requests. Users who have registered or subscribed to the updates from the app, will be notified, and asked for confirmation if they can help with a request or not. If they can help, an ETA will be provided to the person at the kiosk when help is on the way. The goal is to make a more conscience, helpful, well-connected smart city that cares about the well-being of its citizens."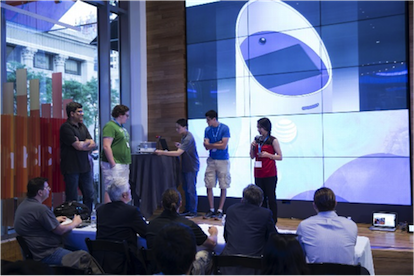 3rd PLACE: TOWED
"This app helps solve the problem of locating towed vehicles by fetching Chicago city's central database. It also provides information regarding if the vehicle is towed or relocated."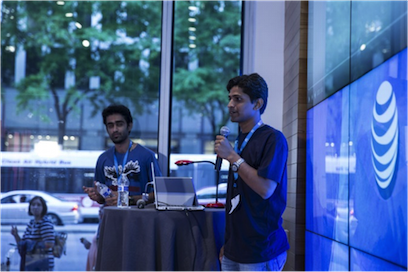 BEST CONNECTED CAR SOLUTION (sponsored by Spot Hero): CAN I PARK HERE?
"Digitize real world parking policies, signs etc…"
BEST VIDEO SUBMISSION: SMARTAGE
"Smart garbage collection system with driver/trash collector features:
Informs trucks where trash cans are located that are becoming full (90% so as to avoid overflow) and will be able to show the minimum cost route for truck
Resident/Homeowner Features:
Garbage pickup requests
Garbage segregation in trash bins
Garbage analysis, personal green meter, and neighborhood comparison"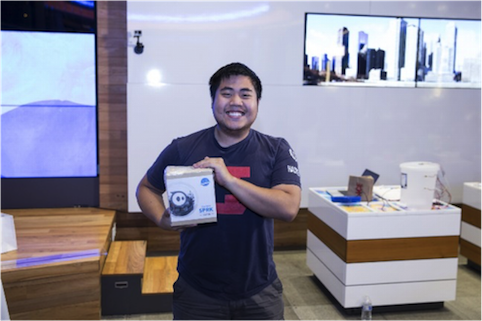 Special Thanks…
Well, that's a wrap for another successful hackathon—Chicago-style.  Thanks to all who attended and to our sponsors, including Spot Hero and Sphero. Special thanks to all the good folks at the AT&T Flagship store—you guys rocked!
---
Share this post