Updated: Oct 25, 2016
Published: Oct 06, 2016
AT&T Chicago Hackathon recap: Disruptive mobile apps with a focus on empowering people's lives
On August 26th and 27th, we headed to 1871 in downtown Chicago and challenged developers to code disruptive mobile apps. A diverse group of passionate developers showed up to answer the call and create 14 innovative solutions.
Before I get into the nitty gritty of the event, I'd first like to give a big shout out and thank you to 1871 for hosting us. The event space was awesome and spacious. Teams had enough room to break out and  their projects with as much collaboration or privacy as they desired. I'd also like to thank Christina Apatow from Api.ai for giving an amazing technical talk about the solutions you can build using api.ai.
Our big winner was WordNugget, a cool education focused solution that sought to help provide children with greater access to a broad vocabulary using social media. Their solution may appear simple on the surface, but it was a quite powerful idea and relied on multiple APIs to achieve success.
The hack that left this blogger the most impressed was iBuilder, a mobile application prototyping and building tool built by an 11 year old boy. Although the features of the app builder were streamlined, it was still extremely inspiring to see a young developer build such a tool in a short period of time. We were so that we awarded the young hacker an honorable mention and $100 in Amazon gift cards for the effort!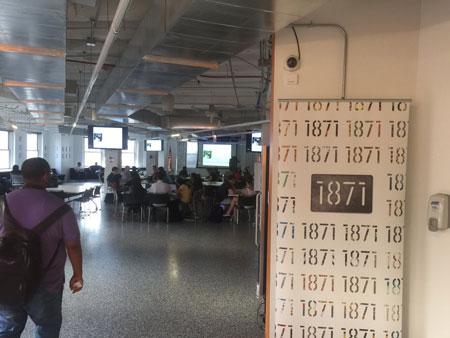 Participants enter 1871 as we get ready to kickoff the hackathon
Now, onto the winners:
1st Place Best App Overall – WordNugget
2nd Place Best App Overall – PainSight
Best Use of Api.ai – Smart Channel
Honorable Mention – iBuilder
Honorable Mention (Best Pitch) – Life's a B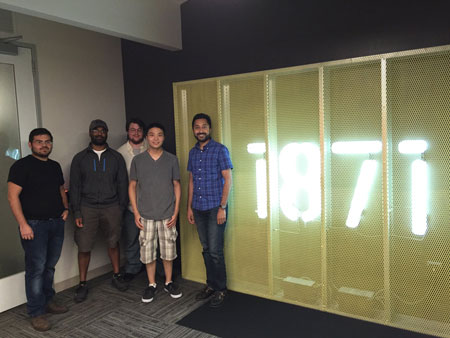 Team WordNugget standing proud after their win.
Here are all the disruptive apps created at the hackathon:
WordNugget – "Children born into poverty hear about 30 million fewer words than wealthy children. This disparity is troubling given the strong relationship between what children experience at home and their development of social, emotional, and literacy skills. To help address this problem, we developed WordNugget, a service that sends parents of infants and toddlers messages about kindergarten readiness skills through Internet-based messaging services."
PainSight – "PainSight gives users a way to figure out what in their environment might be causing them pain, allowing them to take precautions to live a more pain-free life."
Smart Channel – "Virtual assistants like Siri and Cortana are great for aggregating information for individuals (e.g. Siri: What is on my schedule for today?) and large populations (e.g. Facebook trending stories). There is a gap in providing value for small and mid-size populations. Smart Channel fills this gap by extending the services provided by api.ai and capturing tacit information relevant to smaller groups."
Life's a B (LaB) – "There are no stupid questions, unless you ask them at a product demo. Otherwise LaB is a safe place to ask all of your questions, smart, silly, or stupid."
iBuilder – "i-Builder is an ios app builder on your iPhone designed to help those who lack iOS development skills, but are willing to spend their time to learn the efficient way."
Grace Inventory – "An on-site inventory tool for homeowners and public adjusters that helps eliminate excess time and effort in performing jobs and can improve accuracy by over 90%. It basically turns a 400-hour job into a 40-hour job."
Voting Timer – "The app allows minimally-trained polling place observers to time how long it takes people to vote while observing turnover at multiple voting booths on an election day. The app synchronizes to a specific precinct via input and geolocation, which allows the timer data to be correlated to a database with that of a precinct's specific ballot contents and lengths. The app automatically uploads all its timer results to a server. The timer results can then be averaged and compared with the matching ballots to allow us to better predict average voting times for future ballots. This data, in turn, will help us guide election administrators on how each polling place should be provisioned to avoid lines in upcoming elections."
Wakey Wakey – "Wakey Wakey is a messaging app that serves as a pleasant alarm clock. Wake up with positivity. Wake up with Wakey Wakey."
ReCall – "For those interested in having lecture information stored and organized, we offer a platform that uses natural language interpretation to efficiently add and recall information to and from our database. There are many customer segments that would benefit from this product, such as deaf/hearing impaired people, students, professors, and more."
Shopping Cart SOS – "A central hub that allows consumers to purchase distressed inventory advertised by manufacturers and other distributors at drastically-reduced retail prices. Expansive selections include distressed goods from retail merchandise to commercial property. Commercial retail purchases net consumers bonus points that are redeemable towards future purchases based on their retail value."
Elevator Pitch Rater – "This app aims to improve your job search experience by helping you create your perfect elevator speech. The app rates your current speech and suggests potential improvements. The tips provided by the app are designed to help you prepare for your next job hunt."
Innovare – "Innovare is bridging the gap between what universities are teaching and the evolving discipline of Computer Science by connecting and incentivizing students to take advantage of career changing opportunities. Nowadays, just going to class won't cut it in the competitive job market. You can see this from the rapidly growing tech startups scene to what companies like Google and Facebook are expecting from their interns. The two problems are that either students don't know about opportunities or resources, or they have no motivation. Innovare uses design, gamification, and insider knowledge of the Chicago tech startup ecosystem to solve these two challenges."
atKarma – "Our app connects users based on their social networks and allows them to send requests for help with tasks. Users can accept a task and receive points once its complete. The app encourages people to help others in their community in a game-oriented style."
P2P Plunger – "P2P on-demand plunger delivery service. Shit Happens, Take the Plunge."
---
Share this post