Updated: Oct 26, 2016
Published: Aug 16, 2016
AT&T Hackathon in Los Angeles recap: Fun apps that integrate video
On July 29th & 30th, we headed south to Los Angeles to host the first hackathon at Cross Campus' new downtown LA location. We had a great response: 18 teams coding 14 apps focused on everything from food to self-help to musical artists. Teams were encouraged to include video within their applications and we were not disappointed as eight teams came through with some interesting integrations.
As special thanks goes out to the staff at Cross Campus, including the events manager Dan. The space is still being finished, so it was generous of them to host us and allow AT&T to be the first to hold a hackathon in the location.
Our big winner was MendMe, an app created by team T.H.I.N.K. They leveraged their IoT and mobile app coding knowledge to build a solution to help assist people recovering from a hand injury. MendMe leverages multiple microcontrollers in order to provide assistance in physical therapy movements of the hand so that they can slowly strengthen their fingers while receiving robotic assistance as they progress.
Another interesting app was Munch, a solution for solo diners. As the team noted multiple times, people getting food alone are limited on their options as many restaurants serve family style dishes. Other times, it can simply be awkward being alone in a restaurant that is either romantic or filled with groups. Munch tackles these problems by allowing people to invite their broader social network to join them for a meal at a local restaurant. Users can highlight the type of cuisine and even potentially the dishes they're interested in ordering. That way solo diners can have a great time at dinner and potentially meet or learn more about some cool people.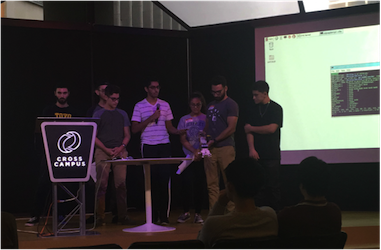 Winners of Best Overall App, MendMe, pitching their physical therapy solution.
And now onto the winners:
1st Place Best App Overall – MendMe
2nd Place Best App Overall – Bump Tracks
Best Native Mobile App – Hackathon Go
Best Mobile Web App – PartyVR
Best Use of IBM Bluemix – Bump Tracks
Here's a list of all the apps created at the hackathon:
MendMe – "Our group name is T.H.I.N.K, and our mission is to unite the youth to actively change the world through innovative projects. Millions of people from across the globe are currently suffering from finger mobility impairments. Our app, "MendMe," is designed to make physical therapy more affordable and accessible for patients. Patients can select the physical therapy exercise they want to perform in the convenience of their home through our app, and the therapy glove they're wearing will carry out the exercise accordingly. Patients can also track their progress and mobility improvement. Mothers will be able to hold their children's hands, fathers will be able to go back to work, and aspiring programmers can write computer codes…The fate of millions of people is just an app away from changing for the better. "
Full Plate – "In the United States, we waste about 40% of our food, which translates into 140 billion pounds a year. The wasted food is perfectly edible, but may be cosmetically challenged, labeled as non-fresh or expired, or simply an extra overload. If we were able to save this food, we would be able to feed thousands of people in need and that's the mission of our app. The Full Plate app will allow food service establishments to conveniently upload a list of the food they are unable to sell and volunteers can easily see where they can pick it up. Volunteers will have the option to keep the picked up food or to deliver it to food pantries, food banks, churches, or shelters so it can be shared with those in need. If they decide to deliver the food to those in need, their trip mileage will be tracked and stored to be exchanged for community service hours or tax deductions."
Tutorio – "Users view and upload step-based video tutorials."
Green Weave – "Green Weave analyzes your photos and uses that information to look for sustainable clothes that you would like. You get product details and where to get them so you can do your part in raising awareness for sustainable clothing."
Hackathon Go – "Hackathons are great events, but a challenge to produce for vendors, and to navigate for participants. Hackathon Go makes this all much easier and more fun. There's a web component for judging teams, and for managing hackathon and vendor content. Hackathon Go is a native mobile app for browsing teams, participants, vendors, and hackathon info. Notifications and information can be pushed live during the event. Chat areas are available for conversing with vendors, teams, and participants. Hackathon Go simplifies the process of forming teams, conversing with vendors and other participants, keeping up with event information, and brings uniformity and feedback to the judging process. The app can service any similar competitive event."
SnapExchange – "SnapExchange helps eliminate the need for business cards, allowing users to exchange contact information with a snap of a QR code."
PartyVR – "PartyVR is an immersive 360-degree virtual reality experience for booking your event DJs. Using the Google Cardboard app, users can browse a virtual video wall of the DJ's portfolio and information, watch 360-degree videos of their concerts, and make a booking decision/contact the DJ. The VR experience gives event organizers a feel of the atmosphere that the DJ can create for their events."
Munch – "We're a group of avid solo diners who saw a problem with the current system of dining. Often times while eating alone, we discovered challenges when trying new restaurants by ourselves, whether it be the inability to try as many dishes as we'd like, or simply for want of company. This recurring situation inspired us to collaborate on our current project, Munch. This app hopes to connect eaters through a common love of food and new experiences. "
ReUp – "Re-Up is an online social media game that financially incentivizes people to complete one daily task towards a goal. Users form a 'Tribe' with one to three close friend(s), connect to PayPal and list a penalty price for missed tasks. Over a 30-day period, the money from missed tasks goes into a 'Tribe piggy bank.' Whoever supports their Tribe and completes the most tasks wins the piggy bank. The data collected from Tribes enables Re-Up to measure the productivity of cities and countries in real-time. "
AnyHour – "The app that lets you get to happy hour at anytime"
MyVideo – "Crowd sourcing all videos based on your preferences. It uses an AI to determine the content of the video it displays."
Bump Tracks – "We built an iOS app to highlight the music videos of up and coming artists so they can be seen by the masses. When people watch and listen to these specially curated, well produced videos they can affect their ratings by "bumping" them if they like the video and "bouncing" if they don't. The great feature of our app is that the artists get detail analytics from the videos: how many plays they have, how many bumps they have, how many bounces they have, where in the song were they bumped or bounced, general location (city level) of plays, bumps and bounces. We built this on the iPhone with a fully functional back-end that communicates in real-time."
Kick AS – "Kick AS is an app, which helps people suffering from Ankylosing Spondylitis, an inflammatory disease. This is a full-featured video coaching app with workouts and exercises suitable for this disease. Furthermore, thanks to its integrated blue-light filter, people with AS, who need to workout, before going to bed or during the night can catch their sleep much easier now."
Shareholder at 18 – "What would you do with a single share of AT&T stock? Shareholders at 18 are fractional investors in a tech company and do not make decisions on running a company. Instead, pre-collegiate scholars learn the voting rights of shareholders and use the app to see how they are different from those of company directors."
For more articles on AR, VR, and all things video, see our new AT&T Video and VR site.
---
Share this post