Category: Open Source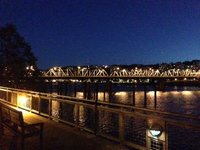 AT&T spent last week in Portland, Oregon, at O'Reilly OSCON 2013, where we pitched the AT&T Application Resource Optimizer (ARO) tool and promoted our work in open source.
From Tuesday to Thursday we spent the day showcasing ARO to the many participants at the conference. This show marked a slightly different vibe than many of the shows I have previously attended. The main focus was on open source and collaboration. The show had over 300 speakers focusing on the different segments of the open source industry and the big message was about sharing and getting involved in the open source movement. AT&T fit right in with the ARO's open source.
Learn more about the show, and how you can become a contributor to this great, open source product.
Read more....