Updated: Apr 07, 2014
Published: Apr 07, 2014
Build Innovative Network Enabled Products with AT&T M2X Data Service
Whether you are building the next bestseller in wearable technology or simplifying life with home automation gizmos, AT&T M2X Data Service can help by providing the tools, services, and the support you need to create and manage your solution.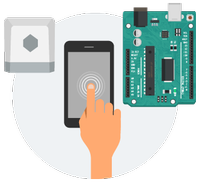 AT&T M2X Data Service is a cloud-based data storage service customized for the Internet of Things. M2X gathers data, in real-time, from connected devices and equipment and translates that data into meaningful information for quick decisions, automated actions, and strategic analysis. Leave backend infrastructure and networking to us while you focus on building and innovating on the next great device for the Internet of Things.
To help kick-start your development cycle, we're constantly expanding our client libraries with your favorite machine-to-machine devices and programming languages, and adding more tutorials to simplify onboarding and usage of M2X within your solution. We provide fully functional client libraries for many popular languages and hardware platforms, such as C, Java, Raspberry Pi and mbed. With our sample code, and your hardware, we can get your device connected to M2X and collecting data in minutes. Look and see how easy it is get your Arduino connected: https://github.com/attm2x/m2x-arduino
Interested in building a wireless broadband connected device? Our AT&T Connection Kit for M2X Developers (https://m2x.att.com/developer/tutorials/sim-kit) is just the tool you need. We offer a package that includes 3 SIMs, 5MB of data per SIM per month for 6 months, and 30 SMS messages per month, all for a great low price.
Be sure to check us out in person at the AT&T Mobile Application Hackathon in Atlanta on April 11 and 12. We'll have technical experts on site to assist you with your M2X needs and share more knowledge on our feature capabilities. Enter our contest for a chance to win prizes for the best utilization of the AT&T M2X Data Service.
To learn more about M2X, please visit our website (https://m2x.att.com), where you can setup a free developer account and start using the service today!
---
Share this post