Updated: Nov 20, 2015
Published: Nov 20, 2015
Build an app in 24 hours and change the world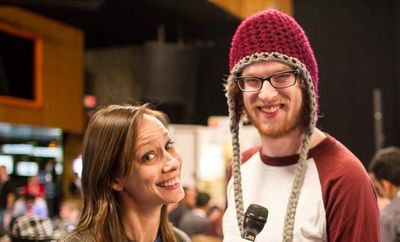 Guest post by Luria Petrucci and the team from Geeks Life
I'm so excited to go to Las Vegas in January and see what awesomeness comes out of the 2016 AT&T Developer Summit Hackathon! Read on for some suggestions for success!
If you're not yet familiar with the Hackathon, it's only part of the AT&T Developer Summit. The Hackathon runs January 2 – 3, followed by the conference January 4 and 5 at the Palms Casino in Las Vegas. If you're ready to build an app from scratch in just 24 hours, deliver your winning pitch to a panel of industry experts for a chance to win $25,000, you'll want to register to attend!
I loved being there last year. As I walked around the floor, I noticed one thing. A buzz of creativity! Smart, creative people pooling their talents together and making things they felt passionately about. My favorite projects were ones that would actually help people and make an impact in their lives. That's my favorite thing about technology! Fun gadgets are…well… fun and all, but when you can change someone's life for the better, it gives you a feeling of accomplishment and satisfaction you can't get any other way!
Of course, I'll never forget the experience of wearing thought-controlled rabbit ears! Where else is that going to happen? Okay, so what will it take to be a success at this year's event? Let's start by looking at a few of my favorite apps from last year.
2015 AT&T Hackathon Inspirations
Sitter was a cool finalist app that helps you find someone to watch your house, kids, or pets while you're away. You can filter by location and availability times, and see star ratings given by other users. Sitters listed in the app have the ability to include a video so you can get to know them a little before you make the call. It can even interact with a smart door lock to give sitters access to your house when they arrive.
HostMagic tied in directly to Airbnb. The host uses a portal to designate the time a guest will be in the house and the guest can download the app and use it to unlock the door. The app then notifies the host that the guest has arrived. After the reserved stay, the app will no longer unlock the door.
Last year's winner was Anti-Snoozer, an app to detect when a driver is getting drowsy. Through facial recognition, it can tell if you're looking sleepy, showing signs of yawning, or closing your eyes. If the app detects drowsy behavior, it sets off a vibration alarm on your smartwatch and red LED lights to alert other drivers. Disabling the alarm requires the driver to look into the phone's camera.
All awesome ideas that can make people's lives better in big and small ways! So what should YOU do this year?
8 Simple Tips for Creating a Successful App
Over the years, I've seen a lot of successful apps and a lot of failed apps. Developing one in 24 hours is certainly a challenge, but here are some tips that'll help you go further!
1) Look at trends.
What's happening out there in the world? What industries are booming and in need of an app that'll tie it all together and help issues be solved? Where can you get ahead of the game?
For example, take a look at this post that talks about how the Virtual Reality / Augmented Reality space is projected to be a $150 billion industry by 2020.
2) Make it personal.
Think about what would help YOU. Or, if you already have it all, what would help your friends and family? The more personal it is to you, the more you'll put into the app. The easier it'll be to think about all the issues that go into an app.
Don't forget, if YOU need it, someone else will too!
3) Be willing to adapt.
Don't bank on just one idea. When you get together with your team, they may poke holes in one idea that can't be dealt with in 24 hours. Be willing to adapt and adjust.
Remember… your goal is to create an AWESOME app that'll have an impact in people's lives. It's ALSO has to get done in 24 hours. There has to be a combination of impact along with completion.
4) Tag onto an existing service or start something completely new?
Some of the best ideas come out of nowhere. On the flip side, some of the best ideas attach themselves to an existing product or service.
Both are great. Which approach is right for you?
5) Work with the right team.
Don't work with people who think exactly like you. A successful team will include people who think DIFFERENTLY and can look at problems from different angles.
Respect the views of your teammates and remember it's all about give and take!
6) Bring a blanket and pillow!
You're going to need a cat nap. Come prepared to get a bit of rest while others are working on their areas of the app.
7) Bring your own hardware.
You know your own hardware best. Use it.
8) Get some sleep!
It's going to be exhausting and exhilarating all at the same time! Be sure to get some rest before you come!
I can't wait to find out what the coolest projects are going to be this year when the Geeks Life team and I return to the Hackathon to bring all the excitement and innovation to viewers around the world in a live broadcast!
When it comes time to make your pitch, make sure you're conveying confidence as you pitch your app. You can do this by maintaining eye contact with your audience, speaking in a firm voice that everyone can hear, and being aware of your hands – keep them out of your pockets and don't fidget! This is very important: Let your enthusiasm and passion for your app come through. You believe in your project, now make sure your audience does as well. Read this article for more tips on making a great pitch.
Maybe the next huge mobile app will be born in that very room! Maybe it will be yours…
---
Share this post